Worth checking out in February: a few solid experimental shows.
By David Cooper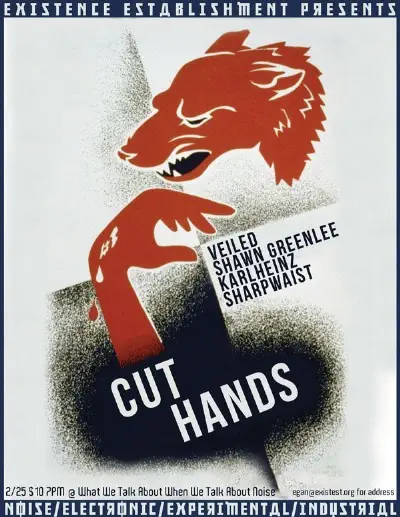 Jason Lescaleet and Thomas Ankersmit. At the Goethe-Institut, February 22, 8 p.m., $15.
The Goethe-Institut and Non-Event will host a great experimental show on Wednesday. Thomas Ankersmit will perform a modular synth composition that will most likely be drone music. Jason Lescaleet will be playing an ambient composition using tapes, electronics, and a laptop.
---
Cut Hands, Veiled, Shawn Greenlee, Karlheinz, Sharpwaist, and DJ Tesco Jane. At What They Talk About When They Talk About Noise, Allston, MA, February 25, 7:30 p.m., $10.
Cut Hands is the 2011 project of power electronics veteran William Bennett of Whitehouse. Afro Noise, the first album from Cut Hands, makes a mixture of noise and sampled African drum patterns. For his live shows, Bennett plays in front of projections of African film footage. Various noise/industrial/electronic/experimental projects will open. Email egan@existest.org for the address.
---
---
Rangda, Major Stars, Fjords and Duck That! At Church, February 29, 8 p.m., $10, 21+
Rangda is the psychedelic noise rock project from Sir Richard Bishop, Chris Corsano, and Ben Chasny. Sir Richard Bishop is the guitarist from experimental rock legends Sun City Girls. Corsano is a veteran free jazz drummer and major figure in Boston's experimental music scene. Ben Chasny has played in Six Organs of Admittance and Comets on Fire. So Rangda is sort of a experimental supergroup. Boston-based Major Stars play psych rock and Fjords play drone. Weirdo Records organized this show and Weirdo owner Angela Sawyer's band Duck That! opens.