By Bill Marx
In his conversation with me for the World Books podcast, Irish novelist and playwright Sebastian Barry insists that, unlike imaginative writers in Eastern Europe, who seem to have dried up after the fall of the Iron Curtain, Irish authors are making good use of their recent freedom to talk about the corruption of Irish politics and the power of the Catholic Church. Another sign that Irish writers are willing to step where others fear to tread is the genially surreal play "The Boys from Siam" (Yale University Press) by young Irish author John Austin Connolly.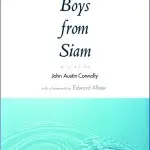 Loosely based on the lives of the nineteenth-century brothers Chang and Eng Bunker (the original "Siamese twins"), Connolly's intriguing one-act play is the first winner of the Yale Drama Series competition, which comes with a $10,000 prize and a staged reading at the Yale Repertory Theatre. In his foreword to the volume, contest judge and Pulitzer prize-winning playwright Edward Albee talks amusingly but soberingly about the Herculean task of selecting a winner out of 508 submissions. The questions Albee asks the scripts ("Have I read this play before?" "Am I learning anything from this play?" and "Does this play stretch my mind, open vistas of yet unexplored dramatic concepts?" among them) would leave most of what is produced on American stages today sweating buckets. If only more artistic directors made inquiries like these rather than wondering about a play's commercial chances.
Albee picked "The Boys from Siam" because he believes it presents "a beautifully realized concentrated universe. It takes big chances along the way, unhesitatingly assuming it knows what it's doing (which is almost always), and makes us care – really care." I would tend to agree, though at times Connelly tends to hew closer to the abstract than the concrete. When one of the play's "Siamese twins" (who are named Pigg and Pegg) asks "How can a Supreme Being start out to make a child and end up with two as one, two-in-one" and later concludes "Forget we are two-in-one. We are brothers." my fear is that Hegel may be uncomfortably close to God's ear.
But the philosophical heavy lifting doesn't become overbearing, while (surprisingly) Connolly is not interested in a feverish Dostoevskian diagnosis of psychic schism, a mano-a-mano battle of divided consciousness. Pigg calls himself a dreamer and Pegg says he is a doer, but little is made of this tantalizing variation on the mind/body conflict: cryptic observations of difference take the place of tortured accusations: "I have a heart, and Pegg has a heart. But mine is broken since I got the always dream."
In truth, Pigg and Pegg are much more invested in the challenge to become and remain normal: "All our lives we struggled to make a story. A story like all those other stories." But the twins are amazingly unusual, somehow grotesque and everyday at the same time, which is Connolly's inspired point. One morning in 1874, once the pair have reached their sixties, Pigg wakes to find that Pegg is dying. The pair mull over their past, from leaving their mother and home in order to make their careers as curios on the P.T. Barnum circuit to marrying sisters and having children despite the objections of the women's parents. Meanwhile, a weakening Pigg drags himself and a near-lifeless Pegg out of bed, seeing a razor as his only means of survival – the necessary separation.
"The Boys from Siam" offers a dark meditation on attachment and independence, the fragility of identity ("Then, we were I. Now, we are we.") and the many degrees of mortality, what with the conjoined twins nearing the end of their lives in a strange state ("Alive yet dead.") of half-life/half-oblivion. The names of the twins, as well as the bracingly skeletal dialogue, suggests that the dramatist has the bleak humor and blunt lyricism of Samuel Beckett in mind:
And yet the sun rises and the sun sinks everywhere.

It gets light and it gets dark. In and out, up and down.

The same old earth and the same old sun.

Many days I stood in the field – Pegg, too – and we
watched the new sun throw light upon the dust below,
where we'd dug and broken the sod.
Connolly's script is written for a cast of two: Pigg and Pegg play a number of roles; their wives, Sal and Addie, are represented by two wickerwork figures wearing aprons. A wily director would find many opportunities here for imaginative visuals. Connolly has taken his imaginative freedom in a challenging direction – it would be nice to see a theater company of equal courage respond with a production.