Boston Conservatory's New Music Festival is inspiring a series of commentaries from Fuse Jazz Critic Steve Elman. His third installment focuses on Gunther Schuller, who has inspired at least four generations of artists and revitalized a venerable institution of higher musical learning.
---
Review/Commentary — Boston Conservatory's New Music Festival, I
Review/Commentary — Boston Conservatory's New Music Festival, II, The Fringe
---
By Steve Elman
Think of the world as if each person drives a balance sheet. On the negative side are the resources they consume without replacing. On the positive side are the contributions they make to the planet . . .
— Chris Anderson, "A Web-Empowered Revolution in Teaching," collected in John Brockman (ed.), This Will Change Everything (Harper Perennial, 2010)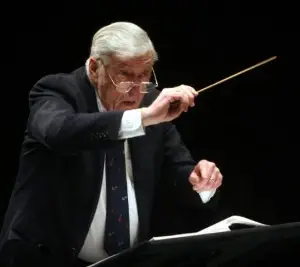 Face facts: we will never be able to repay Gunther Schuller. A Pulitzer Prize is a nice thing, as is a MacArthur 'Genius' grant. But how can we sufficiently repay someone who spearheaded a cultural climate shift, who has inspired at least four generations of artists, who revitalized a venerable institution of higher musical learning, who makes a city greater by his very presence, who gives and gives and sends out ever-greater circles of giving the longer he is with us?
The Boston Conservatory's New Music Festival concluded on December 4 with a concert of works conducted by Schuller, each of which provided a signal example of a particular kind of new music that he has championed unfailingly for more than 60 years. These kinds of compositions first emerged in the late 1940s and 1950s, coming from mostly young musicians, energized equally by bebop and Stravinsky, who wanted to extend and enrich jazz by introducing the harmonic palette of contemporary classical music and development techniques associated with the European tradition. The works they wrote were often received with bafflement by average listeners, condescension from "serious music" critics, and outright hostility from the jazz press. When Schuller, who was among those young innovators, had the audacity to give this hybrid music a name ("Third Stream"), he was almost laughed off the stage. What impudence!
It only took another 30 years or so for Schuller to have some recompense. As president of the New England Conservatory (NEC), he started a Third Stream department, brought in Ran Blake to head it, added George Russell and Jaki Byard to the faculty, and the idea took on an independent life. Dozens of young musicians took what Schuller had started to new levels and new dimensions, and they continue to do so under the leadership of Hankus Netsky, who now heads the renamed Contemporary Improvisation department at NEC. Incidentally, not the least of those students is Eric Hewitt, winner of the Gunther Schuller Medal from NEC, now the chair of TBC's woodwind department and the guy who directed this year's New Music Festival.
The negativity about hybrid works still hasn't gone away. It's just that those who denigrate them now are denying themselves some deep pleasures that are available from no other form of art.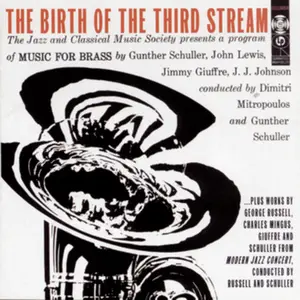 There were plenty of those pleasures in the December 4 concert, which spotlighted four composers in 11 relatively short pieces, each stuffed with musical detail. Hewitt spearheaded the creation of a jazz orchestra especially for this event, including some of the city's most respected players in the solo roles: alto saxophonist Bob Bowlby, tenor player Tim Mayer, trumpeter Greg Hopkins, trombonist Jeff Galindo, guitarist Larry Baione, and pianist Doug Johnson, with rock-solid support from Alec Derian on bass and Mark Walker on drums. Fourteen TBC students expertly supplemented the jazz band with winds, brass (including mellophoniums and tuba), and percussion.
This arsenal gave Schuller all that he needed to realize the relatively tight George Russell and Charles Mingus pieces and the much more populous Bob Graettinger works. Schuller's own pieces fell somewhere between those extremes in terms of the numbers on stage, but the added players gave him some exotic colors to incorporate (including a beautiful quintet of clarinet, English horn, two bass clarinets, and contrabass clarinet on "Headin' Out, Movin' In").
For me, one of the most important moments of the concert came in the first few minutes. George Russell's "Lydian M-1" is a significant work from his first flowering as a composer, but until the work was prepared for this concert, there was no adequate performing score of it. I had never heard it in a concert hall, and I was eager to hear what new things I would discover in it.
Russell wrote it for a session led by vibraphonist Teddy Charles in 1956, and it is a fitting companion to one of his masterpieces from the same period, "All About Rosie." According to Eric Hewitt, Russell's handwritten score is a mess. Most likely he wrote and rewrote it under a deadline and revised it right up to the recording date, in consultation with Charles. The music had to be deciphered, divided into parts, compared with the original recording, and put into sheet music so that it could be effectively rehearsed. If the only accomplishment of the concert were the gift of a clean score for "Lydian M-1," that would have been quite enough.
As with all of Russell's work—and really, with all great music of complexity—the experience of hearing this piece in a good acoustic space is priceless. One of Russell's great gifts was his ability to write great melodies that could overlay each other without getting in each other's way, not exactly as counterpoint but with something like happy coexistence. We can't ever have enough of these great melodies, and "Lydian M-1" gives us a few more precious examples. In addition, it's the only Russell work to put the vibraphone at its center. The concert version uses the solo from the original recording as played; I think that Teddy Charles probably improvised a good deal of the original, but it fits superbly with the written music. In any case, TBC student Laurent Warnier played the hell out of it.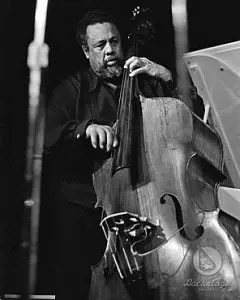 Schuller has been a Charles Mingus champion since at least 1957, when he conducted "Revelations" for a concert of hybrid works at Brandeis. Probably his greatest Mingus undertaking is the reconstruction of the mammoth suite "Epitaph" in the late 1980s, but he has also arranged short works for The Mingus Orchestra, a traveling group of 10 musicians assembled by Mingus's widow Sue. The four works chosen for this program come from the Mingus Orchestra book. "Taurus in the Arena of Life" and "The Shoes of the Fisherman's Wife Are Some Jive Ass Slippers" (misprinted in the program as "The Shoes of the Fisherman's Wife Ain't No Jive Ass Slippers") were written in the 1970s. "Half-Mast Inhibition" and "Inquisition" were written in the 1940s but not recorded until many years after—the first conducted by Schuller in its first recording on Mingus's 1960 "Pre-Bird," and the second premiered as part of "Epitaph," where it's titled "Moods in Mambo." Each was distilled to its essence in Schuller's arrangement, and I was particularly thrilled to hear "Shoes," which is one of Mingus's most cogent and dynamic pieces.
Schuller wrote "Headin' Out, Movin' In" for a Joe Lovano date in 1995 (on this evening, Tim Mayer played the tenor part and seemed completely confident stepping into Joe's shoes). Once a collective improv section at the top resolves into tempo, the swing of this piece never lets up despite the fact that it gets compressed and stretched in ways that really tax the rhythm players. However, it's less consciously a piece for a swinging big band and much less consciously "cool" than "Jumpin' in the Future," which was written in 1948. Even though nearly 50 years separate them, they both show off Schuller's impeccable ear for orchestration and instrumental color. He is so comfortable with the language of atonality that the harmony becomes an afterthought in the listener's mind. You hear his melodies in proper balance with their foundation, and they progress with an elegant and straightforward logic. Even the surprises in the music make sense.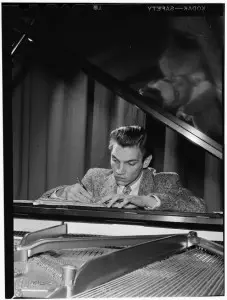 It may be inevitable that Bob Graettinger's pieces suffer by comparison. Graettinger was championed by Stan Kenton during his short composing life (he died of lung cancer at 34 in 1957), and his work remains controversial among Kenton fans to this day. It was both bold and noble of Hewitt to include a good sampling of Graettinger in the program, but I'm not yet convinced that he is a great lost hero of jazz composition.
The program gave us two Graettinger arrangements of standards ("Autumn in New York" and "Laura") to warm up our ears. Both are carefully wrought and chock full of cleverness, and they stand comparison with other transformative arrangements of standards by Gil Evans, Gary McFarland, and George Russell.
But once the notepaper is blank and Graettinger has to supply his own melodies, I begin to have my doubts. His 1947 tune "Thermopylae" and his famous (or infamous) suite "City of Glass" from 1951 are dense with tone clusters, thick with dissonance, and, to my ears anyway, musclebound. Part of this may be due to the nature of the Kenton orchestra, which could be delicate and sensitive but all too often prompted arrangements featuring sledgehammer ensembles and ear-shattering bolts of screech trumpet. To his credit, Graettinger never writes as tastelessly as that, but the sheer size of the Kenton band and its overemphasis on brass seems to have skewed his music towards bombast. In addition, I find him inferior to the other composers on the program as an orchestrator. Too often, I had to work harder than I should have to tease his musical thoughts out of tangles of sound. All in all, though it was very useful to hear this music in an acoustic space instead of via a compressed and flattened recording from the early era of hi-fi, I'd rather have had more Schuller.
Performance standards throughout the evening were on an extraordinary level. Clearly, Berklee and NEC do not have a monopoly on the area's most gifted, young musicians. TBC's student players stood toe-to-toe with their professional counterparts and never sounded unsure of themselves. For this and for all of the other technical beauties of the evening, one more nod to Schuller, this time as conductor.
To point out just one detail, it was fascinating to watch Schuller differentiate his baton strokes. Even though he now conducts from a chair and needs some assistance negotiating a raised podium, his direction of the orchestra was remarkably evocative. A stab of the baton got exactly a stab in response; a gentler slide called forth a cloudier attack. He knew at every second the emotional qualities he wanted, and the orchestra responded with great respect and care.
Other people have stories about the ways in which Gunther Schuller has enriched their lives, has taught them, has made them better people. Let me conclude this look back on TBC's rewarding New Music Festival with my own.
Back in 1988, when Schuller and his son George decided to record some of Gunther's adventurous "big band" arrangements and compositions from the 1940s (issued on Schuller's label GM as "Jumpin' in the Future") using George's band Orange Then Blue, they asked me to write the liner notes for the CD.
I was honored and awed—how could a lowly DJ do justice to the sophisticated stuff created by a certifiable genius? I worked hard on the task and was fairly satisfied with the result, though I knew I was on thin ice.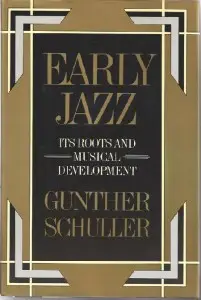 But when I finally held the completed CD and scanned the notes I'd written, I was surprised by how erudite I'd become. Schuller's arrangement of "When the Saints Go Marchin' In" was described as "a vigorous investigation of the original four-note motive, using thematic diminution, augmentation, inversion, and other venerable 'classical' devices . . ." Had I conjured this stuff up in my sleep? When did I learn the word "diminution"? Later on, the notes said that "Jumpin' in the Future . . . pushes beyond all the jazz conventions of the day, freed from chorus structures, familiar changes, exploring instead polyphonic textures, Schoenbergian and Scriabinesque harmonies at the time unknown in jazz." I knew I hadn't written "Scriabinesque"—I was just getting my feet wet in Scriabin. Surely, someone (probably Gunther himself) had punched up my prose with musical substance. No one ever embarrassed me by pointing out what I didn't know, and whoever the ghost writer was let the smarter words stand over my name, allowing me to take credit for them if I wished to.
That was one of the best lessons I've ever had. With that simple act of generosity (and necessity—how could he let a world premiere recording hit the stores without adequate notes?), Gunther Schuller improved me. I can only imagine the education he's given to others.
---
An authoritative thumbnail biography of Gunther Schuller
Recordings of some of the works performed at this concert:
Teddy Charles: Tentet (Atlantic, 1956) [first recording of George Russell's "Lydian M-1"]
Joe Lovano and Gunther Schuller: Rush Hour (Blue Note, 1995) [first recording of Schuller's "Headin' Out, Movin' In"]
Gunther Schuller and Orange Then Blue: Jumpin' in the Future (GM, 1988) [first recording of Schuller's "Jumpin' in the Future"]
Charles Mingus: Pre-Bird (Mercury, 1960) [first recording of Mingus's "Half-Mast Inhibition," conducted by Schuller]
Charles Mingus: Let My Children Hear Music (Columbia, 1972; CD reissue with additional track, 1992) [first recording of Mingus's "The Shoes of the Fisherman's Wife Are Some Jive Ass Slippers" and "Taurus in the Arena of Life"]
Charles Mingus: Epitaph (composed c. 1940 – 1962; discovered 1985) edited, reconstructed, completed, and conducted by Schuller; performed by all-star jazz orchestra; produced by Sue Mingus; liner includes extensive essay ("A Guide to Charles Mingus' Epitaph") by Schuller (Columbia, 1990) [first recording of "Moods in Mambo," later adapted as "Inquisition"]
Stan Kenton: City of Glass (Capitol, 1951) [contains Graettinger's "Thermopylae" and "City of Glass"]
Recordings of other hybrid works of interest:
Bill Evans: Brandeis Jazz Festival (Gambit, 2005) [CD reissue of Columbia sessions from 1957] [contains first recordings of Schuller's "Transformation" and Mingus's "Revelations," both conducted by Schuller, and George Russell's "All About Rosie"]
John Lewis & Gunther Schuller: Golden Striker (1960) / Jazz Abstractions (1961) (Collectables Jazz Classics, 1999) [CD reissue of Atlantic sessions]) [contains first recordings of Schuller's "Abstraction," "Variants on a Theme of John Lewis," and "Variants on a Theme of Thelonious Monk"]
Modern Jazz Quartet: Third Stream Music (Wounded Bird, 2002 [CD reissue of Atlantic sessions from 1959]) [contains first recording of Schuller's "Conversation"]
— Steve Elman