By Caldwell Titcomb
Some plays are so long that they drive people to despair. In the standard theatrical canon the palm goes to Goethe's "Faust," Part I of which runs 4612 lines, and Part II takes the total to 12,111 lines. Next comes Ibsen's "Peer Gynt." The playwright did not intend this to be staged and called it a "dramatic poem." It is occasionally mounted with drastic cuts, though Peter Stein in 1971 famously offered it in two nights with a parade of six actors in the title role.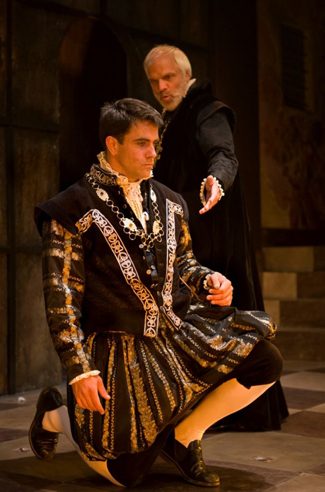 "Don Carlos" at the Gamm Theatre — Don Carlos (Steve Kidd) and his father, King Philip II (Richard Donelly)
And then there is "Don Carlos" by Goethe's close friend Friedrich Schiller, who finished writing the play in 1787 at the age of 28. It has 6282 lines, which Schiller reduced to 5448 lines for an 1801 edition. Just before he died he further shortened the work to 5370 lines. Even so, this far exceeds Shakespeare's "Hamlet," whose uncut 3929 lines take nearly five hours in performance.
Enterprisingly, Tony Estrella, the artistic director of the Gamm Theatre in Pawtucket, has tackled this 22-scene epic and come up with an engrossing production. Working from an 1847 English translation by R. Dillon Boylan, Estrella has fashioned his own fresh verse adaptation, which under his direction runs two hours and twenty minutes plus intermission.
The play takes place in the Spain of 1568 during the autocratic reign of Philip II, whose formidable empire included the Netherlands, where there was much religious unrest that challenged the king's ardent Catholicism, not to mention the arm of the brutal Inquisition. Like Shakespeare, Schiller played fast and loose with historical facts, though the main characters are authentic.
For all the political and religious strife, Schiller has woven matters of the heart into the mix. Crown Prince Carlos, once affianced to Elizabeth of Valois, saw Philip himself marry her (his third wife), so that he is now deeply in love with his own stepmother. He rebuffs the love of Princess Eboli, who becomes the king's mistress.
Schiller obviously tipped his hat to "Hamlet," with Philip recalling Claudius, and Don Carlos echoing Hamlet. Richard Donelly is powerful as King Philip, power-mad ("I know I am alone" and later "I am judge, jury and executioner") and increasingly unhinged as the play proceeds. Steve Kidd's Carlos is neurotic and intense, with a will that weakens. Schiller invented a wonderful character, the idealistic, freedom-loving Marquis of Posa, who corresponds to Hamlet's companion Horatio and loses his life for his friend.
Posa's first audience with the king (Act 3, Scene 3 in Schiller's original) is magnificent writing. It's a long, subtle encounter, and Estrella fortunately gives us a full ten minutes of it. Alexander Platt is impressive in this remarkable role. Norman Beauregard is fine as the Duke of Alba, the king's deputy in the Netherlands. Georgia Cohen makes an attractive Queen Elizabeth. Amanda Ruggiero needs to temper her weeping and wailing as the rejected Princess Eboli. Christopher Francis Byrnes is a sly, portly Father Domingo, the king's confessor, and Tom Gleadow is exasperated as the king's bodyguard.
In the first half, King Philip comments, "Our Inquisition never sleeps," and we see a near-naked man viciously whipped. At the play's end there is a startling scene. A cruciform section of designer Sara Ossana's drab center wall folds down, and the stage is bathed in blood-red light (courtesy of Matt Terry). Through the opening there steps, in cardinal robe, the towering Grand Inquisitor (Sam Babbitt). Ninety years old and blind, he nonetheless carries on a lucid discourse with King Philip and leaves no doubt about wherein lies the power behind the throne. This is one scary scene, I can tell you (it's also a precursor of the Grand Inquisitor chapter in Dostoyevsky's "The Brothers Karamazov").
I have few cavils. It is hard to make sense of all the letters that are written, carried, crumpled or retrieved. I believe I heard Domingo say "by he and X" instead of "by him." And the phrase "amateur theatrics" would certainly be unavailable in 16th-century diction.
("Don Carlos" continues at the Gamm Theatre, Armory Annex, 172 Exchange Street, Pawtucket, RI through October 5; tel: 401-723-4266)