By Michael Ullman
This Craft reissue is welcome for the presence and distinctness of its sound, and for the state-of-the-art playing. Art Pepper will be going through my head for days.
Art Pepper Meets the Rhythm Section (Craft lp)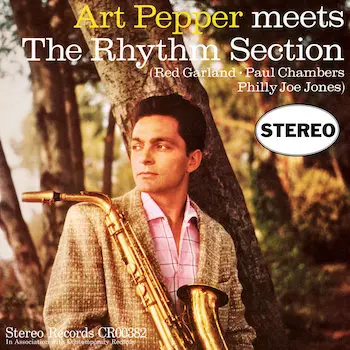 I first heard alto player Art Pepper at the Jazz Workshop in the mid-'70s, soon after he was released from prison for his drug use. He may have been out of practice, but practice seemed irrelevant to Pepper's particular instrumental brilliance. He played wonderfully, his ballads both sweetly expressive and probing and his various versions of rhythm changes fluent and exciting. He was dressed in a clunky white suit. At one point he peered into the audience of casually dressed Bostonians, and said, "The last time I was here everyone dressed in suits." Between sets, he ran to his hotel room and changed into a T-shirt. He was the oddest mixture of musical genius, justly proud of his talent and accomplishments, yet deeply insecure as a human being. When I interviewed him on the occasion of the publication of his autobiography, Straight Life, he kept asking me if I liked him. And the saxophonist invited me to hang out at some clubs with him that night. (I did like him, but I didn't go to the clubs.) He was fiercely competitive: Pepper told me about one night when Sonny Stitt sat in with him. "It was war," was the way he put it. Stitt played everything there was to play, so Pepper was left "to play myself." It worked. He talked about his favorite ballad performance: "Patricia" — on Art Pepper Today. It's my favorite among his ballad performances, though I like others almost as much, such as his version of "Winter Moon" (Galaxy). He showed me his abdominal scars, talked about his methadone regimen, and said forthrightly, "If I get five more years, I will be the greatest alto saxophonist ever." His liver gave out two years later.
Before that, his talent was unquenchable. In Straight Life, Pepper told the story of this 1957 LP, Art Pepper Meets the Rhythm Section. The circumstances behind its making were serendipitous. The rhythm section was that of Miles Davis's quintet: Red Garland, piano, Paul Chambers, bass, and Philly Joe Jones on drums. That quintet happened to be on a West Coast tour. The night before the recording, this group played with Davis. Fatigue might have been (but was not) an issue. Astonishingly, Pepper didn't know the session was going to take place. His wife Diana had set up the date and didn't tell the saxophonist until the morning of the session: she didn't want him to be nervous. His horn was a wreck. Nonetheless, he did what he had to. He told producer Les Koenig: "I was so inspired by the rhythm section, I forgot the 'adverse' conditions. I've never played most of the tunes before, and I fell back on the time I spent before the war on the Avenue playing by ear." He performed, he said, with "honest emotion." In her book, his widow Laurie Pepper informs us, "Art loved honesty: he called it truth." So that was his highest compliment to himself.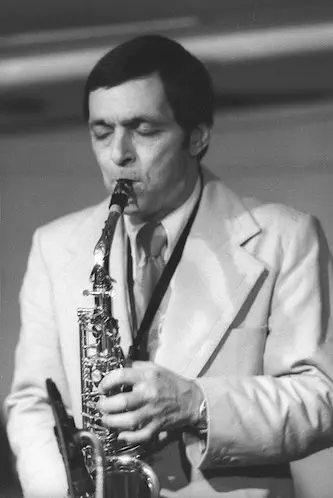 This Craft reissue is a joy. The sound is clean, with the slightly exaggerated stereo effect that was common in the late '50s. The distinctness with which we hear the well-balanced rhythm section is a revelation. Pepper talked about the "roughness" of some of his playing. It sounds like intensity to me. The repertoire here is ballads along with a couple of improvised blues — "Red Pepper Blues" and, more surprisingly, "Waltz Me Blues" — and a smattering of standard bebop numbers. Besides Pepper's expressive playing, this LP is a good place to hear the Red Garland trio. Chambers plays distinctly, bowing several solos. Jones's brushes are as cleanly rendered as his sticks. There's an advantage to playing with a well-traveled rhythm section. After a typically inventive blues solo by Pepper on "Red Pepper Blues" you can hear the trio settle in with the beat in a suddenly (even more) relaxed swing.
Pepper never sounds sure of himself. He can be laid back, as in his statement of the melody of "Imagination," but few musicians pay more touchingly than Pepper when he goes into his higher register, as he does on the bridge. At that point the band settles into a gentle swing beat for the saxophonist's improvisation. Garland may have appreciated being away from Miles Davis for the day. Davis wanted him to play block chords incessantly. Here, on "Red Pepper Blues," he mixes trenchant single-note lines with those block chords for contrast. No one is looking over his shoulder on Meets the Rhythm Section. The band rips through Pepper's "Straight Life," a rushed performance on which Chambers takes a bowed solo. It's not just a test of their technique: on even the swiftest numbers, there's something touching about Pepper's tone.
The most unlikely tune on the record is the Dixieland standard "Jazz Me Blues," which Bix Beiderbecke recorded in 1924. The quartet nods toward that 2/4 rhythm in a playful way before settling down. Pepper and Philly Joe Jones exchange fours. (The session must have been based on agreements if not arrangements.) Jones, of course, shines on the Latin number "Tin Tin Deo." Even in the theme statement, he plays with an energized variety of techniques: a bar of rim shots, some moments when he doubles the rhythm of the tune, unexpected cymbal hits, and a sudden loosening of the rhythm in the bridge. This is the longest cut on the album. Everyone solos. On "Star Eyes," Pepper follows Chambers's bowed solo. He enters on tiptoe and gradually asserts himself before recapping the melody with some comically held notes. Garland and Pepper state Dizzy Gillespie's "Birks' Works" in unison, producing a kind of dark sound from which Pepper seems to escape by jumping into a high register.
Pepper has been well represented on high end LPs recently. At least four of his later sessions have been reissued by Analogue Productions, which also has a new version of Art Pepper + Eleven: Modern Jazz Classics from 1959. To me, this Craft reissue is just as welcome for the presence and distinctness of its sound, and for the state-of-the-art playing. Art Pepper will be going through my head for days.
---
Michael Ullman studied classical clarinet and was educated at Harvard, the University of Chicago, and the U. of Michigan, from which he received a PhD in English. The author or co-author of two books on jazz, he has written on jazz and classical music for the Atlantic Monthly, New Republic, High Fidelity, Stereophile, Boston Phoenix, Boston Globe, and other venues. His articles on Dickens, Joyce, Kipling, and others have appeared in academic journals. For over 20 years, he has written a bi-monthly jazz column for Fanfare Magazine, for which he also reviews classical music. At Tufts University, he teaches mostly modernist writers in the English Department and jazz and blues history in the Music Department. He plays piano badly.