By Peg Aloi
Here's my TV suggestions for the late-January period of long cold dark days and nights.
The weather is dark and dreary and so, dear viewers, are my current tastes in TV viewing. But "dark" doesn't have to mean depressing. On the contrary, numerous studies have suggested that many people find reading or watching horror to be soothing to the psyche. Who knows why? But we can speculate: maybe experiencing the horrors of others' lives makes our own existence seem slightly more rosy by comparison? Maybe experiencing fear and terror is somehow cathartic and alleviates our own real-life distress? Hard to say, but I know I crave horror and terror tales when I'm feeling stressed. So here's my suggestions for that late-January period of long cold dark days and nights. Yes, suggestions, plural! I've begun a new weekly format for this column in addition to my usual single reviews of TV series. Now you'll get several picks in one go, lucky you.
Peg's Pick of the Week: Inside Man is a limited series on Netflix from the creators of Sherlock. It's mind-bending and rather dark. It stars Stanley Tucci and David Tennant as two men engaged in some twisted manipulation. Tucci is a prisoner on Death Row with uncanny talents as a detective. He's being interviewed by a journalist (Lydia West) and doing his best to draw out the experience to serve his own ends. Tennant is a vicar with a kindly reputation who suddenly finds himself in a crazy situation and resorts to some desperate and rather extreme ends to protect his teenage son. Both Tucci and Tennant are every bit as wonderful as you'd expect. The excellent cast also includes Dolly Wells (who wowed as Van Helsing in the Netflix/BBC Dracula), Rome's Lyndsey Marshal and Atkins Estimond (seen in Lodge 49, a show I will be discussing here soon). This series doesn't quite have the brilliant humor or dramatic intricacy of Sherlock (nor the amazing chemistry of Benedict Cumberbatch and Martin Freeman), but it's still suspenseful, clever, entertaining and, yes, dark and disturbing.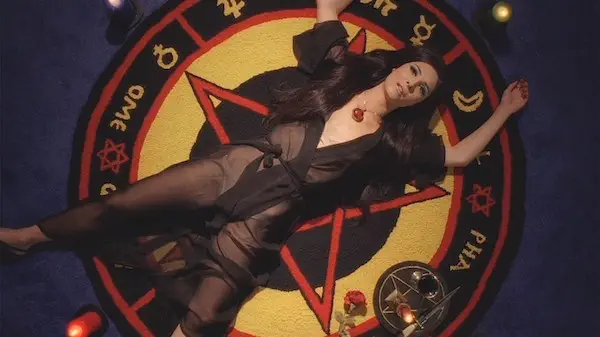 Own This: Okay, some shameless self-promotion here. Not long ago I was invited to appear in a documentary for French television: Les Sorcières à Hollywood, or The Witches of Hollywood. All of the experts interviewed were American, so apart from the voiceover narration, the film was in English with French subtitles. It follows the history of the portrayal of witches in Hollywood films and TV, starting with The Wizard of Oz, and including Bell, Book and Candle, Bewitched, The Craft and many others, with cultural and historical commentary. My cohorts included Heather Greene (author of Lights, Camera, Witchcraft: A Critical History of Witches in American Film and Television), Pam Grossman (author of Waking the Witch: Reflections on Women, Magic and Power), Kristen J. Sollée (author of Witches, Sluts, Feminists), and Dianca London (freelance writer). In addition to being shown on French TV, this film (written and directed by Sophie Peyrard) made the rounds of a few festivals and got some good reviews. Now it has been recut to include English language narration. It's now streaming on Peacock TV, and also available via Roku and Tubi. But you can also own a physical DVD copy, and it's on sale via Amazon now for about $8. I'd snap it up if I were you!
Will Sharpe is My Boyfriend: If you became a fan of Will Sharpe after watching the most recent season of The White Lotus, you might not know that, in addition to being a fine actor and a beautiful human being, he is also a visionary director. Most recently he directed the HBO mini-series Landscapers starring Olivia Colman and David Thewlis. He also made his feature film debut last year with the excellent and unusual biopic The Electrical Life of Louis Wain, starring Benedict Cumberbatch, Claire Foy, and Andrea Riseborough (who might have to have an entire column devoted to her at some point). But wait! Sharpe also directed and stars in a fictional true crime style "documentary" called Black Pond (based loosely on a true story) and an absolutely outrageously original and beautiful and hilarious and indescribably dark series called Flowers that ran for two seasons on Netflix. It also stars Olivia Colman. (I discovered it around the time I first saw Fleabag, which I saw early on before it became crazily popular). Flowers was life-changing. When I need a jolt of melancholic beauty and black humor, I rewatch it. The episodes are short, but they're chock full of sensory and narrative strangeness. And, of course, terrific writing, acting, and directing. (Sharpe does all three, with aplomb).
---
Peg Aloi is a former film critic for the Boston Phoenix and member of the Boston Society of Film Critics. She taught film studies in Boston for over a decade. She writes on film, TV, and culture for web publications like Time, Vice, Polygon, Bustle, Mic, Orlando Weekly, and Bloody Disgusting. Her blog "The Witching Hour" can be found on substack.