By Michael Ullman
MJQ pianist John Lewis would have loved to have had an orchestra this well rehearsed and recorded so beautifully.
Enrico Pieranunzi Trio and Orchestra,  Blues & Bach: The Music of John Lewis. Luca Bulgarielli, bass; Mauro Beggio, drums; Michele Corcella, cond. arr. (Challenge Records)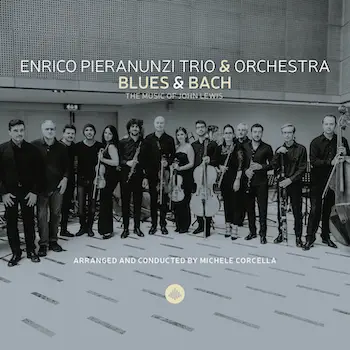 Jazz pianist Enrico Pieranunzi was born in Rome 73 years ago. He has wide-ranging (often Italianate)  interests. He made his first recording as a leader in 1975. In the nearly fifty years since he has recorded with Chet Baker (twice), Lee Konitz, Art Farmer, Kenny Wheeler, and Charlie Haden, all musicians rightly known for their lyrical qualities. He recorded the intimate sounding Duologues with guitarist Jim Hall, and has for decades led one version or another of his trio. Pieranunzi has an interest in film: he played on various recordings by the great film composer Enrico Morricone. With Marc Johnson and Joey Baron, he released two tribute albums to the Morricone, Play Morricone 1 and 2, as well as Fellini Jazz with an all-star group featuring Kenny Wheeler, Chris Potter, Charlie Haden, and Paul Motian.
His new project is very different. On Blues and Bach: The Music of John Lewis, Pieranunzi pays tribute to the long-time leader of the Modern Jazz Quartet. In retrospect, Lewis and Pieranunzi would seem to be a natural pair. Like the Italian, pianist John Lewis had wide-ranging tastes and ambitions. He wrote chamber pieces, the film scores to Odds Against Tomorrow and No Sun in Venice, and a tribute to Kurt Weill. Lewis was also fascinated by Bach. One hears that fascination indirectly in his various fugues and, indeed, in the sometimes interweaving improvisations by Lewis and the brilliant vibist in the Modern Jazz Quartet, Milt Jackson. (The MJQ bassist Percy Heath once told me that he played behind Jackson for 35 years and every night Jackson did something that surprised him.) Lewis recorded three albums based on Bach's Well-Tempered Clavier. They are fascinating exercises but somewhat frustrating for bebop fans: Lewis can barely tear himself away from what Bach wrote to introduce his own improvisations and a little bit of swing. Nonetheless, Pieranunzi's title, Bach and Blues, is a little misleading: there are no Bach pieces here.
The recording begins with Lewis's gently uplifting waltz "Skating in Central Park" from the film score Odds Against Tomorrow. Released in 1959, this at times brutal film centers on a trio of ne'er-do-wells, including Harry Belafonte, who fail at a bank robbery. Belafonte and his racist colleague fight throughout their partnership; eventually they are blown up together, rendering their corpses indistinguishable. Which is the point, to the extent that this film has a point. Lewis' "Skating in Central Park" supplies a wholesome break in the action. In the composer's version of "Skating," also for orchestra, we hear a flute floating above the ensemble. There are solo parts for Jackson as well as for a prominently recorded Heath. That session was recorded in July 1959: a Modern Jazz Quartet version followed in October of that  year. Pieranunzi's take on "Skating" is more relaxed, with less insistence on the waltz rhythm,  The orchestra states the melody warmly, gradually building to Pieranunzi's entrance with his version of Lewis' melody over bass and patter of brushes on drums. (The orchestra returns for the second A section.)
Lewis would have loved to have had an orchestra this well rehearsed and recorded so beautifully.  The arrangements are by Michele Corcella, who deserves equal credit with the musicians for the success of Bach and Blues. His web site tells us he graduated in "Musical Studies" from the University of Bologna where he wrote a thesis on the music of Duke Ellington. He lectures on Ellington and on Gil Evans and teaches jazz composition at the Conservatorio Antonio Buzzolla di Adria. The orchestral parts he has written are occasionally lush, often lively, and inevitably idiomatic. His writing has its share of surprises: the melody of "Spanish Steps," for instance, is stated by the strings with a bassoon providing a kind of obbligato. (The piece was recorded by Lewis on The Golden Striker in 1960 and subsequently by the MJQ for the 1962 record The Comedy.)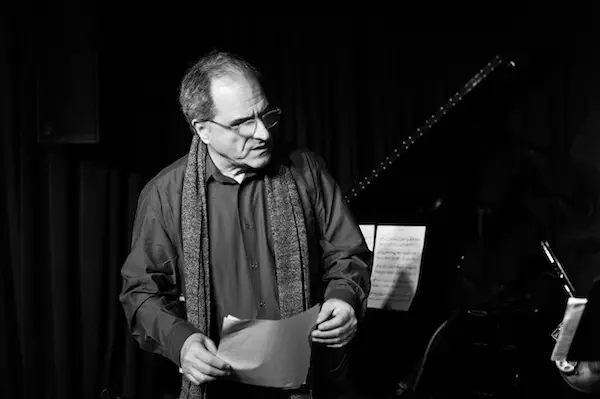 Lewis played precisely, his cleanly articulated lines building their own kind of tension. Pieranunzi is a more exuberant, outgoing player, at least on these works. One can hear their difference plainly in the often recorded Lewis piece "Vendome." Lewis recorded "Vendome" repeatedly, including on an album with the Beaux Arts String Quartet. The extended orchestral introduction for Pieranunzi's take on the tune is a lighthearted delight. When his turn comes around, the pianist enters dramatically. He is eager to exclaim, not merely state, Lewis' melody. His vigor has been anticipated; the orchestral parts are equally enlivened behind him.
Lewis's most famous composition is "Django," his tribute to the guitarist Django Reinhardt. It has been recorded over three hundred times, including by such jazz luminaries as Bill Evans, Tommy Flanagan, and Charlie Haden. Lewis' own versions exemplify his compositional technique: the written sections are beautifully executed but the release, when Jackson is suddenly allowed to solo via an expansive four/four, is more than welcome. In his version, Pieranunzi seems to want to turn the piece into a blues. Meanwhile, his bassist pays tribute to MJQ bassist Heath by at times reproducing the latter's background lines. The one non-Lewis composition on the album is "Autumn in New York," which the MJQ recorded for Prestige in 1953. Pieranunzi introduces the Vernon Duke standard alone and with rhapsodic flair. He takes a full chorus before the orchestra bursts in like a group of excited guests at a party.
Less familiar is the Lewis composition "Milano," recorded by the MJQ for Prestige in December of 1954. On that initial recording, Jackson plays the melody simply, with single notes and without a swing feeling. (With lyrics added, the piece was sung by Chris Connor on Free Spirits.) Corcella chooses a more indirect approach, prefaced by an extended introduction. Pieranunzi states the melody with uncharacteristic gentleness, at times playing over pizzicato strings to which he defers. The album ends with "The Jasmine Tree." Lewis and Jackson engage in a dual improvisation at the beginning of the original recording. (Is this the Bach reference?) Then Jackson takes command in this uptempo version with drummer Connie Kay playing bells behind him. Meanwhile, Heath plays an obsessive pedal tone throughout. It's an odd effect. Pieranunzi's version starts with a drum solo, and then the trio improvises more or less out of a fixed tempo. To those who know the original, this version will be a surprise — but a welcome one. The trio falls into a steady swinging rhythm and when the orchestra joins in enthusiastically the track turns into an uptempo romp.  Throughout Blues & Bach: The Music of John Lewis, Carcella has come up with colorful orchestral parts that are well integrated with the trio. And, when called for, everybody swings. It's a remarkable accomplishment. Special kudos to the unnamed bassoonist.
---
Michael Ullman studied classical clarinet and was educated at Harvard, the University of Chicago, and the U. of Michigan, from which he received a PhD in English. The author or co-author of two books on jazz, he has written on jazz and classical music for the Atlantic Monthly, New Republic, High Fidelity, Stereophile, Boston Phoenix, Boston Globe, and other venues. His articles on Dickens, Joyce, Kipling, and others have appeared in academic journals. For over 20 years, he has written a bi-monthly jazz column for Fanfare Magazine, for which he also reviews classical music. At Tufts University, he teaches mostly modernist writers in the English Department and jazz and blues history in the Music Department. He plays piano badly.