By Peg Aloi
For viewers weary of horror that embraces the minimalist and dystopian, The Pale Blue Eye — chock-full of emotion, mystery, and romance from a bygone era — is a welcome sight indeed.
The Pale Blue Eye, directed by Scott Cooper. Screening at Kendall Square Cinema.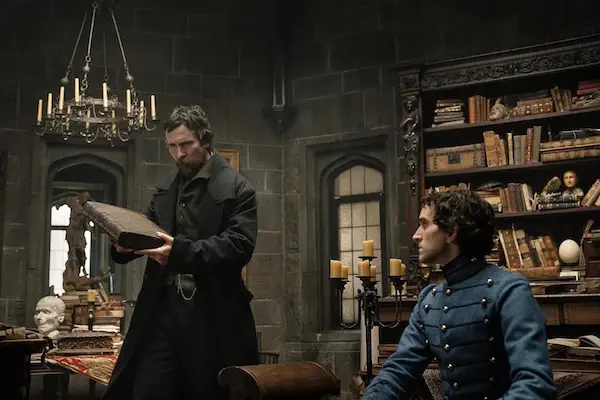 The horror genre certainly has come a long way in recent years, including branching out into many subgenres, many determinedly contemporary in style and tone. But, for my money, you can't really beat a good old-fashioned Gothic thriller, and Scott Cooper's The Pale Blue Eye satisfies on a number of levels. Set in 1830 at West Point Military Academy, the story is atmospheric, eerie, suspenseful, and terrifying. Adapted from the novel by Louis Bayard, the film is full of compelling characters who speak impeccable period dialogue as they grapple with solving several overlapping mysteries.
The first one concerns a young cadet who inexplicably hangs himself from a tree. School officials (Timothy Spall and Simon McBurney kick off the cast's impressive roll call of fine British and American actors) suspect foul play and call on a retired, widowed New York City police detective, Augustus Landor (Christian Bale), who lives alone in a rustic cabin not too far from the campus. Arriving on horseback, Landor seems hale and hearty, but a weary sadness hangs over him, a sense of defeat. We learn that after he lost his wife he has kept to himself for years: agreeing to investigate this apparent murder is his attempt to maintain his stellar reputation. Landor is also known for his ego; even in retirement he subtly expects deference to his unorthodox methods.
Soon after the detective's arrival, a sophomore cadet with an interest in solving crimes starts hanging around the edges of the investigation. Landor knows he could use an insider perspective on the school, so he gradually engages his assistance, despite the young man's oddness. He's socially awkward, prone to outbursts of lofty language, melancholy, and romantic. It's not a spoiler to say that this young man is a young and earnest and rather weird Edgar Allan Poe (Harry Melling). The film plays with this revelation, giving us various versions of Poe's name as he introduces himself, always short of giving us all three names. Poe is still a budding writer, but the film deftly foreshadows his later works. The title of the film and novel is a quote from Poe's short story "The Tell-Tale Heart," about a man who has committed murder and is haunted by guilt and an unshakeable feeling that his victim's heart is still beating under the floorboards.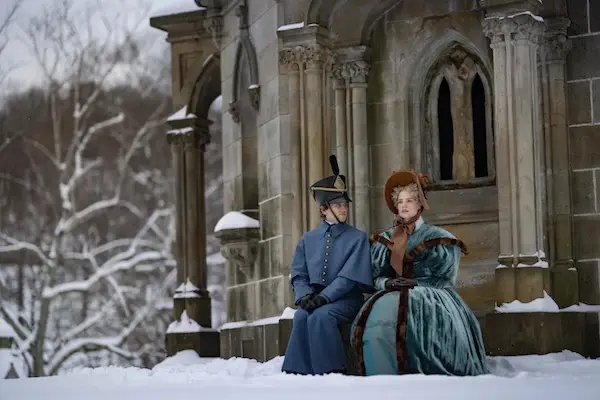 As the investigation proceeds, Poe inspires Landor's confidence after he confesses he's been bullied by fellow cadets, and therefore knows their dark sides. The violent and cruel tendencies of the students take center stage. One cadet implicated in the attack is Artemus Marquis (Harry Lawtey of HBO's Industry), an arrogant bad boy type whose parents' powerful social position protects him from discipline. They are Lord and Lady Marquis, played by Toby Jones and Gillian Anderson (both as excellent as you'd expect), and Artemus has a sister, Lea (Lucy Boynton) who is beautiful but frail. Her many years of illness have given her a morbid fascination with death and the occult. Of course, her manic-pixie-goth-girl looks and demeanor draw Poe like a moth to flame. As the investigation continues apace, and more cadets are found dead, strange arcane signs are found and demonic rites are suspected. Poe is bewitched by both the lady and the lure of dark magic, but for Landor's sake, he stays focused on the evidence.
At this point, the film attempts to weave an origin story for Poe's dark vision of existence. Lea's name is very close to "Lenore," the "rare and radiant maiden" of Poe's most famous poem, "The Raven," a lament and love song steeped in grief and loss. Melling's romantic obsession with Lea looks like it thrums in his veins. Melling has shown himself to be an actor of singular talents, both in unusual one-off roles, as in the Coen brothers' The Ballad of Buster Scruggs (his performance in "Meal Ticket" is heartbreaking and mesmerizing) or as an awkward romantic interest for chess wunderkind Anya Taylor Joy in The Queen's Gambit. But here, as one of American literature's most admired masters of horror, he radiates a complex sensitivity and sparkling intellect. His Poe assumes the role of an imaginative foil to Landor's pragmatic detective, imbuing the mystery with a frisson of macabre excitement. It's the role of a lifetime and Melling conveys the psyche of Poe with nuance and gusto.
The entire cast is exquisite, including short cameos by Robert Duvall and Charlotte Gainsbourg. Bale gives his usual chameleon-like performance, lending the knotty Landor a taut blend of inscrutability and low-key physical menace. There are excellent twists and turns in the plot, some of which I didn't see coming. Even those that felt predictable still remained thrilling. The stunning production design by Stefania Cella (The Great Beauty) and lush cinematography by Masanobu Takayanagi (The Grey) create a rich, alluring mise en scène. The film's colorful Gothic experience is considerably enhanced by Howard Shore's (Spotlight, Crimes of the Future) moody score and exquisite costume detailing by Kasia Walicka-Maimone (Moonrise Kingdom). For viewers weary of horror that embraces the minimalist and dystopian, The Pale Blue Eye — chock-full of emotion, mystery, and romance from a bygone era — is a welcome sight indeed.
---
Peg Aloi is a former film critic for the Boston Phoenix and member of the Boston Society of Film Critics. She taught film studies in Boston for over a decade. She writes on film, TV, and culture for web publications like Time, Vice, Polygon, Bustle, Mic, Orlando Weekly, and Bloody Disgusting. Her blog "The Witching Hour" can be found on substack.