By Peg Aloi
1899's excellent design work makes this series an opulent and memorable visual odyssey.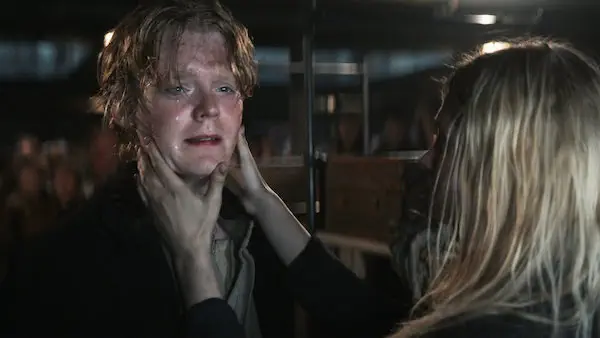 Following the popular success of their time travel thriller Dark, writer/creators Baran bo Odar and Jantje Friese have a new Netflix series called 1899. Set on a ship full of immigrants bound for the United States at the turn of the 20th century, this drama presents a fascinating assortment of multicultural and multilingual characters. Any fin de siècle story set on a large steamer vessel traveling from Europe to America will inevitably highlight class division: luxurious cabins reserved for the wealthy wealthy passengers get the plush accommodations. The show's production design is exquisite: the luxurious cabins reserved for the wealthy contain warm, burnished woods, fine brocade fabrics, and finely wrought furnishings. The poorer passengers are relegated to the dark bowels of the ship: not only must they suffer with substandard accommodations and food, but they are given limited access to the rest of the ship. They are generally treated like animals.
The protagonist, Maura Franklin (played by Little Joe's Emily Beecham), is introduced as an aspiring doctor who, because of her gender, is not taken seriously as a professional physician. But when a young Swedish girl falls mysteriously ill below deck, Maura doesn't hesitate to help. The girl's mother is a strict matriarch, whose hold over her family centers on her delusional interpretation of religious dogma. The girl's older brother, who is thoroughly devoted to her, wants a way out and hopes to leave his dysfunctional upbringing behind when he reaches America. Maura senses the girl is in distress and does what she can to help her stay safe. As seen through flashbacks, Maura appears to be both a medical student and a patient in a mental asylum. She is afflicted by disturbing visions and memories and often feels anxious about what is happening to her. This is the series' initial portrait of a character with a dual identity but, as 1899 progresses, we see more and more split personalities. We are also given a more complete sense of where and when this enigmatic story is taking place. Initially, the full shape of the drama's narrative is a bit of a puzzle and somewhat confusing. But the multiple plot lines eventually become compelling. Other passengers of note include a young French couple in a fraught marriage, a young Japanese girl forced into prostitution, and a young man whom Maura is strangely drawn to and feels she may have met before.
The ship is called the Kerberos (the three-headed dog from Greek mythology that guards the gates of Hell). Its captain, Eyk Larsen (Andreas Pietschmann, who played the adult Jonas in Dark) is an intense, moody man prone to drinking binges at night. He appears to be undergoing a mental crisis that is coming to a head as the journey continues. Like others on the ship, Larsen is plagued by strange dreams and visions; he is not entirely sure what is behind his impulsive actions. Larsen presides over a crew that — apart from a loyal first mate — shows signs of restlessness and disgruntlement. The crew, egged on by angry passengers, stages a mutiny after Larsen refuses to adhere to the ship's planned course from London to New York. He diverts course to save a vessel named the Prometheus, which was previously reported distressed and missing. It has been lost for some time; it appears to be a sort of ghost ship — and almost identical to the Kerberos. It is also carrying migrant passengers and Larsen is compelled to rescue any passengers who are still living. But more than that, the captain wants to solve the riddle of why this ship — presumed to be lost at sea — is suddenly appearing near the Kerberos.
It wouldn't do to spoil too much of what happens, but as the series progresses it becomes clear that this is not a straightforward period piece. Instead, the story skips around in time, touching down in various periods and locations. Skillfully interweaving different characters' stories and connections, 1899 sets up a rather fascinating and intricate atmosphere of uncertainty.The excellent (and diverse) cast portray an intriguing array of people — all on their separate journeys — whose paths converge in ways they could never have imagined. The gradual revelations that pull this deft mystery/thriller together are presented in a slightly more straightforward, and possibly less graceful, manner than the ones in Dark, which unfolded over three seasons. Still, like Dark, 1899 explores science fiction themes of time travel, fate, and parallel worlds. And the excellent design work makes this an opulent and memorable visual odyssey.
---
Peg Aloi is a former film critic for the Boston Phoenix and member of the Boston Society of Film Critics. She taught film studies in Boston for over a decade. She writes on film, TV, and culture for web publications like Time, Vice, Polygon, Bustle, Mic, Orlando Weekly, and Bloody Disgusting. Her blog "The Witching Hour" can be found on substack.