By Sarah Osman
This is a terrific start for a series that may live up to the promise of The Twilight Zone: it will take you "on a journey into a wondrous land whose boundaries are that of imagination."
The magic and mystique of the original Twilight Zone (1959-1964) can't be rebooted. The theme music inevitably triggers expectations that an encounter with the uncanny is sure to follow. From Rod Serling's omniscient narration to the (seemingly) simplistic morals presented at the end of each episode, The Twilight Zone was the most distinctively dystopian/sci-fi/supernatural/horror show (with liberal trappings) to ever air. There have been numerous attempts to recycle its success, though with some sort of modern update.
Director Guillermo del Toro, the Spanish mastermind behind Pan's Labyrinth, is the latest contender with Guillermo del Toro's Cabinet of Curiosities. At the very least, it is a Halloween treat. According to del Toro, the name was inspired by a piece of real life furniture — a cabinet of curiosities. These were treasure chests where the wealthy stored their most prized and exotic possessions. Each episode opens with del Toro (a la Serling) creeping into frame, introducing us to a "curious object." Each item, which can be as mundane as a set of keys, will be an integral part of the narrative. del Toro projects the perfect eerie storytelling facade; he purrs a few vague lines and we are launched into a bizarre new world.
Each episode is handled by a different director, ranging from Catherine Hardwicke (Thirteen) to Panos Costamos (Mandy) to Jennifer Kent (The Babadook) to Ana Lily Amirpour (A Girl Walks Home Alone at Night). No two episodes feel alike: each has its own distinctive atmosphere. All of history's trusty ghouls are on call to socialize, including demons, giant rats, creaky skeletons, and zombies. The biggest, most indomitable demon of all is capitalism. The "capitalism is bad" message isn't as obvious as it has been on other popular streaming shows (such as last year's Halloween hit, Squid Game); it is clear that del Toro and his cavalcade of directors are concerned with economic as well as unearthly issues. The pressures of the beauty industry, the ills of gambling, and the power of greed are in full view, their downside portrayed in graphic fashion.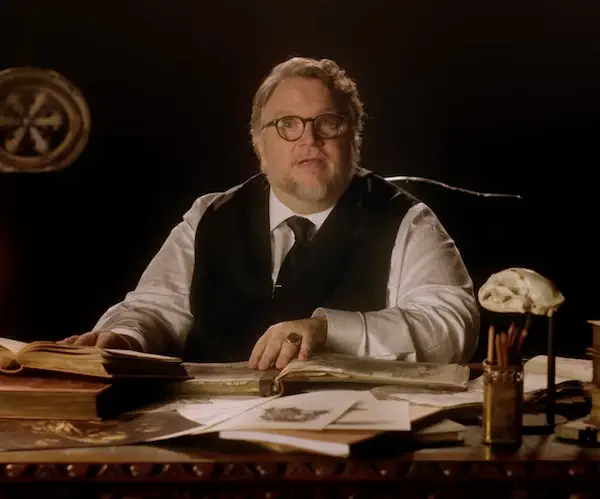 Just as each entry is helmed by a different director, each story is penned by a different writer. Most episodes are based on short stories (although two scripts here were written by del Toro). While the themes overlap, the tales themselves are wonderfully varied. We enter dank storage units, decrepit crypts and, most disturbing of all, Christmas in the '80s. Episodes span different decades and cities, each one commenting on its specific time period as well as what plagues us today. If you think that your deepest fear won't be covered, think again: there is an episode reminiscent of the horrors present in room 101 of 1984.
The casts are also first rate, with the performers often playing against type or leaning into the horror side of the roles we're used to seeing them in. Tim Blake Nelson plays a dangerous war vet who is definitely pro-MAGA; Kate Miccuci is an insecure taxidermist, and an over-the-top Dan Stevens makes for a memorably conniving infomercial host.
Similar to The Twilight Zone, Guillermo del Toro's Cabinet of Curiosities embeds a moral into each episode. But you don't feel you are being preached to: the messages never overpower the stories. Time will tell if del Toro enters the classic realm where Serling sits. But this is a terrific start of a series that may live up to the master's promise: that it will take you "on a journey into a wondrous land whose boundaries are that of imagination." So open up del Toro's fantastical cabinet and peek inside — if you dare.
---
Sarah Mina Osman is a writer residing in Wilmington, NC. In addition to writing for the Arts Fuse, she has written for Watercooler HQ, Huffington Post, HelloGiggles, Young Hollywood, and Matador Network, among other sites. Her work was included in the anthology Fury: Women's Lived Experiences in the Trump Era. She is currently a first year fiction MFA candidate at the University of North Carolina Wilmington. When she's not writing, she's dancing, watching movies, traveling, or eating. She has a deep appreciation for sloths and tacos. You can keep up with her on Twitter and Instagram: @SarahMinaOsman