By Jason M. Rubin
Channeling equal parts Lucinda Williams and Levon Helm, the album features Robin Lane's rich, earthy voice supported by sparse instrumentation.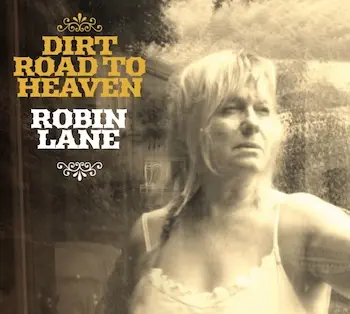 Robin Lane has come a long way, baby, and what a long, strange trip it's been. If that seems like a mashup of cultural affirmations, it only goes to show that Lane has traversed a lot of musical signposts on her own winding and often-bumpy career path. With Dirt Road to Heaven, her second album in the last two years, she seems to have found a comfortable place to settle — at least until the next road clears. To those who remember how she burst out of the local punk scene in the late '70s with her band, the Chartbusters (which sadly never lived up to their name), and found their video for the melodic and poppy "When Things Go Wrong" played in MTV's very first hour on the air, then followed her solo career that revealed a singer-songwriter's touch with a rocker's heart, the rootsy/country Dirt Road to Heaven could come as a surprise. But if so, it's a delightful surprise. Channeling equal parts Lucinda Williams and Levon Helm, the album features her rich, earthy voice supported by sparse instrumentation — aside from the occasional mandolin, banjo, lap steel, and accordion, the tunes mainly feature just vocal, guitar, bass, and drums.
The songs don't need ornamentation. Well written and honestly sung, they get under your skin like a plow. Indeed, most of the lyrics are on the downer side: On the title track, she sings, "There's so little left to choose, now that everyone has gone/What was passed on to me, is now all worn down/There's dirt on my shoes, where once there was gold/Lost for so long, it's the only way I know." On "Faded Leaves," an autumnal song in every sense of the word, Lane advises wearily that "When winter comes, it comes on fast." Yet she can infuse humor into her laments as well. In "Last Cute Minute," she's looking for "a special kind of man," which includes such key traits as "low cholesterol" and "a healthy checkbook." And in "Hunny Dummer," which begins, "Hunny, could you get a little dummer/I don't need no fancy talk tonight," she instructs her lover to "Turn off the phone, turn on George Jones/And let me show you how I feel."
Some of the songs were co-written by members of writing workshops Lane has led over the past several years for women who have experienced trauma. Her nonprofit, Songbird Sings, which she founded in 2010, helps such women to recover from their pain by writing and recording their own songs. No question they find in Lane an empathetic guide, and one assumes that the workshops have helped the teacher to also tackle her own pain and sadness, which permeate this album.
In her thank you's on the CD package, Lane notes that "we've been recording these songs (and more) for 10 years." That would explain the presence of Asa Brebner, former Chartbuster and longtime totem on the local music scene, who died suddenly in 2019 — ironically, soon after a Robin Lane & the Chartbusters reunion show in Somerville. He plays banjo on two songs and is the composer of the album's most uplifting track, the closing "Sunshine Blue Skies." His lyrics are a balm for Lane and for his own fans: "Sunshine blue skies, there for you tomorrow/Don't cry, dry your eyes, I'll be there to melt your sorrows." To make it even more special, Chartbusters drummer (and Arts Fuse writer) Tim Jackson is on the track as well.
Living now in western Massachusetts, Lane seems far from where she began. But her talent is undimmed, her voice is soothing, and her lyrics are current and cathartic. She still has all the tools, and Dirt Road to Heaven should be seen as a milestone in her long and continually evolving career.
MORE: Tim Jackson's Arts Fuse interview with Robin Lane about her new album.
---
Jason M. Rubin has been a professional writer for more than 35 years, the last 20 as senior creative associate at Libretto Inc., a Boston-based strategic communications agency where he has won awards for his copywriting. He has written for Arts Fuse since 2012. Jason's first novel, The Grave & The Gay, based on a 17th-century English folk ballad, was published in September 2012. His current book, Ancient Tales Newly Told, released in March 2019, includes an updated version of his first novel along with a new work of historical fiction, King of Kings, about King Solomon and the Queen of Sheba. Jason is a member of the New England Indie Authors Collective and holds a BA in Journalism from the University of Massachusetts Amherst.