By Helen Miller and Michael Strand
Each project in the exhibition presents unique perspectives on seeing and being seen, fitting for the Newman Prize's goal of providing a platform for innovative photographic portraiture.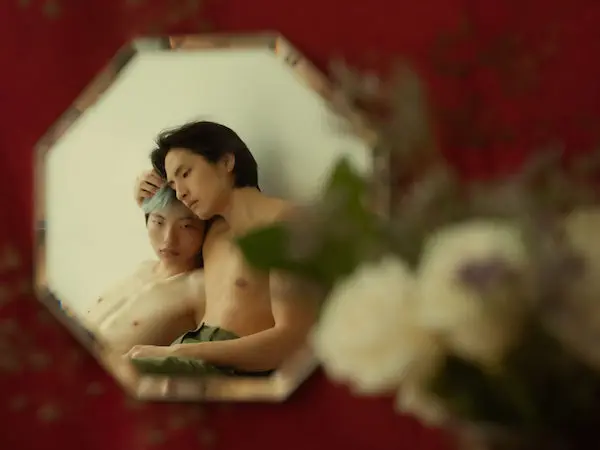 The most compelling work in the 2022 Arnold Newman Prize for New Directions in Photographic Portraiture revolves around the intersecting gazes of subject, viewer, and artist alike. Each project in the exhibition presents a unique perspective on seeing and being seen, fitting for the Newman Prize's goal of providing a platform for innovative photographic portraiture. The exhibit at the Griffin Museum of Photography in Winchester (through October 30) showcases the finalists, photographers Anna Grevenitis, Rania Matar, Andrew Kung and, the winner, Lisa Elmaleh.
In Bloom (2022), a pastel inkjet from Kung's ongoing series All-American, depicts a pensive young man, his hand wrapped around his lover's pixie-dust bob. Meanwhile, his lover, offset by a blurry bouquet, eyes himself in the mirror seductively. Kung's work, which draws on fashion photography, consistently defies American stereotypes of Asian masculinity, portraying Asian-American men and boys in states of togetherness, vulnerability, and, in one particularly tender portrait, new fatherhood.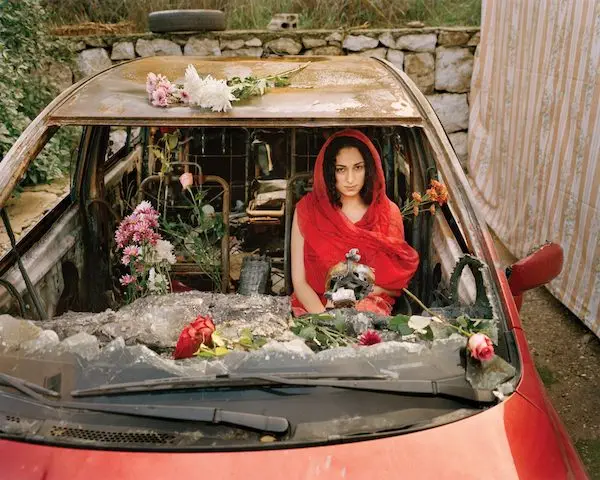 In Rania Matar's Farah (and Her Burnt Car), Aabey, Lebanon (2020), Farah, framed by shattered windshield glass and strewn roses, cannot help but crack a smile beneath her heavy eyes. This is part of the series Where Do I Go? (lawen ruh in Arabic), Matar's work-in-progress collaboration with young women and adolescent girls living in damaged, often catastrophically destroyed, environments in Lebanon. These portraits attempt to capture both the fragility and resilience of their subjects as they endure, scarred by violence but still nurturing their creativity.
In Julio and Fernando, México (2022), a candid gelatin silver print from the series Promised Land by Lisa Elmaleh, two charismatic boys pose side by side. You can almost imagine the men they will become. One of them, twinkly-eyed, sits upright, hands interlaced in his lap, while the other leans in confidently but reserves a smile. What have they seen and been subject to at the border between the US and Mexico, where Elmaleh encounters them? Each boy strikes the viewer as wise beyond his years.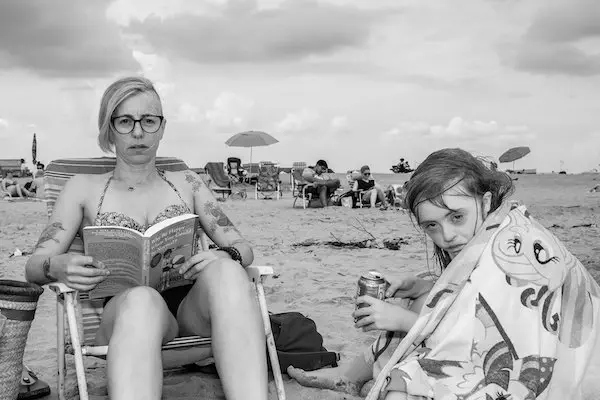 While Elmaleh's work won the prize, Grevenitis's contribution stands out in this show for its experimentation with what can only be called a "mom's gaze." In Grevenitis's June 6, 2018 from her series REGARD, a mother-daughter duo look out at us from a day at the beach. The mother squints in mild irritation, ready, apparently, to return to her book. The girl, draped in a beach towel, looks up from her sandy soda but seems similarly disinterested in our presence. The image is 12 x 18 inches, black-and-white, and, upon further investigation, very well composed. There are exactly three beach umbrellas on the horizon, one closed, the other two open, punctuating the space between the protagonists' heads.
In the nine double portraits that follow, Grevenitis and her daughter enact a host of scenes and expressions from the history of western painting, documentary photography, and domestic life. One particularly striking image finds them applying mascara in adjacent bathroom mirrors. A Day in the Life of America (1993), popular when Grevenitis was growing up, is filled with similar images of women putting on makeup surrounded by family members. Another touchstone, Nan Goldin's avant-garde collection The Ballad of Sexual Dependency (1986), includes myriad photographs of friends and lovers in mirrors and windows, captivating figures who never seem to grow old (new editions of the photographs are exhibited often). Sexy as the scenario can be, and aging gracefully as Grevenitis is, the novelty of her vanitas lies in the artist's reflection on parenting and her teenage daughter's coming-of-age.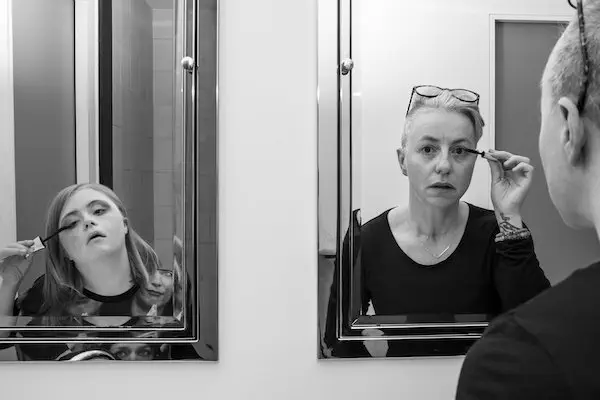 The doubly distinctive aspect of this version is that Grevenitis's daughter lives with Down syndrome. Grevenitis is not only looking at us looking at her looking at herself, she is also looking at her daughter, and observing us as we observe her daughter. Similarly formatted, all of Grevenitis's photographs in the show explore this powerful three-way dynamic: the life of her child, her life and work, an outsider's view, and the uncanny ways in which these overlap. What does it mean to portray yourself as part of a pair that includes a young person with a clearly identifiable difference from most children and passersby? In Grevenitis's case, it means to discover infinite possibilities for connecting and collaborating with your daughter, while looking out for anyone who might regard her with disrespect.
Grevenitis's own gaze is often protective. She stares at the camera the way she stares at gawkers, as if to say, "I will kick your ass." Her gaze can also be defensive: "What, you thought she couldn't make her own bed?" More complicated, perhaps, is the way her daughter plays along, participating and contributing in ways unknown to us. "Does her composure surprise you?" They are both convincing performers. Grevenitis's daughter is game, and doesn't give the game away, which requires a level of self-awareness that may also surprise.
While Grevenitis is only sometimes joined by her daughter in breaking the fourth wall, so to speak (or threatening to step outside their intimate tableau, in order to defend it), the two are always presented as equals, capable of mutual support. They fill each beautifully composed and even more beautifully lit scene in equal measure: mother on one side, daughter on the other; daughter ironing in the background, mother eating a macaron Olympia-style in the foreground. The images can be funny and are always filled with attitude. Their design is not only lovely but smart, resonant as well as considered, built on tradition and individual talent.
The meme-like way the mother locks eyes with the viewer across the series highlights her intelligence and vigilance, as well as the love and care with which she encourages her collaborator to realize her full potential. Looking at us over her daughter's bowed head while they shower, caught in the chiaroscuro created by the camera's flash, Grevenitis softens in her daughter's embrace, though she never lets her guard down.
It is clearly a choice on Grevenitis's part not to follow in the footsteps of Sally Mann, who in Immediate Family (1992) famously photographed her own children growing up, or Diane Arbus, who in Untitled (1969-1971) photographed people with disabilities, many with Down syndrome. The people Arbus photographed seem the very opposite of Grevenitis's daughter: they appear isolated, cast off, the definition of marginalized. Accusations of exploitation cannot be levied at Grevenitis, as they were at Arbus. Meanwhile, the penetrating intimacy of Mann's photographs, which for some borders on child pornography, are also missing from Grevenitis's playful, quotidian aesthetic, which always features the artist and her daughter in a double portrait. It is we, the viewers, who are caught gawking. All the same, there is a different if equally brave willingness by this photographer to expose herself and her life in these images.
The well-appointed, seemingly comfortable spaces in which we find Grevenitis and her daughter — on a beach reading a book, in a backyard painting toenails, in a marbled shower stall, playing a grand piano — will be familiar to many in the middle- and upper-middle class. Her daughter, Grevenitis seems to tell us, makes her life different from a stereotype. Vérité-style, the camera depicts the daily labor of making a bed, bathing, and ironing clothes, which anyone can relate to. But these activities also invite questions: To what extent is her care supplemented by the caring labor of others? Is someone else helping her here? If so, what is the significance of their absence?
In general, the gaze poses a question that hovers over all the works in the show: Where (geographically, politically, economically, racially, in terms of ability and access) do viewers see these portraits from? From fashion to photojournalism, to the integration of portrait-making with documenting social and economic tragedy, these works draw on various influences to put the gaze of the viewer into question. Most viewers will encounter these portraits in much different circumstances than the people they depict. Grevenitis pulls off the most successful experiment with the challenge posed by context. In their echo of Diego Velázquez's Las Meninas (1656), her portraits situate us, the viewer, as both seer and seen, thereby encouraging us to figure out the position from which we not only view others but are viewed by them.
---
Helen Miller is an artist. She teaches at the Massachusetts College of Art and Design and Harvard Summer School. Michael Strand is a professor in Sociology at Brandeis University.