By Jason M Rubin
Sultry, smart, and sweet, From a Window To A Screen will be a perfect accompaniment to romantic winter nights.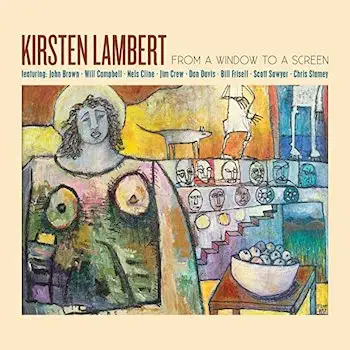 In the 1980s, Chris Stamey was a member of the dBs, a North Carolina-based band that was too smart for its own good. Though they associated with big names like REM, the dBs never made much noise themselves in the marketplace. Stamey and Peter Holsapple were the two main songwriters, and over the years have done solo, duo, and reunion albums, all at a quality that fickle radio programmers and the buying public just couldn't digest. When I heard that the just-released debut album by a chanteuse named Kirsten Lambert was produced by Stamey, who also wrote all 12 songs (one, the title track, is a dBs cover; another comes from a Stamey/Holsapple project), I had to check it out.
On my first listen, I was disappointed because I couldn't hear the Stamey in it; subsequent listenings, however, have delivered the rewards I assumed were there in the 1s and 0s. Part of that Stamey magic is in its deceptive simplicity, the eschewing of fancy shifts in keys and dynamics, and the lack of "look how clever I am" hooks. In its place are lovely little songs that sound like standards but are 21st-century originals, some of which deserve one day to become standards. Even the titles suggest an earlier era of singers in tuxedos and gowns crooning before a small orchestra: "What Is This Music That I Hear?," "On An Evening Such As This," "I Didn't Mean To Fall In Love With You," and "There's Not A Cloud In The Sky." This is not a case of Stamey parodying the classics, as Neil Innes did with Beatles songs for The Rutles TV movie and albums; rather, he has internalized the pathos and patois of the Great American Songbook. With respect and a master's touch he has made what's old new again.
Songs like "Occasional Shivers" and "Insomnia" are drenched in romanticism and longing. The instrumental backing is beautifully understated, enhancing the emotional content of the lyrics. With 11 musicians plus a half dozen string players (arranged and conducted by Stamey, of course), they provide exquisite backing. Brief touches of modernism are supplied by the distinctive electric guitar playing of jazzer Bill Frisell and Wilco's Nels Cline. Saxophonist Will Campbell deserves special mention for his lyrical touches, especially on "I Didn't Mean To Fall In Love With You," where his soprano sax evokes the singer's hopefulness.
But let's not fool ourselves into considering this to be a Chris Stamey album. The big name on the cover is that of Lambert, who sings with both late-night passion and early-morning regret. Her voice is rich and gentle with a lovely tone. Still, if the music called for it, I know she could belt with the best of them. She is quoted in the liner notes saying "Chris and I have known each other a long time, and even toured together back in 1993. I think, because of that, I could really immerse myself in his songs."
I was particularly curious about how the dBs cover, "From a Window To A Screen," from their 1982 album, Repercussion, would come across. When I heard it (a brooding tune with the refrain, "I won't make that mistake again"), I was amazed to realize how much of a crooner piece the original was. Turns out Stamey was signaling the scope of his musical imagination as much as 40 years ago. Like everything else he wrote that appears on this album, it sounds perfect coming out of Lambert's mouth.
The album ends with a couple of poppier songs, "There's a Love" and "27 Years In A Single Day," and then concludes on a positive note with "And I Love Him," another showcase for Campbell, this time on alto sax. It took a few listens, but eventually I grew to appreciate both Lambert's and Stamey's contributions to the album, and now they seem inseparable. Sultry, smart, and sweet, From a Window To A Screen will be a perfect accompaniment to romantic winter nights. For more information, go to Kirsten Lambert's website.
---
Jason M. Rubin has been a professional writer for more than 35 years, the last 20 as senior creative associate at Libretto Inc., a Boston-based strategic communications agency where he has won awards for his copywriting. He has written for Arts Fuse since 2012. Jason's first novel, The Grave & The Gay, based on a 17th-century English folk ballad, was published in September 2012. His current book, Ancient Tales Newly Told, released in March 2019, includes an updated version of his first novel along with a new work of historical fiction, King of Kings, about King Solomon and the Queen of Sheba. Jason is a member of the New England Indie Authors Collective and holds a BA in Journalism from the University of Massachusetts Amherst.