By Allen Michie
This three-disc set provides a fascinating look behind the curtain at one of the great bandleaders in jazz history putting together his groups, seeing what they can do from multiple angles, and building a new musical concept from scratch. There are some musical and discographical discoveries here that are absolutely jaw-dropping.

The Bootleg Series, Vol. 7: That's What Happened, 1982-1985 – Miles Davis (Columbia)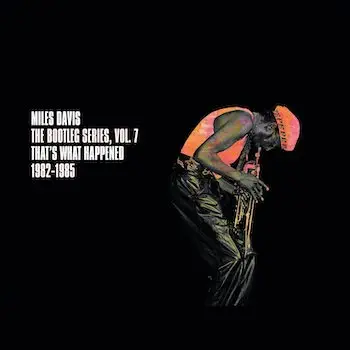 Jazz musicians have the best words. They've given us "hip," "gig," "schmaltz," "far out," "square," "cat," "jam"—and of course, the most pervasive of them all — "cool," courtesy of Lester Young. There's another word that jazz musicians didn't invent but have given a specific meaning in a jazz context: "hungry." It can mean literal hunger (as in some far-out cool cat has been playing square schmaltz and is in need of a hip gig to make some bread to buy some bread), but the jazz sense of "hungry" is that a player is ambitious to make a mark, articulate a unique voice, and find a niche in the competitive jazz world. It's a word for someone on the way up and who's willing — desperate, even — to do what it takes to move higher.
So what would it take for one of the top-five jazz musicians who ever lived, an acknowledged master of his instrument, an innovator at the center of multiple movements in jazz history — plus, one of the wealthiest — to once again be hungry?
Miles Davis retired in 1976 and barely touched his trumpet for six years. Davis was suffering from a deteriorating hip and a bleeding ulcer, but there was also general exhaustion from living his life on the road. Here's what Davis himself said in his autobiography:
I felt artistically drained, tired, I didn't have anything else to say musically. I knew that I needed a rest and so I took one, the first one I had had since I had begun playing professionally…. I was sick and tired of going in and out of hospitals and hobbling around, on and off stage. I was beginning to see pity in people's eyes when they looked at me, and I hadn't seen that since I was a junkie. I didn't want that. I put down the thing I loved most in life — my music — until I could pull it all back together again.
It turned out to be no pleasant vacation. "The more I stayed away, the deeper I sank into another dark world, almost as dark as the one I had pulled myself out of when I was a junkie. Once again it was a long, painful road back to sanity and light. In the end it took almost six years, and even then I was doubtful whether I could truly come all the way back."
Volume seven of the ongoing Miles Davis "Bootleg Series" series from Columbia is That's What Happened, 1982-85, and it fills gaps in the soundtrack of Davis's comeback. Of course there are some tracks in this three-disc set that wander around as Davis finds his feet and chops again. But overall, it's a fascinating look behind the curtain at one of the great bandleaders in jazz history putting together his groups, seeing what they can do from multiple angles, and building a new musical concept from scratch. At the center of it is Davis and his trumpet. He plays powerfully, and he sounds hungry.
There are two CDs including outtakes and unreleased tracks from the Star People (1983), Decoy (1984), and You're Under Arrest (1985) sessions, plus a third CD with a complete live performance from Montreal on July 7, 1983. I was hoping hard that the set would include outtakes from Davis's comeback album, The Man With the Horn (1981), as this would have included the first sounds of the band finding its voice (although much of it would be the band rehearsing without Davis, so it would perhaps be of interest to completists only). One track from the Man With the Horn sessions, "I'm Blue," remains maddeningly unreleased. But the Star People sessions from late 1982 are still a good place to start because Davis not only had recovered his chops by then, he was also eager to show them off.
I was expecting what you usually get from "bootleg" releases for other artists, which is some alternate (and often inferior) takes of familiar tracks from the host album, and maybe an unpolished demo or two. What we get on That's What Happened, 1982-1985 is exponentially better than this. There are some musical and discographical discoveries here that are absolutely jaw-dropping. If you thought Davis couldn't still surprise you, there's front-page news here.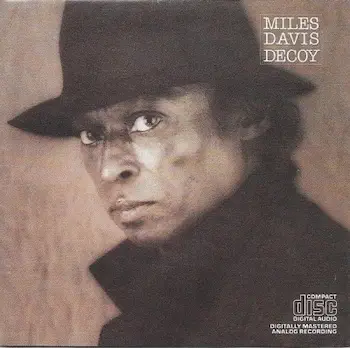 For example, would you have believed someone if they said there exists almost eight minutes of blues duets with Miles playing keyboard behind a trombone player? And that the trombonist was J.J. Johnson? J.J. JOHNSON! Not from 1956, which was the last time they recorded together, but from 1982? This is not mentioned in any of the session discographies I could find, but it materializes here, seemingly from nowhere, and it's beautiful. There's lots of reverb on the trombone, and Davis plays a synthesizer that sounds like an electric piano. Never in a hundred years would I have guessed this was Davis — he plays like Herbie Hancock would play it, with complex, meaty harmonics, keeping up with Johnson who is pushing him with some outside phrases. On "Minor Ninths, Part 1" Johnson is more meditative, stretching out comfortably in a minor mode. "Part 2" is a more jazzy straight-ahead blues.
According to George Cole in The Last Miles: The Music of Miles Davis, 1980-1991, Miles got one of the new Oberheim OBX-a synthesizers, and the trumpeter said, "I haven't read the instruction book yet. It would take someone like Paul Buckmaster or Gil [Evans] or Quincy [Jones] or J.J. Johnson, one of those writers who really know what to do with it." So maybe Miles called Johnson to the studio to help get the Oberheim set up, and Johnson had the good sense to bring his trombone just in case. Because with Miles Davis, you just never know.
Another track missing from the discographies until now is "Santana," a not particularly Santana-like kicking funk jam, heard here in its entirety rather than in the fragment of synth break that producer Teo Macero rather crudely edited into the released track "Star People." Better still are the revelations of the two takes of "Remake of DBX Ballad." The first is a slow ballad with Davis poking around on the new Oberheim, laying down some soft sustained chords. The underused saxophonist Bill Evans gets to stretch out and take his time on soprano. Then suddenly it starts to swing, and bassist Marcus Miller implies walking more than he actually walks. Even at a young age, Miller was already a brilliant and original player. "But we were dedicated, man," Miller states in the liner notes. "That brought the energy, and we were hungry, and we were excited. Miles would feed off of that. We didn't realize at the time, but that's what he was looking for from us." The second take is a bit faster and, during the bass solo, Davis swings the rhythm section from the electric-piano-sounding synth. This one should have made it onto Star People.
It would have been great to hear the unedited 19-minute version of "It Gets Better" from the January 5 session for Star People, which is edited down to 10 minutes on the LP. But sometimes these things are for the best. I would also like one of these days to hear the full version of the masterful blues "Star People," which is obviously stitched together from multiple takes, perhaps remastered to fix Al Foster's clangy cymbals.
Decoy was one of the strongest records from the comeback period. Guitarist John Scofield, who came on midway through the Star People sessions, brought a new energy and direction to the band. The group's compositions were often parts of Scofield's improvised solos written out and harmonized, sometimes by Gil Evans. "You know, Miles was taking everybody's solos from gigs, from rehearsals, including his own solos, and telling Gil, 'I like this part, write that out.' You know, Ellington used to do stuff like that," states Scofield in the liner notes. The melodies became more complex, angular, jazzy, and — well — Scofieldish. It challenged Davis, and he responded with faster and more aggressive soloing, including more time in the upper register and less time with the Harmon mute. Add to this the funk and disciplined drive of the new bassist Darryl Jones (29 years now with the Rolling Stones), and you have a band that has something to say. "Speak," "Star on Cicely," and "What It Is" from the live concert in Montreal, plus the two takes of "Hopscotch" from the You're Under Arrest sessions, have Scofield's fingerprints all over them. "What It Is" is absolutely scorching.
The Decoy sessions bring us two alternate takes of "Freaky Deaky," both of which are substantially different from the minimalist version on the original LP. "Part 1" has some weird heavily processed guitar sounds from Scofield, murky and funky. Scofield keeps it firmly grounded in the blues, not the cloudy experimentation that's on Decoy's final take, and he pushes Davis to some intense blues playing. Jones plays his arpeggio bass riff, as on the original album version, but here with more swing, thanks also to Mino Cinélu's restrained percussion. Scofield offers a subtle quote from "It Ain't Necessarily So," and in his second solo unplugs some of the gizmos. Davis is uncharacteristically quiet on the keyboard, playing only occasionally with a light touch. In "Freaky Deaky, Part 2," Scofield has kind of a wah-wah sound, which doesn't really work with his picking style. Davis is experimenting, too, playing the jabbing percussive synth he'd later stick with (and which can get a bit wearisome on the live tracks).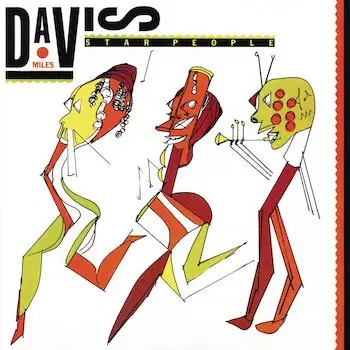 You're Under Arrest is a more divisive record. On the one hand, there's the embarrassing title track, where Davis makes cocaine-sniffing noises and offers rather juvenile insults to cops pulling him over in his Ferrari, narrated over "Theme to Jack Johnson (Right Off)," which we thankfully have here without the spoken overdubs. The box set has the straight-up Smooth Jazz covers of Cyndi Lauper's "Time After Time," given here in two alternate versions, and an alternate of Michael Jackson's "Human Nature." But, in contrast to the pop slickness, there's the minor-key fusion track "Katia," marking the return of guitarist John McLaughlin.
"Time After Time (Alternate)" is not as strong as the final master, but it's interesting to have this one. Davis strays further from the melody, uncharacteristically lingering in the upper register in places. The "Full Studio Session" take is the unedited version of the track released on the album. No big revelations, but it's stronger for being longer. Davis was clearly taken with "Time After Time" — there are more entries for this tune in Jan Lohmann's discography than for any other song in Davis's entire career. In the unedited version, Davis plays for almost the entire 8:57 with great sensitivity and expressiveness. It's the "old Miles" that many of his fans missed. Even when the song is over, Miles keeps soloing. The cloying "Human Nature (Alternate)" is a little darker and funkier than the one on the original album, thanks to bassist Jones. Davis takes it further out in his solo space, which is maybe why it wasn't the final master. (Saxophonist Kenny Garrett would later transform "Human Nature," pulling passion out of his bones most every night in concert with Davis during the late '80s and into the '90s.)
The major discovery here from the You're Under Arrest sessions, again missing in the discographies, is the demo "Never Loved Like This," a Davis/Robert Irving III composition. It's a beautiful ballad with a catchy melody. Davis's trumpet is warmly lit in romantic reverb, and he plays long and with great emotion, his technique clearly back under full control across the range of the horn. I'd like to hear this one on the radio.
"Katia (Full Studio Session)" has McLaughlin tearing it up with Miles again, just like he did on In a Silent Way (1969) and A Tribute to Jack Johnson (1971), and like he would a few years later on Aura (1989). It's set up with an abstract modal background with eerie synth washes, Vince Wilburn Jr.'s aggressive electric drums, and a relentless repeating bass riff from Jones. This was all edited very strangely on the original LP — broken up across the end of side 1 and the opening of side 2 — so it's great to have the unedited and unprocessed version here. Davis adds his punctuated trumpet and keyboard blasts, then plays open horn with those burning runs down the scale and rapidly repeating notes like he supplied throughout We Want Miles (1981). This is intense and essential stuff, the closest Miles got to returning to his '70s music with McLaughlin or even the notorious On the Corner (1972).
Now we get into a discographical puzzle. The box set's booklet neatly categorizes each track as being from the Star People, Decoy, or You're Under Arrest sessions. But the reality is more complicated — a track recorded for one album might appear spliced into a track on another album, demos were recorded without being targeted for any particular album, and sometimes entire albums were abandoned and tracks were recycled elsewhere.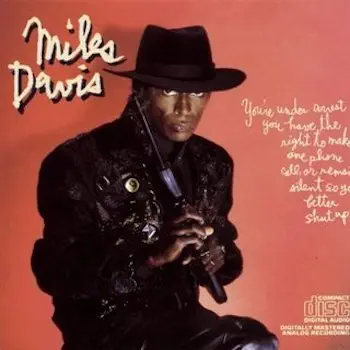 For example, there's a tantalizing and mysterious album still in the Columbia vaults of pop songs recorded by Davis and arranged by Gil Evans, recorded between the Decoy and You're Under Arrest sessions. According to George Cole, there were at least 11 recording sessions, and Scofield says there are around 40 (!) tracks. There were covers of hits by Toto, Dionne Warwick, Lionel Richie, Kenny Loggins, and others. "Time After Time" and "Human Nature" were recorded during these sessions and appeared on You're Under Arrest. This box set includes Tina Turner's "What's Love Got to Do with It," released as the first single. It's a pleasure to hear it, but if this one is included in the box set, then why not others from the abandoned pop music album? Perhaps there are plans to reconstruct the project as a separate release, much like the Davis estate did with Rubber Band (if so, they could stitch on Mister Mister's "Broken Wings," recorded for Rubber Band in 1985 and still unreleased).
Finally, there's the live concert recording from Montreal from July 7, 1983. (It was previously released as a stand-alone LP on Record Store Day in June.) The band is hot and hungry. Jones gets a fat and funky sound on bass, and he drives the grooves throughout. Scofield is inspired on every track. Drummer Al Foster listens hard and makes subtle shifts in rhythms, patterns, feels, and dynamics to sustain everyone's engagement through each of these long tracks. Evans plays more confidently, aggressively, and outside now that he's a veteran member of this band, and he provides an effective contrast to Davis in the long tradition of the many sax players in Davis's employ.
Plus, there's nine glorious minutes of "Star People," with Davis playing straight-up blues on open horn. And if you listen closely on "Hopscotch," you can hear Davis play a few bop phrases that wouldn't sound out of place in one of Dizzy Gillespie's latter-day solos. On "Code 3," Davis starts his solo with a wild flurry of notes — again, not unlike Gillespie. It's something you'd rarely hear Davis do in the coming years as his concerts became more rehearsed and relatively formulaic. Here, he's still exploring what he can do, and wants to do, on the trumpet. He's looking backward and forward — but mostly forward — and more than making up for all that lost time. As Davis is quoted in the liner notes, "You don't change music, music changes you."
And did I mention there are two duets with J.J. JOHNSON??
---
Allen Michie works in higher education administration in Austin, Texas. He's the manager of the Miles Davis Discussion Group on Facebook.