By Sarah Osman
Ramy's drama takes a backseat to those of his relatives and friends, and that ends up expanding the reach and power of the series.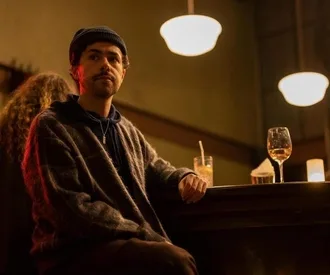 As an Egyptian-American, Ramy is the show I've always wanted. What makes the series work so well is that its stories are filled with a dry humor that accents specific cultural quandaries, yet touches on the universal. Each season explores Ramy's ongoing existential crisis: balancing his faith with his failings as a man in a secular society that exults freedom. Season three is the best yet because it not only probes Ramy's difficulties, but delves into the crises of members of his family. Ramy's drama takes a backseat to those of his relatives and friends, and that ends up expanding the reach and power of the series.
When we last left Ramy, he had married his Sheikh's (Mahershala Ali) daughter, Zainab (MaameYaa Boafo). But he soon betrayed his new bride and had to endure the full fury of his Sheikh. Now saddled with a huge debt and a failed marriage, he throws himself into the diamond business. At the same time, Ramy is ashamed, forced to reckon with his immoral actions. Still, he doesn't have an instant epiphany as he tries to reform himself. Ramy still screws up, often, during this season, but these mistakes are not the central focus.
His sister, Dena (May Calamawy), is getting ready to graduate from law school but she has made a few major mistakes of her own. She realizes that at times she might have been mistreated by her parents. Dena goes to a therapist, who informs her that her mother is emotionally abusive, to which Dena replies "I thought that we were just Arab." At times Dena's therapist is helpful, but sometimes she makes problematic statements, such as referring to people of color as "brown families." As someone who is Arab — and has gone to therapy — Dena's experiences and the conflicts they tap into often mirrored my own. There are aspects of Arab culture that some white therapists do not understand, and they can be very hard to explain. At the same time, the fact that my father's behavior could be emotionally abusive is as difficult for him to understand as it is for Dena's mother, Maysa.
Maysa (Hiam Abbass) also begins to explore her own feelings, but she doesn't act on her discoveries in healthy ways. She's had it with her husband, Farouk (Amr Waked), who is exploring becoming a life coach and plans to develop his plot of land in Egypt. Rather than have a frank discussion with him about his project, Maysa vents her anger at Farouk and her friends. Maysa has always been a compelling character; she is for more than a stereotypical Arabic mom. She deeply loves her family, but she's tired of being the one who is called on to do all the work (that might be a world-wide sentiment). Ramy has always excelled in its skill in developing its female characters, who are given voices of their own. In season three, Maysa discovers her own agency.
Farouk and Ramy's uncle Naseem (Laith Nakil) are handed their own storylines as well. The former deals with the challenges raised by American society: how should an Egyptian man behave? Provide for his family? Farouk's vulnerabilities are explored this season, but uncle Naseem continues to be a scene stealer. While Ramy is explaining some of the beauty of Egyptian culture to a man looking for a gift for his wife, Ramy asks Naseem to back him up. His uncle asks the customer: "Are you gonna buy this shit or what?" When he and Ramy visit Israel, Naseem is held for questioning, and that leads to some comic/satiric highlights. We also see Naseem dealing with his sexuality, a rarely examined part of the Egyptian-American experience.
Ramy's friends seem to have had enough of his bad behavior this season as well, and they're not afraid to call him out on it. His friend Steve (Steve Way) is given an eccentric new girlfriend, played by none other than supermodel Bella Hadid, whom I didn't even recognize at first. Hadid's glamorous persona completely disappears into her new role; she is downright hilarious at times. Thankfully, this doesn't seem to have just been stunt casting or an attempt at juicing up ratings with a celebrity – Hadid is a genuinely good actress.
While the season doesn't revolve around Ramy, he doesn't disappear completely. He tries to make up for his past deeds by hustling up cash, even offering to help his struggling family out financially. Ramy visits Israel in a terrific episode where he learns just how precarious life is for Palestinians. In that sense, season three is filled with transformative character arcs, with Ramy's taking a spiritual turn as he tries to make up for his earlier selfishness and become a more empathetic person.
---
Sarah Mina Osman is a writer residing in Wilmington, NC. In addition to writing for the Arts Fuse, she has written for Watercooler HQ, Huffington Post, HelloGiggles, Young Hollywood, and Matador Network, among other sites. Her work was included in the anthology Fury: Women's Lived Experiences in the Trump Era. She is currently a first year fiction MFA candidate at the University of North Carolina Wilmington. When she's not writing, she's dancing, watching movies, traveling, or eating. She has a deep appreciation for sloths and tacos. You can keep up with her on Twitter and Instagram: @SarahMinaOsman