By David D'Arcy
At this year's Toronto International Film Festival, there were celebrities, studio premieres, and plenty of films with modest budgets that vied for critical attention.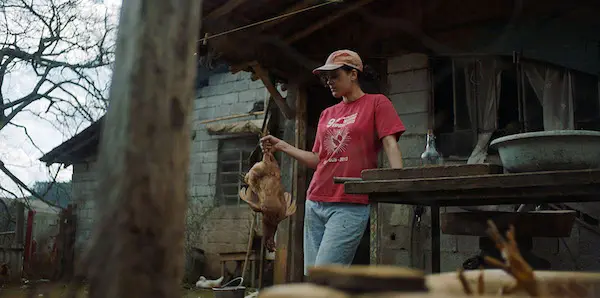 One film struggling to be noticed is Charcoal, written and directed by Brazilian Carolina Markowicz. Set outside the city of Joanopolis, the satire explores the class differences between a remorseless murderer and the modest family hiding him.
Irene (Maeve Jenkings) helps her husband Jairo (Romulo Braga) make charcoal from wood. She also cooks meals at her home, which she sells to supplement their meager income. They are not the poorest people around, but they struggle to care for Irene's bedridden father, who sleeps in a diaper in the same room with their precocious wisecracking son of nine, Jean (Jean Costa).
A visiting nurse from a local clinic with a crooked sideline visits the family and sees the old man's desperate condition. She suggests that Irene and Jairo take in another man as a boarder. The lodger turns out to be an Argentine drug dealer wanted for multiple crimes, including murder. Staying with the family would be the first step in his planned disappearing act.
Thus a strange bedfellows twist is applied to the familiar tale of a gangster on the lam, with the focus on the lives of simple people who figure they might as well make ends meet by hiding a violent criminal. What follows is a clash of classes and cultures, in everything from food to sex. The family waits on the fugitive, who can't believe the conditions under which he has to share a room with young Jean. The thug sleeps in the same bed in which Jean's grandfather slept. His diaper leaked, Jean advises the kingpin, but you can always sleep on the other side.
"You're not a pedophile, are you?" asks Jean from the top of his bunk bed. He's unimpressed by a grown man who can't speak Portuguese. Language differences are just one of the many causes for comic misunderstandings. "Didn't they tell you about me?" their guest asks the boy. "They don't tell me a lot around here," Jean replies.
Starkly realistic and mordantly funny, Charcoal is a comedy about shared secrets in lives where endless frustrations provide a lot to laugh about. The family risks being punished for protecting a murderer if they're found out; the killer in their care discovers the extraordinary burdens on ordinary people who, until then, had tried to play by the rules.
Everyone, even the most well-meaning — and that includes little Jean — is corruptible. Maeve Jenkings plays Irene as a stalwart parent of a precocious son and the wife of a husband who turns tricks with men in secret. Irene ends up questioning everything she has agreed to, but she can't afford to back out. It's not that harboring a killer is easier work than the grueling and dirty job of making charcoal. It's just more profitable, and dirty money buys things the family needs.
Their Argentine guest, played with iron arrogance by the Argentine veteran Cesar Bordon, has the manners and the grooming of a man who wouldn't speak to his hosts in their modest home unless he was forced to. In a flashback, we see his crew in Argentina fake his death by a gunshot to the head. (The bleeding wound looks like the hair dye that ran down Rudy Giuliani's face when he shilled for the 2020 Trump campaign.) An Argentine henchman takes a helper — who witnessed the "dead man" makeup job  — to an adjoining room and shoots him. That's what the real thing looks like, the killer says to his boss.
Markowicz gives the concealment gambit a brazen twist once Irene senses the neighbors are suspicious. I won't give that away, but it's daring and dark — very dark.
The carefully constructed Charcoal couldn't be farther away in style from A Gaza Weekend, a headlong farce by the Palestinian-British filmmaker Basil Khalil.
As COVID restrictions were easing all over Canada, something that looked a lot like the virus found its way to TIFF, via a comedy. The disease here, called Avian Respiratory Syndrome (or ARS), was spread by an Israeli lab researcher who sneezes on people in an elevator. Soon the population of Israel is infected, and in a panic: the only way out for those desperate to escape infection is through Gaza, which is blockaded by Israel and controlled by Hamas. If you think that naming a disease ARS is a coincidence, it isn't. The director is a Palestinian living in England. Our protagonists on the run are a hapless British journalist Michael (Stephen Mangan) and his contentious Israeli girlfriend Keren (Mouna Hawa). Michael has paid smugglers $20,000 to get them out through Gaza. Keren makes no secret of her displeasure.
This couple makes too much noise arguing to do anything stealthily, but they manage to survive fire from Israeli soldiers who shoot at them as they search for a tunnel into Gaza. Once inside, the person whom they have paid for safe passage hides them in his home without first telling his wife. Armed Hamas troops, suited in blue camouflage, swarm around. Car horns from Gaza's notorious traffic jams are omnipresent on the soundtrack.
With the Israelis out of the picture, Arabs of all different persuasions are mocked by screenwriters Khalil and Daniel Ka Chun Chan. No one disputes that Gaza is violent and corrupt. Lives are always on the line there. Now we have a comedy about Gazan police hunting down Israelis (one, actually) when they could be taking people to safety.
There's a lot to lampoon. At one point, Stephen and Keren are stuck in a room and she turns on the TV. Changing channels, she finds nothing but Muslim clerics. The gifted Arab Israeli actress Mouna Hawa plays Keren as a fugitive with a target on her back lurching between shock and disbelief — all for laughs. Yet maybe the devout Gazans are doing something right. In Khalil's story, they have been spared from the plague of ARS.
A Gaza Weekend looks and feels like a film made on the run. It's been faulted for those loose ends by the few critics that reviewed it in Toronto so far. I see the rough edges as part of its charm.
For the record, it wasn't made overnight. In fact, this project had been around for years. My own personal connection with it was hearing it pitched — by a team that included Israelis — in a co-production meeting at the Haifa International Film Festival a decade ago. The working title then was "Swine Flu in Gaza." Does anyone remember what swine flu is now?
Whether it's swine flu, ARS, or a veiled version of COVID, for all the spoofing of self-important Gazan officials and cops, the film's Arab characters are real people: imperfect, tender, humorous, and resourceful in a place where life depends on connections, guile, and luck. It will remind those outside of Israel that there's plenty of talent in the Palestinian community. And that those artists know how to deflate the pompous.
---
David D'Arcy lives in New York. For years, he was a programmer for the Haifa International Film Festival in Israel. He writes about art for many publications, including the Art Newspaper. He produced and co-wrote the documentary Portrait of Wally (2012), about the fight over a Nazi-looted painting found at the Museum of Modern Art in Manhattan.