By Scott McLennan
There's little doubt at this point regarding the 26-year-old guitarist's talent for pulling multiple influences into one cohesive, original sound.
Young Blood, Marcus King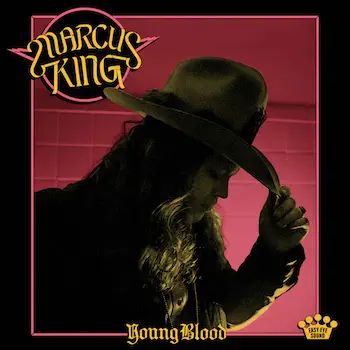 On his new album Young Blood, guitar phenom Marcus King practically turns "classic rock" into a musical genre.
Pivoting from the mellower moods worked into 2020's Eldorado, King here delivers a manic rock 'n' roll joy ride. Young Blood is ostensibly born out of an unpleasant relationship meltdown and corresponding descent into nasty habits — in other words, the basic blueprint to some of your favorite records from the '70s.
And you don't need to scratch that surface too forcefully to reveal a glowing and respectful tribute to the guitar gods who came before King: Free's Paul Kossoff; Lynyrd Skynyrd's Gary Rossington; Bad Company's Mick Ralphs; ZZ Top's Billy Gibbons; Black Sabbath's Tony Iommi; and good ol' Steve Miller can all be felt lurking around in these tunes.
Hell, King even dialed up '70s hitmaker Desmond Child for a writing session that produced the record's best song, "Blood on the Tracks" (and no, despite the fact that Sir Bob's famous 1975 break-up album bears that title, there's nothing else in Young  Blood that anyone would describe as "Dylanesque").
King has worked again with Black Keys' Dan Auerbach, who also produced Eldorado. This time, however, King and Auerbach narrowed the focus to effectively build a bridge between influences of yore and the guitarist's own artistic voice and style. King's guitar tone and technique are always impressive — notes fly around at lightning speeds — but they are precisely placed for maximum impact. King can simultaneously sound both raunchy and elegant.
Drummer Chris St. Hilaire and bassist Nick Movshon keep King in the pocket by aggressively hammering down the beats. Second guitarist Andy Gabbard adds some rhythmic flourish and harmony to a few songs. The fanciest thing on the record is a bit of flutelike Mellotron applied on "Blood on the Tracks."
The minimalism hardly ever sounds small, what with King pushing and pulling the dynamics, whether he's blasting through the funky upbeat "It's Too Late," which opens the album, or weaving a menacing attitude into the bare-boned beat of "Lie Lie Lie." He revels mightily in the slinky groove of "Hard Working Man."
King delivers variants on Texas-style blues in a pair of songs. "Pain" depicts being adrift and messed up on drugs; on "Good and Gone" the guitarist sounds more like the hustler than the hustled. (And, if this were 1978, I can assure you that countless high-school yearbooks would print the song's lyric, "I'm gone like a memory in the wind," beneath the photo of a long-haired kid.)
The glimmering psychedelia of "Blood on the Tracks" and stoner lumbering of "Aim High" demonstrate just how effectively King can commandeer different arenas of guitar glory. There's little doubt at this point regarding the 26-year-old guitarist's talent for pulling multiple influences into one cohesive, original sound.
While Young Blood is mostly a lot of muscle flexing, the album ends with the more vulnerable sound of "Blues Worse Than I Ever Had." But that song's screaming guitar outro suggests that King has things under control. At least when it comes to his music.
The Marcus King Band will be at the House of Blues in Boston on Sept. 11.
---
Scott McLennan covered music for the Worcester Telegram & Gazette from 1993 to 2008. He then contributed music reviews and features to the Boston Globe, Providence Journal, Portland Press Herald, and WGBH, as well as to the Arts Fuse. He also operated the NE Metal blog to provide in-depth coverage of the region's heavy metal scene.