As the age of Covid-19 more or less wanes, Arts Fuse critics supply a guide to film, dance, visual art, theater, author readings, and music. More offerings will be added as they come in.
Film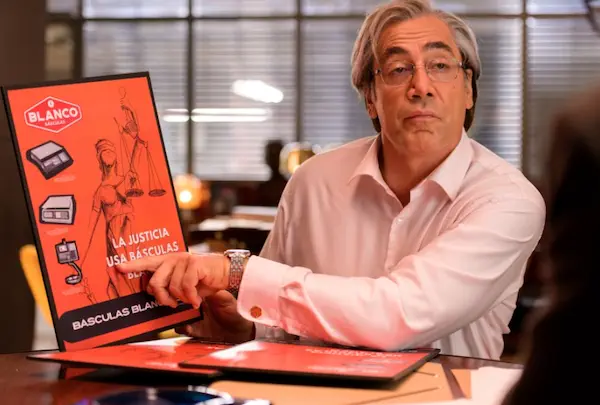 The Good Boss
Now Playing
Coolidge Corner Theater, Kendall Square Cinema
Actor Javier Bardem's commanding presence in films like No Country for Old Men, Before Night Falls, and Biutiful has garnered him numerous award nominations. He shows off his comic skills to great effect in this sardonic comedy. As the titular character, Blanco, he first comes off as charming and well-meaning, just as any corporate boss might who likes to call his workers members of his "family." Then Jose, a longtime employee and alleged friend of the boss, is sacked. The guy stages a furious one-man protest, setting up an encampment outside the perimeters of the factory. His "radical" action threatens the business' chances of winning an all-important citation for excellence. Blanco's appeal masks a disturbing reality: he is a dissembler and philanderer. That duplicity makes this role perfect for Bardem, whose face and demeanor can veer from charming to malicious in a heartbeat. At a time when so many workers are increasingly dissatisfied with their unjust treatment by corporations, this dark satire will hit home. But you will laugh all the while.
17th Martha's Vineyard Film Festival
September 6 – 11
This year's Spotlight screenings are at the Film Center in the Tisbury Marketplace. They include  the films  A Film About Couples, Salvatore: Shoemaker Of Dreams, Hit The Road and Pink Moon.  The official opening night is September 8. On that date there will be a screening of Hirokazu Kore-eda's Broker at the Film Center at 7:30 p.m — it will preceded by an Opening Night Party on the lawn of the Tisbury Marketplace. There is an annual Short Films Juried Competition on September 9 at 7:30 p.m. that will include Bill Plympton's weird shorts. The closing night film is the Spanish comedy Official Competition. Complete Schedule and tickets 
Block Island Film Festival
September 7 – 10
Block Island Maritime Institute
The schedule and information about the film festival can be found on the Block Island Film Festival website.
Thirty films in four categories compete for the Lighthouse Award: narrative feature length films, short films, student short films, and short documentaries. There is also a screenplay competition. Selections include:
The Walk, written and directed by Daniel Adams, featuringTerrence Howard, Jeremy Piven, and Malcolm MacDowell. The story a Boston Irish cop who confrons fierce social pressure after being assigned to protect Black high school students bused to all white South Boston High
Award winning filmmaker Sue Hagedorn, a nurse and part time islander, will screen Island Nurse, a documentary profile  of Mary Donnelly. The film chronicles Donnelly's life, as well as the island's history.
Craig P. O'Connell will screen his feature Ghosts of New York, which is about the mystery generated by Montauk's three week long thresher shark infestation.
There are two short documentary films that touch on mental health, You Are Not Alone and Faces of Suicide, the latter produced by the widow of a police officer.
The Story of Film: A New Generation
September 9 -15
Brattle Theatre in Cambridge
The Story of Film: A New Generation is Mark Cousins' latest installment in his series on film history, which began in 2011 with 15 one-hour chapters. Written and narrated by Cousins, an Irish film critic, filmmaker, and scholar, this episode is a subjective (and broad) look at how film has changed in the 21st century. New ways of capturing an image have transformed our understanding of the visual, from traditional cameras and elaborate virtual reality to 3-D set-ups, cell iPhones, and Go Pro cameras. Innovative means of distribution have handed power from the creator to the consumer.
— Tim Jackson
Early Kiarostami – A retrospective at the Harvard Film Archive in Cambridge, from September 2 to September 18. Films are in Farsi with English subtitles.
In 2016, cinema lost one of its great humanist auteurs. Iran's Abbas Kiarostami belonged to the school of filmmakers who don't create a world but capture a slice of it. His antecedents include the Italian neo-realists and the Indian director Satyajit Ray; his contemporaries include Taiwan's Hou Hsiao-hsien and Belgium's Dardenne brothers; and his descendents include young independents such as Chloé Zhao. Anyone who's seen the moral-dilemma dramas of Iranian double-Oscar-winner Asghar Farhadi (A Separation, The Salesman) should know that ground was broken for him by Kiarostami.
— Betsy Sherman
Pick of the Week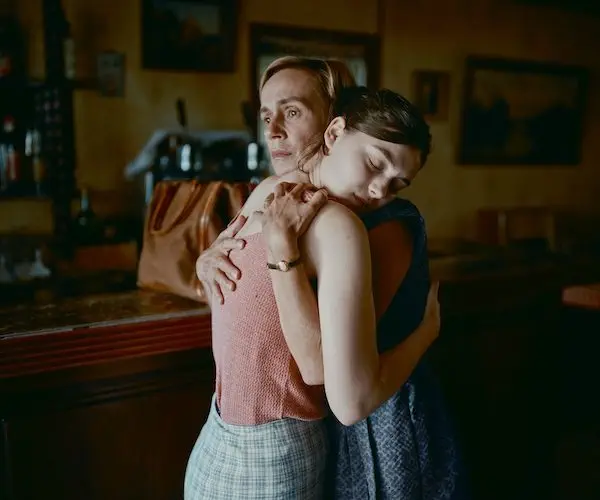 Happening
Now playing on Amazon Channel, AMC, Apple iTunes
Audrey Diwan's film adaptation of Annie Ernaux's memoir is one of the year's best and most compelling films. Like Eliza Hittman's Never Rarely Sometimes Always (2020) and Cristian Mungiu's 4 Months, 3 Weeks and 2 Days 4 (2007), the film is a personal look at one woman's experience with an unwanted pregnancy. The film takes place in France in the '60s when abortion was illegal — the implications for today are obvious.  As it should be, certain scenes may be hard to watch.
— Tim Jackson
---
Roots and World Music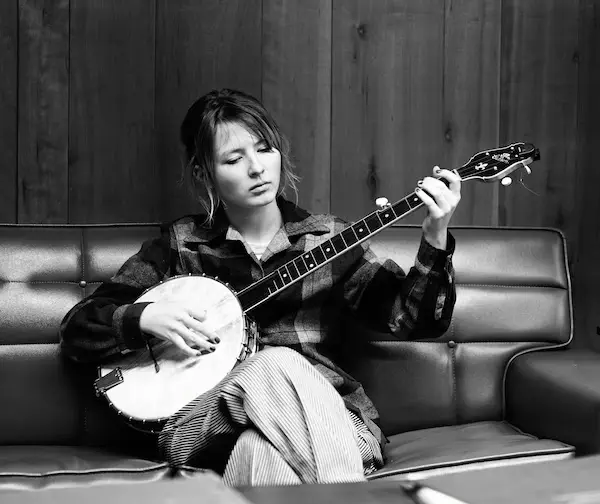 Nora Brown & Stephanie Coleman
September 1
Club Passim, Cambridge
The tight-knit, community oriented old-time music scene is hardly centered around producing stars. And yet, the 17-year-old Brooklyn-raised banjo player Nora Brown seems posed to bring traditional Appalachian folk music to new audiences. Brown's thoughtful approach has already attracted media attention from the kind of prestige outlets that rarely cover old-time. Her beautiful new LP, Long Time To Be Gone, resonates with the distinct acoustic sound that comes from being recorded inside a church. Her Passim show is with her frequent duet partner Stephanie Coleman.
The Alt
September 2, Spire Center, Plymouth
September 7, The Burren, Somerville
The rare supergroup that deserves such a moniker, The Alt are a trio of traditional Celtic greats, guitarist John Doyle, flutist Nuala Kennedy, and bouzouki player Eamon O'Leary. Their new LP Day Is Come finds them delving deep into traditional ballads, jigs, and reels from Ireland and beyond.
Rhythm and Roots
September 2-4
Charlestown, RI
Earlier this year it looked like the last Cajun waltz had been danced at this festival after founder Chuck Wentworth announced his well-earned retirement. But a new producer has taken over the reins. The big names may be Grace Potter and Little Feat, but the soul of Rhythm and Roots remains Cajun and zydeco bands like the Pine Leaf Boys, Steve Riley and the Mamou Playboys, and Nathan and the Zydeco Cha-Chas.
Diana Ross
Boch Center Wang Center, Boston
September 8
The leading female superstar not just of Motown's heyday but also the golden age of Nile Rogers and Bernard Edwards-produced disco, the ever-regal Ross is still entertaining the faithful at 78. Those who were let down earlier this year when Gladys Knight rolled into town with a barely serviceable band will be happy to know that Ross carries with her an excellent unit propelled by longtime Stevie Wonder drummer Gerry Brown. Ross released a rather under the radar 2021 album, Thank You, and a few tracks from that are likely to make their way into the set list — along with all the hits.
East Boston Latin Music Festival: "Sonidos de la Gente"
September 10, 1 p.m. to 6:30 p.m.
Bremen Street Park, Boston
The wonderful music education non-profit ZUMIX and Sen. Lydia Edwards' office are presenting this free, family-friendly afternoon of music from across Latin America. Zayra Pola, Sonn de mi Tierra, Veronica Robles' Mariachi Band, and Marcus Santos' Grooversity will play live. Several dance companies will also perform.
— Noah Schaffer
---
Popular Music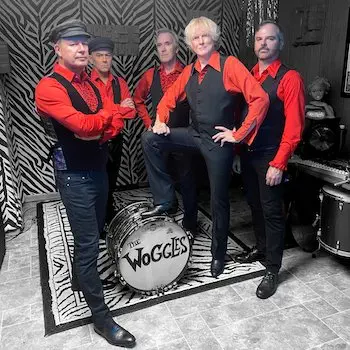 The Woggles with Muck and the Mires and The Chelsea Curve
September 2 (show at 9:30)
The Porch, Medford, MA
The Woggles came together in Athens, GA, in 1987. This puts them after Pylon, The B-52s, and R.E.M. and before The Olivia Tremor Control and Drive-by Truckers on that Southern college town's crowded musical timeline.
The band's website proudly boats that journalist Meredith Ochs said on NPR's "All Songs Considered," "Go see a Woggles show. It will change your life."
I cannot confirm the authenticity of this quote. (I suspect that it is on this page, but is listenable only in old-school audio formats.) However, I have no reason to believe that the enduring garage rockers made it up or that Ochs didn't mean it if she said it.
Those in the Boston area who have not had their lives altered in such a fashion can take Ochs's advice and head on over to Medford's The Porch on September 2.
Two Boston groups will set the tone before the headliners take the stage: fellow "Little Steven (Van Zandt)'s Underground Garage" favorites Muck and the Mires and the "mod pop" combo The Chelsea Curve.
The Ocean Blue
September 4 (doors at 6:30, show at 8)
City Winery, Boston, MA
In the late '80s and early '90s, The Ocean Blue conjured up the alternative sounds of the northern UK – be it Liverpool's Echo & The Bunnymen, Manchester's The Smiths, Hull's The Housemartins, or Grangemouth's Cocteau Twins – in their corporate-headquartered hometown of Hershey, PA.
Rather than being in sweet, sticky, and confectionary, this quartet of junior high friends faultlessly recreated the spooky, shimmery, and jangly sounds of its influences, with vocals that uncannily recalled Morrissey (which I realize isn't exactly a fashionable name to drop these days).
The band's three Sire albums – The Ocean Blue, Cerulean, Beneath the Rhythm and Sound – spawned modest to major alternative rock hit such as "Between Something and Nothing," "Drifting, Falling," "Ballerina Out of Control," and "Sublime" between 1989 and 1993.
Two more albums, See the Ocean Blue and Davy Jones' Locker (the former on the Mercury Records distributor Polygram), appeared in the 1990s.
With original members lead singer-guitarist David Schelzel and bassist Bobby Mittan keeping the boat afloat, The Ocean Blue reemerged in the teens – albeit at their characteristically deliberate recording pace – with 2013's Ultramarine and 2019's Kings and Queens/Knaves and Thieves.
The band is currently on tour and their Sire albums were reissued in 2015, so now is as good of a time as any to re-appreciate The Ocean Blue or dip in your feet (surely to soon be fully emerged) for the first time.
And if you want to catch them at City Winery on September 4, you better act fast. The date is currently flagged with a low ticket alert.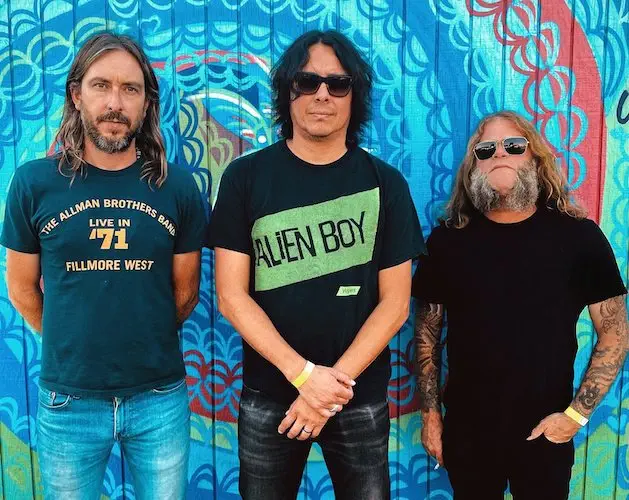 Earthless with Ghosts of Jupiter
September 6 (doors at 8)
The Middle East Downstairs, Cambridge, MA
Influenced by Krautrock, Japanese psychedelic rock, and classic rock, Earthless's six-album discography stretches from its 2005 debut Sonic Prayer to 2022's Night Parade of One Hundred Demons.
"My son is really into mythical creatures and old folk stories about monsters and ghosts," bassist Mike Eginton explains on earthlessofficial.com. "We came across the 'Night Parade of One Hundred Demons' in a book of traditional Japanese ghost stories. I like the idea of people hiding and being able to hear the madness but not see it. It's the fear of the unknown."
Like most of band's work, Night Parade… is an all-instrumental recording. Its hour-long running time comprises a two-part, 41-minute title track and the 20-minute "Death to the Red Sun." 2018's Black Heaven was, by contrast, probably their most digestible offering, with one track clocking in at 1:53 and the five others ranging from 5:16 to 8:51. (It even included vocals!)
Who better to open Earthless's lone New England date than Ghosts of Jupiter, the Boston "Psych-, Prog-, #Spacerock" group whose widely praised 2021 effort, Keepers of the Newborn Green, recently became available on vinyl via Germany's Nasoni Records?
— Blake Maddux
---
Theater
COVID PROTOCOLS: Check with specific theaters; requirements often include proof of vaccination or a negative Covid-19 rapid test. Also, companies are requiring masks at indoor performances.
Paradise Blue by Dominique Morisseau. Directed by Elise Joyner and Logan Pitts. Staged by the Gloucester Stage Company, 267 East Main Street, Gloucester, through September 18.
A noir-inspired drama: "Blue, a gifted trumpeter, contemplates selling his once-vibrant jazz club in Detroit's Blackbottom neighborhood — it's 1949, and gentrification is banging on the door. The house band is desperate to stay, Blue's demons tempt him to leave, and the arrival of a seductive stranger turns everything upside down. Blue must choose between escaping his demons and the human cost of leaving the only home he's ever known."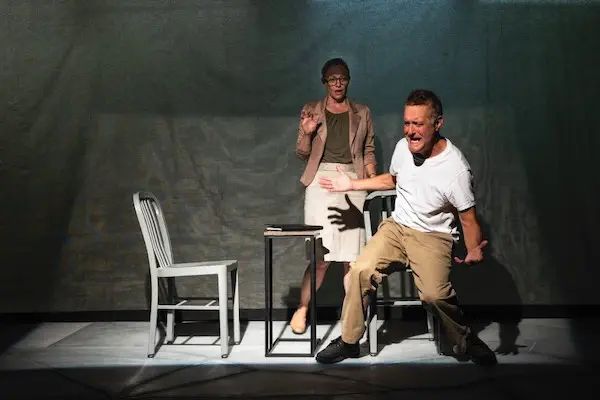 Frozen by Bryony Lavery. Directed by Jonathan Fielding. Staged by Harbor Stage at 15 Kendrick Ave, Wellfleet, through September 4.
"Intertwining stories of a mother, a murderer, and a conflicted psychologist, this award-winning drama charts the decades-long effects of a single unimaginable act and the long, winding road to redemption." With D'Arcy Dersham, Stacy Fischer, and Robert Kropf.
A Walk in the Woods by Lee Blessing. Directed by James Warwick. Staged by Shakespeare and Company at The Roman Garden Theatre, Lenox, MA, through September 4.
"Two superpower arms negotiators, a Russian and an American, meet informally in the pleasant woods on the outskirts of Geneva. The Russian, Botvinnik, is urbane and humorous but also seasoned and cynical. His American counterpart, Honeyman, is inquisitive and determined, fervently hopeful about what can — and must — be achieved to maintain peace. They continue their informal meetings as the seasons change, and through these conversations, develop a friendship that belies the antagonisms of the world order." The production stars two old pros — Allyn Burrows and Jonathan Epstein.
An Infinity of Stars: first reading of a new musical by Didi Stewart. Staged at the Unitarian Church of Medford, 147 High Street, Medford, on September 11.
"Worried about the future of democracy? Dismayed by ever-widening political divides? Losing sleep over the upcoming midterm elections? Never fear, An Infinity of Stars is here!
A musical comedy for our unsettling times, An Infinity of Stars is the rousing, lyrically-pointed romp a stressed-out nation has been waiting for. The reading features a stellar cast of
performers: Lydia Harrell, Cassandre McKinley, Will McMillan, Rene Pfister, Debo Ray, David Scott, Didi Stewart, and pianist extraordinaire Alizon Lissance. A rousing musical comedy for our unsettling political times. You'll laugh, you'll cry, you'll VOTE!"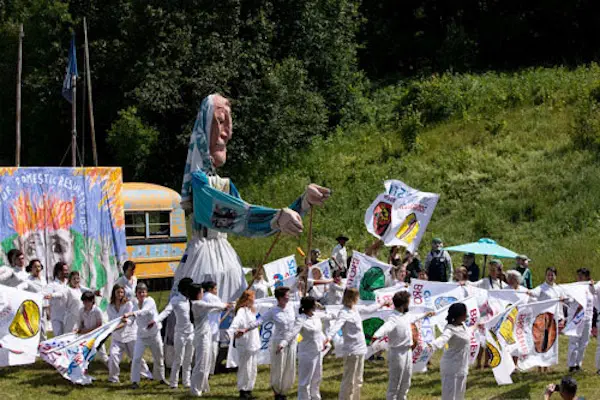 Our Domestic Resurrection Circus: Apocalypse Defiance, written and performed by Bread & Puppet Theater at the Cambridge Common, Cambridge, Sept. 4, at 4 p.m. Free.
"The show offers slapstick comedy, singing, a live band, satire, and the theater's iconic giant puppets. The production is part of Cambridge Arts' 2022 Ripple Festival, a series of smaller in-person performances and arts markets rippling out into Cambridge neighborhoods in the spirit of the River Festival."
Bread & Puppet Theater's Co-founder Peter Schumann says this circus is "in response to our totally unresurrected capitalist situation, not only the hundreds of thousands of unnecessarily sacrificed pandemic victims but our culture's unwillingness to recognize Mother Earth's revolt against our civilization. Since we earthlings do not live up to our earthling obligations, we need resurrection circuses to yell against our own stupidity."
After the show, Bread & Puppet will serve its famous sourdough rye bread with aioli. The company's "Cheap Art" – books, posters, postcards, pamphlets and banners from the Bread & Puppet Press – will be for sale.
Sing Street, Book by Enda Walsh. Music and lyrics by Gary Clark and John Carney. Based on the motion picture written and directed by John Carney. Directed by Rebecca Taichman.
Choreography by Sonya Tayeh. Staged by the Huntington Theatre Company at the Huntington Calderwood/BCA, 527 Tremont St., Boston,  through October 2.
A pre-Broadway run for a musical based on the hit 2016 indie film of the same title. "It's Dublin, 1982. 16-year old Conor tries to impress a mysterious girl, Raphina, by asking her to star in a music video for his band. If only he had a band. Teaming up with a group of schoolmates, Conor and Raphina use music to bring them together, escape their troubles at home, and carve out a place in their struggling community. With a score that embraces the new wave sounds of the 80s, Sing Street is an ode to the thrill of young love and a celebration of the power of music to lift us up."
Describe the Night by Rajiv Joseph. Directed by Tony Estrella. Staged at The Gamm Theatre, 1245 Jefferson Blvd., Warwick, R.I, September 15 through October 9.
"In 1920, the Russian writer Isaac Babel wanders the countryside with the Red Cavalry. In 1989, a mysterious KGB agent and future Russian president spies on a woman in Dresden and falls in love. In 2010, an aircraft carrying most of the Polish government crashes in the Russian city of Smolensk. Spanning 90 years, this Obie award-winning script from the author of Bengal Tiger at the Baghdad Zoo traces the stories of eight men and women connected by history, myth, and conspiracy."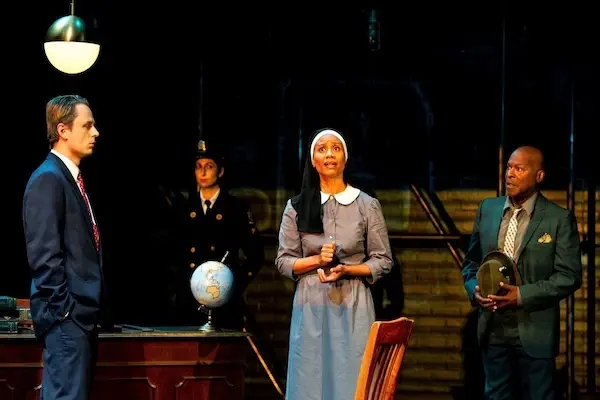 Measure for Measure by William Shakespeare. Directed by Alice Reagan. Staged by Shakespeare & Company at the Tina Packer Playhouse, Lenox, through September 22.
For W.H. Auden, Shakespeare's notoriously bedeviling play "presents the problem of the earthly city and the vanity of the secular hope for creative politics, the hope that justice precedes love and that law can make people good — the hope, in other words, that you can start with the law and make people love it because it is right." The Shakespeare & Company cast includes Ariel Bock, Nehassaiu deGannes, Ally Farzetta, David Gow, Rory Hammond, Charles Sedgwick Hall, Vaughn Pole, and Indika Senanayake.
The Revolutionists by Lauren Gunderson.  Directed by Megan Nussle. Staged by the Wellfleet Harbor Actors Theaterk through September 17.
"An irreverent, girl-powered comedy set during the French Revolution's Reign of Terror. Playwright Olympe de Gouges, assassin Charlotte Corday, former queen Marie Antoinette, and Haitian rebel Marianne Angelle hang out, murder Marat, and try to beat back the insanity in 1793 Paris. This grand and dream-tweaked comedy is about violence and legacy, art and activism, feminism and terrorism, compatriots and chosen sisters, and how we actually go about changing the world. It's a true story. Or total fiction. Or a play about a play. Or a raucous resurrection…that ends in a song and a scaffold."
Heroes of the Fourth Turning by Will Arbery. Directed by Marianna Bassham. Staged by Speakeasy Stage at the Stanford Calderwood Pavilion at the Boston Center for the Arts, 527 Tremont Street, in Boston's South End, September 9 through October 8.
A Boston premiere: "One week after the Charlottesville riots in 2017, four friends gather in a Wyoming backyard to gossip and reminisce. They've assembled to honor Gina, their mentor and the newly inaugurated president of a far-right Catholic university, of which they are all alumni. But as their celebration continues deep into the night, the reunion explodes into vicious insults, political accusations, and stunning revelations."
Twilight: Los Angeles, 1992, conceived, written, and revised by Anna Deavere Smith. Directed by Taibi Magar. Staged by the American Repertory Theater at the Loeb Drama Center, Cambridge, August 28 through September 23.
This is "a stirring cry for reform. Thirty years ago, the news of the police officers' acquittal in Rodney King's police brutality case reverberated throughout the streets of Los Angeles. Called "a riot," "a revolution," and "a social explosion," the events that followed drew worldwide attention—and inspired playwright, actor, and scholar Anna Deavere Smith (Notes from the Field: Doing Time in Education, Let Me Down Easy, Fires in the Mirror) to dissect the anatomy of the civil unrest."
— Bill Marx
---
Visual Arts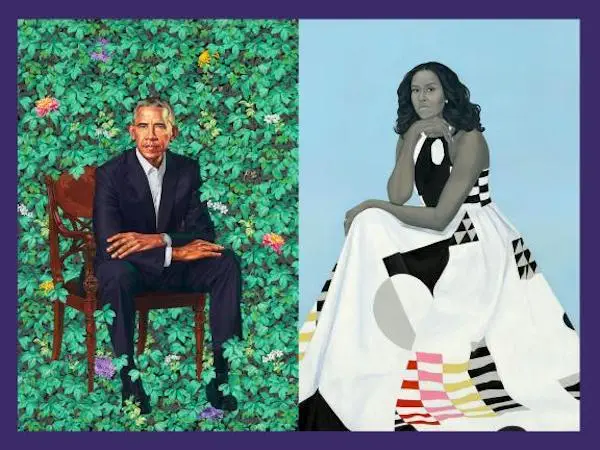 When, in 2018, the official portraits of President Barack Obama and First Lady Michelle Obama were first unveiled to the public, they created a sensation. They were the first the National Portrait Gallery had commissioned from African-American artists and the results —  Kehinde Wiley's portrait of the former president and Amy Sherald's portrait of the former first lady — and the non-traditional poses, bright colors, and distinctive painting styles of the works set them apart. Wiley was already well known for his meticulous and provocative portraits of African-Americans, which give their subjects a dignity, presence, and individuality not typically seen in media images of people of color. Less prominent before, Sherald became an instant celebrity for her own painting.
The portraits have been on a national tour since June 2021 where they have been seen by millions, suggesting the kind of enthusiastic audiences new and important paintings could draw in Victorian times. The seventh and final stop opens at the Museum of Fine Arts on September 3 (previous venues have included the Art Institute of Chicago, Brooklyn Museum, Los Angeles County Museum of Art, High Museum of Art, Atlanta, Museum of Fine Arts, Houston, and de Young Museum, San Francisco). At the MFA, The Obama Portraits Tour will be supplemented by "Portraits of Leadership," an exhibition the museum bills as "a crowd-sourced collection of portraits from the community featuring leaders of all kinds."
Timed-entry tickets to the show are required and are available now. The two exhibitions will be available for free, along with the rest of the museum, on four dates: September 5 (Labor Day), September 19, October 10 (Indigenous People's Day), and October 30.
The workshop of the Yoruba Nigerian artist Moshood Olúṣọmọ Bámigbóyè (ca. 1885–1975) was highly regarded, in particular, for its monumental and complex masks of the '20s and '30s, created for ceremonies called Ẹpa. They are now recognized as some of the most important Yoruba works of art ever created. Bámigbóyè: A Master Sculptor of the Yorùbá Tradition, the first exhibition dedicated to the artist's fifty-year career, opens at the Yale University Art Gallery on September 9. Drawn from the collections of the Gallery, the National Museum in Lagos, and other American and international institutions, the show includes masks, sculpture, and carvings created for palaces and shrines as well as trade objects created for the European market. Textiles, beadwork, metalwork, and ceramics suggests the context of 20th-century Yorùbá culture and photographs illustrate the workshop's work within the artistic, religious, and political changes in Nigeria at a the time. Video footage of an EPA performance staged by the artist's family for the exhibition enlivens the context of the masks.
The content of much American contemporary art draws attention to neglected issues or people who have not been given a voice in the wider society. Photographer Fazal Sheikh, born in 1965 in New York to an American mother and a Kenyan father and named for a grandfather who immigrated from northern India (now Pakistan) in 1912 and settled in Nairobi, Sheikh was educated in the United States and studied at Princeton while visiting many summers in Nairobi with relatives. He has spent his career photographing, collaborating with, and writing about those displaced by conflict and environmental change.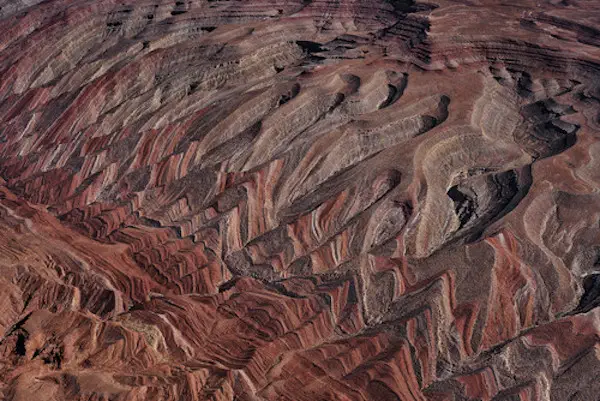 Fazal Sheikh: Exposures also opens at the Yale Art Gallery on September 9. It features the artist's newest body of work, made in 2017-22, along with an earlier series from 2010-15. To make "Exposure," his most recent work, Sheikh worked with the Utah Diné Bikéyah Native American organization to make landscapes and portraits examining the human and environmental costs of the exploitation of public lands in the American southeast and to collect personal testimonies of the often invisible effects of environmental racism. The earlier series, "Erasure," focuses on aerial photographs of the Negev Desert in southern Israel that reveal the environmental and political pressures on the people living there.
Mayday: Eight Decades of Aboriginal Australian Bark Painting from Yirrkala opens at Dartmouth's Hood Museum on September 3. It is the first large exhibition of Aboriginal bark painting ever staged outside Australia. The Hood is an early stop on a three-year tour of the United States, a rare chance to see important examples of a major visual art tradition.
The design traditions of the Yolngu people, who live around the small community of Yirrkala in northern Australia, go back thousands of years. The clan designs, painted on bodies and ceremonial objects, are called miny'tji. They are not just decoration but are considered sacred patterns of the ancestral lands themselves. The Yolngu describe them as madayin, a term that means both the sacred and the beautiful.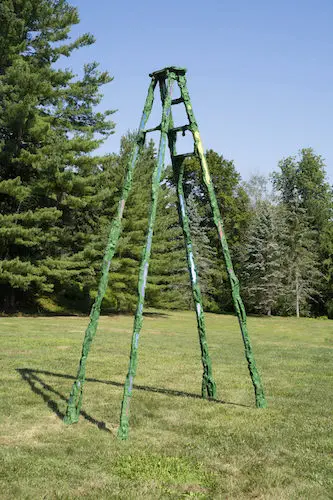 After extended contact with Europeans grew in the 20th-century, the Yolngu people adapted an existing tradition of painting on eucalyptus bark and began an art form that continues to flourish. Drawn from major collections in Australia, the works in the Hood show were selected by a team off Yolngu and non-Aboriginal curators and date from 1935 to the present, including 33 new works commissioned expressly for this exhibition.
The installation of David Shaw: Last Steps opens to the public on September 9 at the grounds of the Aldrich Contemporary Art Museum in Ridgefield, CT, part of the museum's Main Street Sculpture program. The work, "Last Steps," was originally commissioned as part of "Re: Growth,"  an exhibition of outdoor works in Manhattan's Riverside Park. It takes the shape of a decaying step ladder, missing most of its steps. enveloped in moss-like growth. Spectral lights escape from gaps in that surface. Shaw has said of his piece "Last Steps is both an image of our frustrated, unattainable, and perhaps misguided desire for progress, and a symbol of hope that the world wants to rebuild, that life wants to continue."
— Peter Walsh
---
Jazz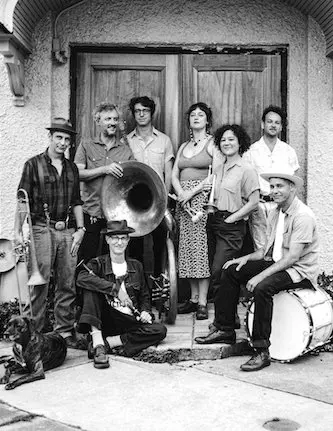 Tuba Skinny
August 28 at 5 p.m. and 8 p.m.
Shalin Liu Performance Center, Rockport, MA
The 5 p.m. show is already sold out (you can always stand outside with a finger up!), but an 8 p.m. show has been added for this must-see New Orleans-born trad-jazz band, who recently made their Newport Jazz Festival debut. Led by the outstanding cornet player Shaye Cohn (daughter of jazz guitarist Joe and granddaughter of sax great Al), the band assays all manner of early jazz and blues, from Bessie Smith and King Oliver to crate-digger gems by the likes of Jabbo Smith ("Jazz Battle") and Duke Ellington ("Saturday Night Function"). Their latest, Magnolia Stroll, is their first collection of all-original material by the band — and it stands up.
Isabel Stover
September 1 at 8 p.m.
Lilypad, Cambridge, Mass.
Singer Isabel Stover likes standards of all varieties ("Nature Boy," "Look for the Silver Lining," bossa nova, Paul Simon's "American Tune," Stevie Wonder's "Sweetest Somebody I Know"). Her debut CD, Her Own Sweet World, released in June, has done well on the CMJ jazz charts, and she comes into the Lilypad with a more-than-solid band: pianist Mark Shilansky, guitarist Steven Kirby, bassist Mark Poniatowski, and drummer Les Harris.
Bert Seager's Heart of Hearing
September 7 at 6:30 p.m.
Lilypad, Cambridge, Mass.
Always worth checking out is pianist and composer Bert Seager's monthly early-evening residency at the Lilypad, with a longtime cohort he's now calling "Heart of Hearing" (get it?). We'll leave the early-bird-special jokes for another occasion, but suffice it to say that this crew listens especially well, which makes the playing all that much more fresh and surprising. As Seager describes it, their approach to jazz includes deploying "dance rhythms from many cultures" that would make one wonder "what Schubert would have sounded like had he lived in Peru and played odd meters, or if Ravel had lived in Ghana and had been able to improvise over chord changes." Or, in one recent performance by this band, as if Thelonious Monk had lived in Peru. The rest of the Heart of Hearing crew are saxophonist Rick DiMuzio, bassist Max Ridley, and drummer Dor Herskovits.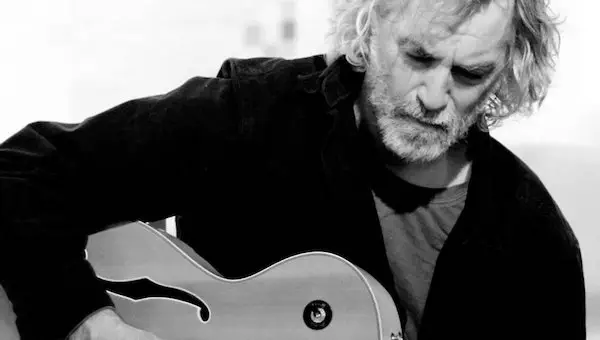 Joe Morris and Ken Vandermark
September 8 at 8 p.m.
Lilypad, Cambridge, Mass.
No one plays guitar like Joe Morris, one of the few jazz musicians who has invented his own language — immediate, compelling, unpredictable, a storyteller in the oldest sense of the word. Here he teams up with one of his regular collaborators over the years, reed player Ken Vandermark, himself a MacArthur "genius" Fellow, who was inspired by hearing Morris's band Sweatshop in Boston in the '80s.
Ben Wolfe Quartet
September 9 at 8 p.m.
Scullers Jazz Club, Boston
Scullers Jazz Club opens its fall season with bassist and composer Ben Wolfe, and a superb band: tenor saxophonist Nicole Glover, vibraphonist Joel Ross, and drummer Aaron Kimmel. Wolfe has done the circuit with all the high rollers: Wynton/Jazz at Lincoln Center, Harry Connick Jr., Diana Krall, etc. He's a solid writer and formidable player and, with this crew, I expect this show to be right rather than rote.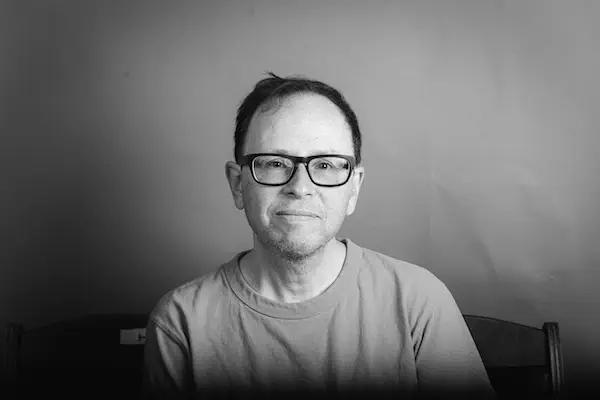 Peter Bufano
September 10 at 5:30 p.m.
Lilypad, Cambridge, Mass.
Peter Bufano is an assistant professor in the screen-scoring department at Berklee College of Music but, perhaps just as important, a graduate of Ringling Bros. and Barnum and Bailey Clown College and he eventually wrote and performed music for hundreds of circus performances. His band Cirkestra turned the sounds of small European circus bands into concert music: Italian folk music, klezmer, waltzes, tangos, as well as American swing and ancient jazz. As a composer for film, his music has become yet again more expansive and these days could include just about anything, including electronic music. At the Lilypad, he'll perform solo on acoustic and electronic instruments (his main instrument since his circus days has been the accordion, but I expect him to make use of the Lily's beautiful grand piano).
The Makanda Project
September 10 from 1 p.m. to 4 p.m.
First Church, Roxbury, Mass.
FREE
This collection of excellent Boston-area musicians, under the direction of pianist and arranger John Kordalewski, continues its ongoing tribute to the music of the late Makanda Ken McIntyre with this installment of its free concert series in Roxbury. Weather permitting, the shows at First Church are outdoors on the lawn, with shade trees. There are two sets, and, to repeat, it's free.
— Jon Garelick
Mikarimba
September 10
Shalin Liu Performing Arts Center, Rockport
A Rockport tradition: the annual appearance by marimbist Mika Stoltzman and her husband and longtime collaborator, legendary classical clarinetist Richard Stoltzman. For this evening they're offering a tribute to Chick Corea, who once actually composed a piece for the Stoltzmans. The all-star band also includes pianist Geoffrey Keezer, bassist Pedro Giraudo, and singer Gillian Margot.
— Noah Schaffer
---
Dance
New World Festival
September 4 from noon to midnight
Chandler Center for the Arts
Randolph, VT
This year marks the 30th anniversary of New World Festival, a lively event celebrating traditional Celtic and French Canadian music and dance. Boston's own Irish step dancer Kieran Jordan performs at this annual festival alongside Laurel Martin, Mark Roberts, and fiddler and dancer Fern Tamagini-O'Donnell, winner of the 2022 Young Tradition Vermont award.
The Shape of Tears
September 10 at 4 p.m.
1 Westinghouse Plaza
Hyde Park, MA
Erica Schwartz presents The Shape of Tears, a free outdoor dance performance inspired by The Topography of Tears by Rose-Lynn Fisher. The performance features director and choreographer Erica Schwartz and dancers Jeryl Palana Pilapil-Brown, Jason Jordan, Avery Saulnier de Reyes, Ashley Eng, and Janelle Gilchrist. This event is supported by the City of Boston Opportunity Fund. Rain date is September 11th.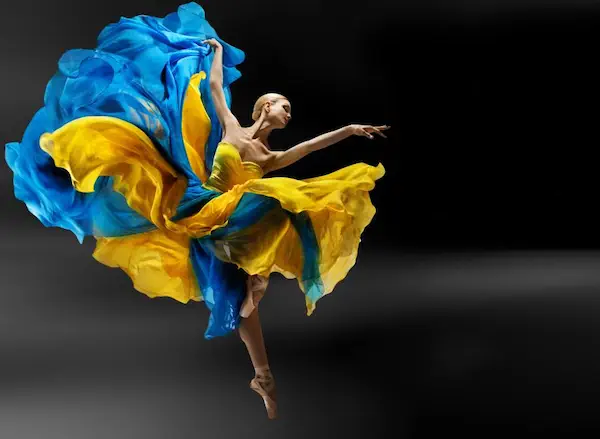 Bellforge Dance Festival
Sept 11 from 12 to 5 p.m.
The Bellforge Arts Center
Medfield, MA
Enjoy a free day of dance at Bellforge Dance Festival, featuring Pantos Project, Festival Ballet Providence, and BoSoma. The festival includes interactive dance workshops in a variety of styles, from African dance to the Irish jig. Rain date is September 10th.
28th Cambridge Carnival International
September 11, 11 a.m to 5 p.m.
University Park Commons
Cambridge, MA
Head to University Park this weekend for a vibrant celebration of Caribbean and African traditions with food, music, dance, costumes, and festivities. Experience cultural performances, arts and crafts vendors, and traditional cuisine.
— Merli V Guerra
---
Author Events
Live at Brookline Booksmith! Paris Spies-Gans
A Revolution on Canvas
August 30 at 7 p.m.
Free or $64 with reserved in-store book pickup
"In the late eighteenth and early nineteenth centuries, hundreds of women in London and Paris became professional artists, exhibiting and selling their work in unprecedented numbers. Many rose to the top of their nations' artistic spheres and earned substantial incomes from their work, regularly navigating institutional inequalities expressly designed to exclude members of their sex. In the first collective, critical history of women artists in Britain and France during the Revolutionary era, Paris Spies-Gans explores how they engaged with and influenced the mainstream cultural currents of their societies at pivotal moments of revolutionary change.
"Through an interdisciplinary analysis of the experiences of these narrative painters, portraitists, sculptors, and draughtswomen, this book challenges long-standing assumptions about women in the history of art. Importantly, it demonstrates that women built profitable artistic careers by creating works in nearly every genre practiced by men, in similar proportions and to aesthetic acclaim. It also reveals that hundreds of women studied with male artists, and even learned to draw from the nude. Where traditional histories have left a void, this generously illustrated book illuminates a lively world of artistic production."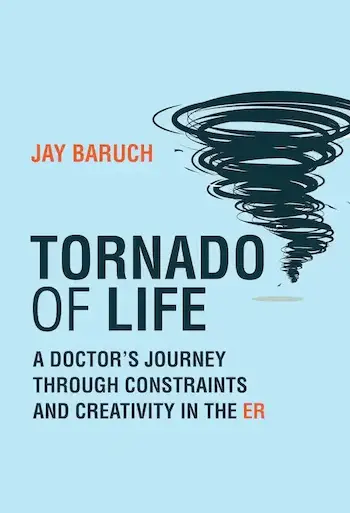 Dr. Jay Baruch – Harvard Book Store
Tornado of Life: A Doctor's Tales of Constraints and Creativity in the E.R.
September 1 at 7 p.m.
Free
"Patients come to the ER with lives troubled by scales of misfortune that have little to do with disease or injury. ER doctors must be problem-finders before they are problem-solvers. Cheryl, for example, whose story is a chaos narrative of "and this happened, and then that happened, and then, and then and then and then," tells Baruch she is "stuck in a tornado of life." What will help her, and and what will help Mr. K., who seems like a textbook case of post-combat PTSD but turns out not to be?
Baruch describes, among other things, the emergency of loneliness (invoking Chekhov, another doctor-writer); his own (frightening) experience as a patient; the patient who demanded a hug; and emergency medicine during COVID-19. These stories often end without closure or solutions. The patients are discharged into the world. But if they're lucky, the doctor has listened to their stories as well as treated them."
Silent Reading Party- Porter Square Books
September 7 at 6 p.m.
50 Liberty Drive, Boston MA
Free
"The return of the Silent Reading Party! You can either BYOB (bring your own book) or buy a book here! We'll be sitting and reading quietly for an hour, followed by some discussion about what we read. Or not, if you don't feel like talking! Snacks, refreshments, and excellent book recommendations will be provided. Please note that masks are required at all times during this event."
Bradford DeLong – Harvard Book Store
Slouching Towards Utopia: An Economic History of the Twentieth Century
September 8 at 7 p.m.
Free
"Before 1870, humanity lived in dire poverty, with a slow crawl of invention offset by a growing population. Then came a great shift: invention sprinted forward, doubling our technological capabilities each generation and utterly transforming the economy again and again. Our ancestors would have presumed we would have used such powers to build utopia. But it was not so. When 1870–2010 ended, the world instead saw global warming; economic depression, uncertainty, and inequality; and broad rejection of the status quo.
Economist Brad DeLong's Slouching Towards Utopia tells the story of how this unprecedented explosion of material wealth occurred, how it transformed the globe, and why it failed to deliver us to utopia. Of remarkable breadth and ambition, it reveals the last century to have been less a march of progress than a slouch in the right direction."
Write Together: Collaborative Storytelling – GrubStreet
September 9 from 6- 7:30 p.m.
50 Liberty St, Boston MA
Free
"This is a writing session where students will work together in small groups to collaboratively write a story. Each group will be given a short list of writing prompts/story elements and various craft elements that they need to incorporate into their story. This class will spark creativity while also teaching collaboration with other writers. The inclusion of craft into the story will allow writers to hone their writing skills and/or learn from other writers."
Poetry Open Mic Night — Trident Booksellers & Cafe
September 11 from 7-9 p.m.
Trident Booksellers, 338 Newbury St, Boston MA
Free
"Join us for a fun evening of open mic poetry! We invite you to bring your own works and perform them in front of a supportive crowd. There's no better place to find your voice and share it with the world! The sign-up list opens at 6:30 pm in the upstairs cafe and the mic opens at 7 p.m.."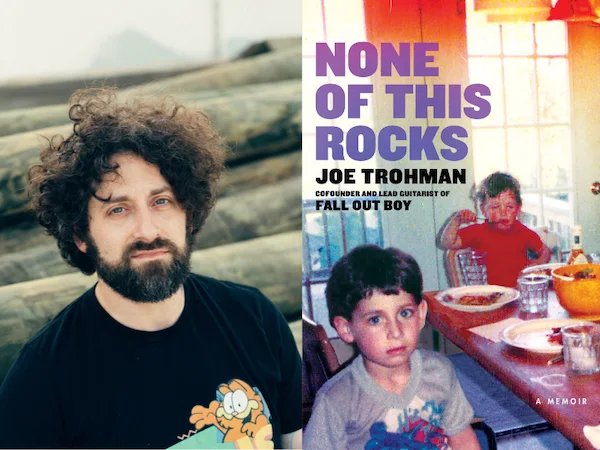 Joe Trohman with Luke O'Neil – brookline booksmith
None of This Rocks
September 15 at 7 p.m.
Free
"Trohman co-founded Fall Out Boy with Pete Wentz in the early aughts, and he's been the sticky element of the metaphorical glue-like substance holding the band together ever since, over the course of a couple decades that have included massive success, occasional backlashes, and one infamous four-year hiatus. Trohman was, and remains, the emotive communicator of the group: the one who made sure they practiced, who copied and distributed the flyers, and who took the wheel throughout many of the early tours. As soon as he was old enough to drive, that is—because he was all of 15 years old when they started out.
That's part of the story Trohman tells in this memoir, which provides an indispensable inside perspective on the history of Fall Out Boy for their legions of fans. But Trohman has a great deal more to convey, thanks to his storytelling chops, his unmistakable voice, and his unmitigated sense of humor in the face of the tragic and the absurd."
— Matt Hanson