By Michael Ullman
To my ears, these beautifully recorded improvisations — with their unique sequences of tones and subtle interactions — are never less than intriguing.
Barre Phillips and György Kurtág Jr., Face à Face (ECM)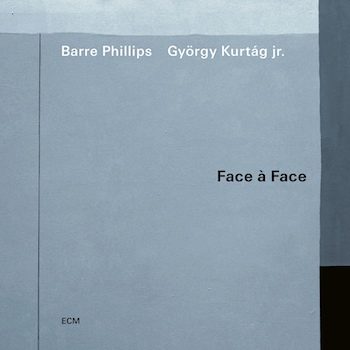 Now 87, bassist Barre Phillips started his recording career not early (he was 29), but more or less at the top. He performed with Eric Dolphy in 1963, and with George Russell a year later. 1965 was a big year for the bassist: in separate sessions he recorded with Jimmy Giuffre, guitarist Attila Zoller, and with pianist Bob James on the remarkable label ESP. Those sessions didn't make him famous. The Dolphy wasn't issued until decades later, and the other sessions were on small labels.  Phillips was not properly introduced to a wider public until the 1965 lp New Thing at Newport, which has a track featuring John Coltrane and four with Archie Shepp. One can hear Phillips in conversation with vibist Bobby Hutcherson on "Le Matin de Noire," and bowing solo at the beginning of Shepp's "Scag."
The best opportunity to hear early Phillips is on Shepp's "Gingerbread, Gingerbread Boy," which also was recorded at Newport but, confusingly, was originally issued on the lp On This Night, where I first heard it. (No longer orphaned, "Gingerbread Boy" was subsequently moved to the cd reissue of New Thing at Newport.) Phillips has recorded in countless settings since, including solo bass (starting with Journal Violone in 1968) and duo bassists (Music for Two Basses, 1971, with Dave Holland). His trio performances with John Surman are especially valued, and he's been with Mike Westbrook's big band. And with countless others as sideman and leader.
Phillips' previous ECM album was End to End, billed as his final solo recording. Face à Face (one expects a "Side by Side" to come next) is comprised of duets with György Kurtág Jr., who is the son of the well-known composer of the same name. Kurtág plays, or plays with, electronic instruments, listed here as "Yamaha DX7 IIFD, Korg T3 and Roland Jd 800 synthesizers, augmented by Roland Handsonic digital percussion." "Two by Two," the title cut, begins with what sounds like rapid fire bongo drums that magically move across the sound stage, their high-pitched rolls punctuated by the occasional "bass drum" and an odd crooning sound that gallops after the bongos as they peregrinate from channel to channel. Eventually, a melody emerges center stage: it's a repeated phrase that sounds as if it is coming from a vibraphone. This fascinating sequence comes to a complete stop shortly before two minutes. Phillips enters, bowing his bass in a pattern that clearly recalls Kurtág's melody. The latter describes his role in this album as building rooms around a moving target: "To be in relation with this music I think of it as an individual on the move and I build rooms of both time and space around him…I could also say that I create a shadow." It's complicated because sometimes the bassist follows the shadow's lead.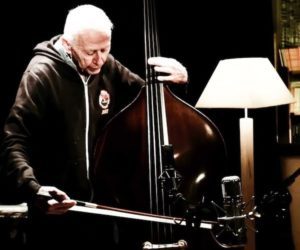 Typically the duo plays together, as in the opening tune, "Beyond," where the musicians seem to be listening closely to the other. Kurtág, as he suggests, is quietly shadowing Phillips. "The Under Zone" is different: it starts with what sounds like a crowd scene, a jumble of electronic sounds that resolve into gradually fading held tones that are punctuated by strong single notes from Phillips over which Kurtág plays (again) vibe-like tones.
All twelve numbers on Face à Face are short. Many, like "Forest Shouts," are eerie: this, the concluding track, starts off with forthright statements by Phillips, who is plucking his bass as if he is in conversation with himself,  moving between the instrument's low and high ranges. Then Kurtág enters with a series of high-pitched (bird-like?) tones that seem to disappear almost as soon as they arrive. Nobody shouts and the titles of the compositions are as amusing as the music is evocative. "Sharpen Your Eyes" is a busy little number: it is filled with quickly shifting sounds, whistles, rattles, and thumps that seem to waft over Phillips' plucking high in the bass's range. I don't know where the title of the relatively serene, even majestic, "Ruptured Air" comes from, except to assume that musical vibrations may be said to rupture the air. "Chosen Spindle" is even more mysterious, as is the nervous-sounding "Aigobench" during which Phillips solos, emitting occasional buzzes, first over a constant stream of chattering and then over more intrusive electronic sounds. The piece lasts a little over a minute.  Let it be noted that nothing on this set swings or even maintains a steady rhythm. Still, to my ears these beautifully recorded improvisations — with their unique sequences of tones and subtle interactions — are never less than intriguing.
---
Michael Ullman studied classical clarinet and was educated at Harvard, the University of Chicago, and the U. of Michigan, from which he received a PhD in English. The author or co-author of two books on jazz, he has written on jazz and classical music for the Atlantic Monthly, New Republic, High Fidelity, Stereophile, Boston Phoenix, Boston Globe, and other venues. His articles on Dickens, Joyce, Kipling, and others have appeared in academic journals. For over 20 years, he has written a bi-monthly jazz column for Fanfare Magazine, for which he also reviews classical music. At Tufts University, he teaches mostly modernist writers in the English Department and jazz and blues history in the Music Department. He plays piano badly.