By Henry Chandonnet
Appreciating Stephen Sondheim's achievement does not mean loving all of his shows. A Little Night Music may just be one of his musicals that should be politely nudged aside.
A Little Night Music by Stephen Sondheim and Hugh Wheeler. Directed by Julianne Boyd. Produced by Barrington Stage Company, Pittsfield, MA, through August 28.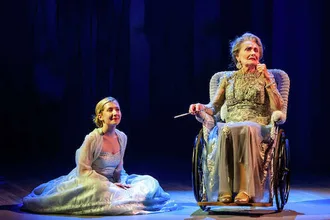 Following the passing of composer-legend Stephen Sondheim, repertory theater companies across America have rushed to produce a variety of the famed composer's musicals. Some of these ventures were successful, such as the current Broadway run of Into The Woods, which is infusing some distinctive flair into Sondheim's didactic take on fairy tales. Still, not all of his shows are equally accomplished, and they cannot always be renovated, even by very talented people. Dealing with Sondheim's legacy means discriminating, reckoning with the bad as well as the good. These failures don't diminish Sondheim's stature, just complicate it. For me, A Little Night Music is among the composer/lyricists overrated musicals and Barrington Stage Company's superb production proves my verdict — it cannot compensate for the show's essential mediocrity.
A Little Night Music is a romantic farce, but one with nuance. It attempts to be profound, even heady in its tomfoolery. But underneath the humorous surface lies a discomforting reality: the musical serially humiliates all of its female characters. There's Anne, the quaint child-bride who loves jewels and comedies. She is eventually swept up by her husband's son. Then there's Charlotte, the stone-faced wife who doggedly hews to her husband despite his affairs and drunkenly slobbers over another man as a means to make him jealous. And, of course, there's Madame Armfeldt, the aging matriarch who spends her time fawning over past trysts — because her life as a senior is utterly worthless. None of the male characters are treated with such triviality, dismissed as mere playthings. Yes, their trials and failures are the butt of comedic quips, but they have agency and are successful at the end of the evening. Most of A Little Night Music's demeaning comedy is generated by the sexual and romantic failings of women.
Worst of all is the case of Desiree. Of all the show's female characters, she has will power. She's a working actress, is comfortable making choices, and is fawned over by two different men. By the end of the first act, though, we see her true, more emotionally nuanced motivations. Desiree wants to settle down with a husband — for the sake of herself and her daughter. She believes Fredrik to be that man. When Fredrik tells her that he cannot leave his wife, Anne, Desiree is beset with one of the most heart-wrenching breakdowns in Sondheim's catalog. "Send in the Clowns" is a giant of a song (a standard), and Emily Skinner, Barrington Stage's Desiree, handles the crushing ballad with forceful grace. Then, miraculously, Fredrik's wife leaves him and he chooses to settle down with Desiree! How sweet, how trite. Just minutes after the devastation of "Send in the Clowns," a viewer is left wondering: why did Sondheim put us through this? Desiree is emotionally traumatized for our entertainment yet it all works out. She is belittled at the whims of the men around her. For me, this was an unsettling, manipulative see-saw that felt wrong, at least from the perspective of 2022.
From a production standpoint, BSC does everything right. The set feels classic yet fresh, and the directorial vision is also compelling. The headline theatrical names — Emily Skinner, Sierra Boggess, and Mary Beth Peil, among them — pull their starry weight. More impressive is the young talent in the staging. Sabina Collazo's Anne is spot-on at hitting her comic cues, and Noah Wolfe's Henrik brims with invitingly youthful bliss. Above all, though, there's Sophie Mings as Petra, one of the Egermans' servants. She is a somewhat peculiar character, present mostly for her sexual panache and lower class bravado. Mings's Petra, however, infused some liberating energy into a show that is too comfortable denigrating its female characters. At the end of the evening, Petra sings "The Miller's Son," a song that — in the wrong hands — can seem inconsequential. Mings makes the tune one of the show's few empowering experiences. That said, Ming's performance, along with the fine turns of the other talented actors, cannot make this show fit the times. At this point it is dated, nostalgia for those who are uncomfortable with change.
This isn't a reason to shun Sondheim, to "cancel" him postmortem. No, this is an opportunity for artists to look hard at his work and create the needed imaginative revisions. The time for  uncritical revivals is over. Barrington Stage Company put on a great production of a musical that, in this day and age, is not so great.
---
Henry Chandonnet is a current student at Tufts University double majoring in English and  Economics with a minor in Political Science. He serves as arts editor for the Tufts Daily, the preeminent campus publication. Henry's work may also be seen in Film Cred, Dread Central, and Flip Screen. You can reach out to him at henrychandonnet@gmail.com, or follow him on Twitter @HenryChandonnet.