By Jason M. Rubin
I applaud She & Him's selection of Brian Wilson tunes while at the same time feeling that some are not well-suited to their loungey, languid pop stylings.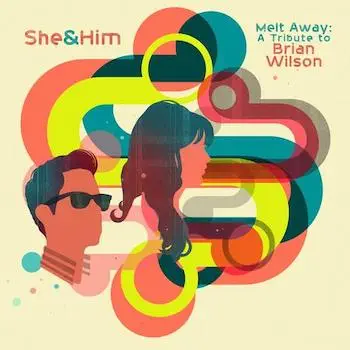 I tend to be suspicious of actors who sing and singers who act. But Zooey Deschanel is so damn cute and goofy that I can't help but see beyond her flaws (both her voice and her acting are limited in range and dynamics, yet she remains eminently watchable and listenable). She and her musical partner M. Ward, comprising the suitably quirky group She & Him, have just released a new album, Melt Away: A Tribute to Brian Wilson. Wilson fans are well aware that the pair are legitimate lifelong fans of the Beach Boys founder and songwriting genius. Deschanel interviewed him in 2008 as part of MySpace's "Artist on Artist" series, and the group was featured on Wilson's 2015 No Pier Pressure album, performing with the master on the tropical ditty "On the Island." As a fan of both Wilson and Deschanel, I find myself applauding She & Him's selection of tunes while at the same time feeling that some are not well-suited to their loungey, languid pop stylings.
First, the selection. Credit must be given to the group for not recycling the usual suspects from the Beach Boys' immense catalog of hits. After all, no group except perhaps the Beatles is more anthologized than the Beach Boys. Earlier this summer, yet another boxed set, the six-CD Made in California, was released — simply, it seems, because people associate Wilson's songs with summer. On Melt Away, however, there's no "Good Vibrations," no "I Get Around," no "Fun, Fun, Fun," and no "Surfin' USA" (in fact, none of the 14 songs on the album contain the words surf, surfer, or surfin' in the title). Surprisingly, only two songs from Pet Sounds appear — "Wouldn't It Be Nice" and "Don't Talk (Put Your Head On My Shoulder)" — but that puts the spotlight on some lesser-known songs, which is a refreshing change from most tributes. Still, I regret not having the chance to hear Deschanel sing "God Only Knows."
From the get-go, She & Him throw us a curveball: M. Ward takes the lead vocal on the opening track, "Darlin'." His voice is considerably deeper than Deschanel's, but rather expressionless. In the arrangement, you hear the trademarks of their style, informed by both the pop music and the West Coast jazz of the '60s, lacking any rough edges or deep feelings. This works for some songs but not for others. For example, the highly optimistic "Wouldn't It Be Nice" comes off well, but the tune that follows, "Til I Die," doesn't work at all. This is as close to a musical suicide note as Wilson or anyone else has ever written, composed in the dire days of 1971 when he was questioning his value and place in the world. To She & Him, though, it's just another mid-tempo head song. Deschanel lacks any gravitas in her voice, and her rendering of the heartbreaking line "It kills my soul" falls flat. The appearance of a trumpet solo is an odd choice, though had if it been a mournful solo it might have helped the overall track.
"Dierdre" follows, a pleasant but light song from 1970's Sunflower that was a collaboration with Bruce Johnston; I had always considered it more of a Johnston composition, so I was surprised to see it included. But again, light works best for She & Him, and I may even like it better than the original.
The following track is another example of solid song selection. "Melt Away" is from Wilson's 1988 self-titled solo album. "Love and Mercy" from the same album has become a latter-day signature tune of Wilson's, often the concert closer. Personally, I have always thought "Melt Away" was a better song. Deschanel's vocals, both lead and background, are lovely and perfect for the track.
So it goes for much of the album: all great songs, but not necessarily all great renderings. Up-tempo songs like "Good to My Baby" and "This Whole World" lack grit and guts, both musically and vocally, while sweet ballads like "Don't Talk" and "Kiss Me Baby" work precisely because of Deschanel's predilection for an old-fashioned chanteuse style. Unfortunately, Ward's unappealing lead vocals mar "Don't Worry Baby," robbing the song of its teenage angst.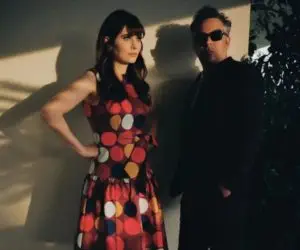 Happily, though, Wilson agreed to sing lead vocals on "Do It Again" and he sounds great, though singing in a lower register than he probably ever has sung before.
"Heads You Win–Tails I Lose" is the oldest song on the collection, having been released on the very first Beach Boys album, Surfin' Safari, on October 1, 1962 — 60 years ago. This song gives Ward a chance to play some surf guitar, which helps give it the rockin' boost lacking in other up-tempo songs. Even on vocoder, Ward's vocals are a drag, but overall it's a fun track and the type of song one would never expect to be chosen for a tribute.
The penultimate song, "Please Let Me Wonder," is a song that I use to judge Beach Boys collections. It should be much more widely known. It is a love song on par with "Warmth of The Sun" and "Surfer Girl," yet it is often overlooked. Its inclusion on this album makes me happy and it's a winning performance as well, with Deschanel's stack of vocals lending girl-group sweetness to a beautiful composition.
The final track, "Meant for You," was the very brief opener from 1968's Friends. At 1:30, the version on Melt Away is nearly three times longer than the original. Conceived as an invocation, it becomes a benediction for an album that has its flaws but is nevertheless a pleasant listening experience. It certainly is summery, as befits the subject of this tribute, and as hard to resist as Deschanel herself.
She & Him will be playing selections from the album when they appear at Boston's House of Blues on September 10, 2020.
---
Jason M. Rubin has been a professional writer for more than 35 years, the last 20 as senior creative associate at Libretto Inc., a Boston-based strategic communications agency where he has won awards for his copywriting. He has written for Arts Fuse since 2012. Jason's first novel, The Grave & The Gay, based on a 17th-century English folk ballad, was published in September 2012. His current book, Ancient Tales Newly Told, released in March 2019, includes an updated version of his first novel along with a new work of historical fiction, King of Kings, about King Solomon and the Queen of Sheba. Jason is a member of the New England Indie Authors Collective and holds a BA in Journalism from the University of Massachusetts Amherst.