By Ralph P. Locke
New recordings serve up fine performances of music from Latin America, Brazil, and post-1918 England. And a novel sends its main character back two centuries into Mozart's The Marriage of Figaro.
Corazón: The Music of Latin America. John-Henry Crawford, cello; Victor Santiago Asunción, piano; JIJI, guitar. Orchid Classics ORC 100198—63 minutes
Saudade [compositions from Brazil]. Plínio Fernandes, guitar. With Maria Rita (vocalist), Braimah Kanneh-Mason (violin), and Sheku Kanneh-Mason (cello). Decca Gold B0035736—65 minutes.
Undertones of War: British Organ and Vocal Music after 1918. Robert James Stove, organ. With Elizabeth Barrow (soprano), Brigette De Poi and Emily Tam (mezzos), Leighton Triplow (tenor), and James Emerson (bass). Ars Organi AOR004—38 minutes.
And "a novel opera" (really an opera-novel): Elly Uncomposed by Valerie Niemerg. Published by Anonymous V, 2022.
Click here to purchase (or in some cases preview) Corazón, Saudade, Undertones of War, or Elly Uncomposed.
The mail has recently brought me three CDs, each devoted to the music of a region or specific country (respectively: Latin America, Brazil, and post-1918 England), plus a most amusing novel drenched in operatic lore. I'll discuss them one by one.
Corazón: The Music of Latin America is the second recital-CD by the remarkable cellist John-Henry Crawford, who hails from New Orleans. (The first, entitled Dialogo, offered music by Brahms, Shostakovich, and Ligeti.) Crawford has been fascinated with Latin America ever since he traveled to Mexico, where he won the important Carlos Prieto Cello Competition in 2019. He explains his attraction to the music of the region well in this video interview (with host Brad Creswell).
Crawford is a simply marvelous cellist, with a lean rather than growly tone (fine with me!). He has brought two equally splendid collaborators with him into the studio on this occasion: the Filipino-American pianist Victor Santiago Asunción and the South Korean-born guitarist who goes by the name JIJI (she now teaches at Arizona State).
The composers on Crawford's CD were or are from Mexico, Cuba, Argentina, and Brazil. The whole CD conveys the emotional openness that one tends to associate with the Spanish word corazón. Yet there is no sense of sameness: each piece makes its own kind of statement, and a welcome one. We get to hear three pieces by Manuel Ponce (1882-1948), perhaps Mexico's most renowned composer. Two of these are songs (here done without words), including the long-beloved Estrellita in an arrangement based on the somewhat quirky one that the great Jascha Heifetz made for violin and piano. We also get Ponce's Sonata in G Minor, in four highly virtuosic movements—the first is marked "allegro selvaggio" (quick and savagely). And this work, too, feels sincere: an offering from the corazón.
Villa-Lobos is represented by two short but delectable pieces: the "Melodia" from his Little Suite, and Ondulando. We also hear an enchanting lullaby by Cuban-born Leo Brouwer (one of two composers here who are still alive, the other being Egberto Gismonti) and an arrangement of one of the most famous pieces by Astor Piazzolla (from Argentina), Oblivion. Here the latter is set for 14 cellos (arranged in four parts, like a string quartet, plus a solo line), and, through the miracles of overdubbing, John-Henry Crawford plays all 14 cello lines, exquisitely. The second-longest piece in the program is also by Piazzolla: his marvelously involving Le grand tango.
For the amazing story of Crawford's cello, which his grandfather managed to smuggle out of Nazi Germany, click here.
Saudade is the title of our second CD, the debut recording by the young Black Brazilian guitarist Plínio Fernandes for the Decca Gold record label. The title word saudade means something like "nostalgia." Fernandes has been living in London for seven years now (receiving a master's degree at the Royal Academy of Music) and admits, in the booklet, that he has now begun to feel saudade for Brazil. His affection for Brazil's classical music and also its popular music is apparent in this wide-ranging selection of pieces. It includes the first movement of Villa-Lobos's Bachianas brasileiras No. 5  (with cellist Sheku Kanneh-Mason playing the solo line in an intriguingly quiet, reflective manner) and that same composer's famous Five Preludes for Solo Guitar. But there are also lighter short pieces and songs (the latter mostly performed by the guitarist alone). For example, Antônio Carlos Jobim's famous "The Girl from Ipanema" and Ary Barroso's song "Aquarela do Brasil," known in the US as "Brazil" are offered in artful solo-guitar arrangements. The CD's various arrangements, some of them distinctly jazz-flavored, were made by the renowned Brazilian guitarist Sérgio Assad, Emmanuel Sowicz, and João Luiz, a Black Brazilian guitarist who, Fernandes says, was a great inspiration to him. In all the pieces, Fernandes plays with elegant thoughtfulness and a very wide dynamic range, from the merest whisper to scorching, yet never harsh-sounding intensity, as in João Bittencourt's Assanhado. (The title word refers to being in a state of sexual excitement.)
One objection: there is no booklet-essay, aside from a quasi-poem by the guitarist himself (in Portuguese only). We could also have profited from having texts and translations of the songs, even though there is a singer on only one of them (the world-renowned Brazilian Maria Rita, offering melody and words intimately to the listener, which also allows Fernandes to keep his playing quietly meditative). Oh, one of the songs was actually written in Spanish: Gracias a la vida (1966), by the great proponent of "Chilean New Song" Violeta Parra. But it became a big hit in Brazil (and elsewhere: Joan Baez recorded it).
Fernandes talks about the repertoire, and about being a Black classical musician in the following video:
England is of course quite a different kind of place from Latin America, and was even more so in the years after 1918, an era from which organist Robert James Stove has chosen 17 mostly shortish pieces to share with us — all either for organ solo or for one or more voices plus organ. All are little known, and seven are here recorded for the first time.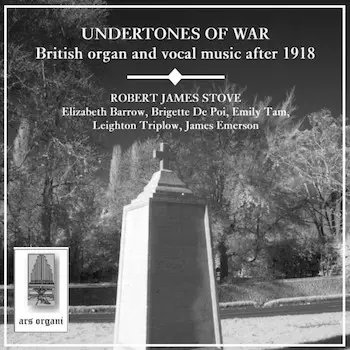 Stove's beautifully researched and written booklet-essay introduces us to the special, mournful atmosphere that pervaded Britain during the years after the end of World War I — a conflict that took so many lives to such little purpose. Stove calls the CD Undertones of War, borrowing the title from a still-admired 1928 memoir by poet Edmund Blunden. The pieces often evoke a yearning for solace, and I found them all extremely welcome to listen to, even ones by composers whose names were utterly new to me, such as Elizabeth Poston and Richard Runciman Terry. (The latter is listed as a "Sir." This reviewer, being American, prefers not to employ titles of rank: let this be my one-person Boston Tea Party!)
I was struck by the elegant tunefulness of many of the pieces, including Terry's hymn Highwood ("Hark, what a sound…"), John Ireland's The Holy Boy, and Peter Warlock's Adam lay ybounden. I was pleased to discover that Ireland's song has a bit of Fauré in its bones, and there are welcome and appropriate medieval or folklike aspects to pieces by Poston, David Holbrook, and Peter Warlock (pseud. of Philip Heseltine). Throughout, organist Stove meets the demands of the music with naturalness and conviction, never drawing excessive attention to himself. I was equally delighted by his previous CDs, including one of Victorian and Edwardian composers and one of French composers of the late 19th century: see my reviews here and here.
The young Australian singers who join Stove on various of the tracks have compact, healthy voices; I must particularly mention the near-angelic Elizabeth Barrow, whom I hope to hear in other repertory soon.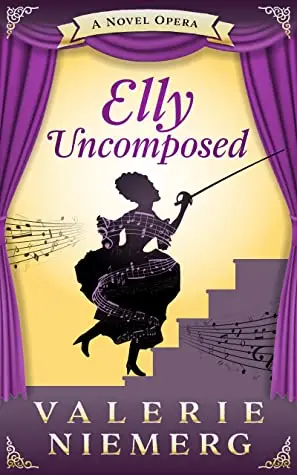 And something not to hear but to read: A new and fascinatingly musical and theatrical novel has just come to my attention, and I've enjoyed dipping into it. Valerie Niemerg's Elly Uncomposed is drenched in the world of opera: the author calls it "a novel opera," though a more accurate tag might be "an opera-novel." The plot involves a duty-bound rehearsal pianist, Elizabeth Kirtenpapper, who suddenly finds herself living in the 18th century and doing kitchen work for the selfish and domineering Count Almaviva, whom we know and hate from Mozart's The Marriage of Figaro. Various characters try to swerve the opera's plot to their own purposes, and Elizabeth must straighten things out so that she can eventually get back to the 21st century.
I found the whole premise of the novel intriguing. The writing, savvy and sly, never lingers. You do not have to be an opera fan (yet!): crucial terms — such as "to mark" during a rehearsal — are explained in the glossary and are boldfaced in the novel itself. Elly Uncomposed might be a fun way to get a friend or relative interested in opera or, more generally, in classical music … or in what goes on before and behind an effortless-seeming theater performance.
---
Ralph P. Locke is emeritus professor of musicology at the University of Rochester's Eastman School of Music. Six of his articles have won the ASCAP-Deems Taylor Award for excellence in writing about music. His most recent two books are Musical Exoticism: Images and Reflections and Music and the Exotic from the Renaissance to Mozart (both Cambridge University Press). Both are now available in paperback; the second, also as an e-book. Ralph Locke also contributes to American Record Guide and to the online arts-magazines New York Arts, Opera Today, and The Boston Musical Intelligencer. His articles have appeared in major scholarly journals, in Oxford Music Online (Grove Dictionary), and in the program books of major opera houses, e.g., Santa Fe (New Mexico), Wexford (Ireland), Glyndebourne, Covent Garden, Bilbao (Spain), and the Bavarian State Opera (Munich).