By Scott McLennan
The brilliant set was a celebratory exploration of Molly Tuttle's bluegrass roots, albeit with a fresh perspective.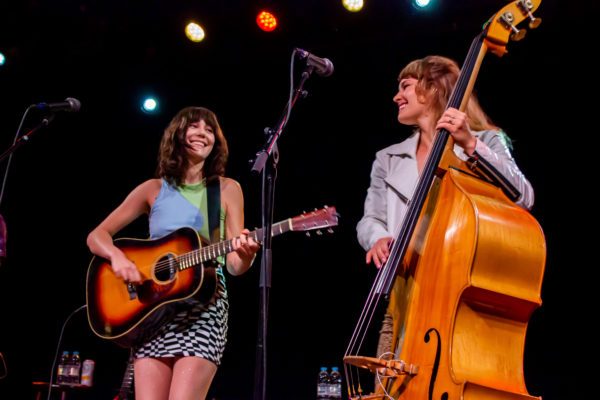 Molly Tuttle's brilliant set at the Sinclair in Cambridge on Thursday was a homecoming in more ways than one.
Tuttle and her Golden Highway bandmates — bassist Shelby Means, fiddle player Bronwyn Keith-Hynes, mandolin player Dominick Leslie, and banjo player Kyle Tuttle (who is not related to Molly) — all spent chunks of professional development time playing in and around Boston. Though this crew is now based in Nashville, Tuttle namechecked the Cantab Lounge and explained how her new song "Goodbye Girl" is drawn from her experiences in the powerhouse acoustic band she formed with three other women while they were all attending Berklee College of Music.
The performance — as well as Tuttle's latest album Crooked Tree (Arts Fuse review) — was a celebratory exploration of her bluegrass roots, albeit with a fresh perspective.
That may not seem noteworthy, given Tuttle's early history as a guitar-playing bluegrass prodigy and recipient of high-profile awards from the International Bluegrass Music Association.
But Tuttle took steps to escape from being boxed into any one genre and style. She released the more contemporary and pop-influenced When You're Ready in 2019 and followed that up with the covers project … But I'd Rather Be With You, which trotted out songs by FKA Twigs, The National, and Harry Styles, rather than ones by classic bluegrass artists such Bill Monroe or even tunes by "new grass" rebels such as Sam Bush or Bela Fleck.
In concert, however, Tuttle and Golden Highway paid their respects to Monroe, offering up a fiery version of the father of bluegrass's "Wheel Hoss" early in the show. It was a flat-out picking fest with solos whipping around from guitar to mandolin to banjo as Means's bass line was the center of gravity keeping it all from flying apart.
Those kinds of exhilarating musical exchanges filled a performance that ran close to two hours. But the show's heart and soul came from Tuttle's Crooked Tree. The band played all but one of the album's songs. Each in its own way demonstrated Tuttle's gift for bringing together songs that don't sound stuck in the '40s because she renovates them via a progressive, but respectful, musical approach.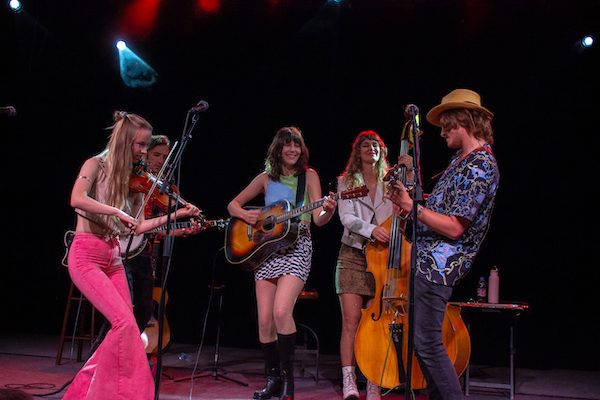 Thus, Tuttle and Golden Highway regaled a packed crowd with tales about renegade pot farmers ("Dooley's Farm") and high-plains mystery ("Castilleja"). With "The River Knows," she transformed the crime in a murder-ballad into a justifiable homicide.
But much of Crooked Tree tells Tuttle's own story. "Side Saddle" and "She'll Change" champion women who overcome bias and prejudice to set their own agendas. "San Francisco Blues" laments the transformation of her Bay Area home from high-minded cultural center to high-rent district. "Grass Valley" is all about the impact of traveling to her first bluegrass festival with her father, also a musician. The song "Crooked Tree" is a homage to nonconformity and the strength that comes from being true to one's self.
Tuttle's blazingly fast and incredibly meticulous playing put a shine on everything she performed. As a band leader she gave wide berth to the others, making room for spotlight solos and opportunities for the musicians to take off in pairs and engage in volleys.
Tuttle in particular and Golden Highway in general don't lean heavily on effects in concert, preferring bright, clean tones, which separates them from other next-wave bluegrass bands.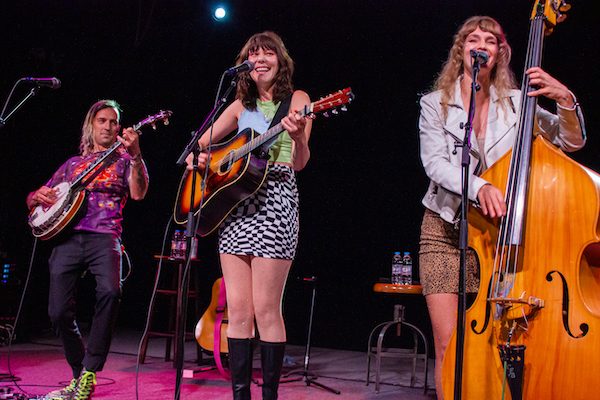 That approach worked especially well when Tuttle pulled in songs from outside of the bluegrass and folk realms and put a picking party spin on them, as was the case with the Rolling Stones' "She's a Rainbow" and Rancid's "Olympia, WA."
Likewise, when she played a couple of her pre–Crooked Tree songs, they sounded like reinventions. The instrumental "Super Moon" lost the drums of its recorded version and picked up the power of a banjo-fiddle duel. The set-ending "Take the Journey" dates back to 2019; it has served as a powerful example of her skills playing a clawhammer style of guitar. At this show, it was further fleshed out with Golden Highway's accompaniment (and punctuated with a bit of disco ball dazzle).
Means's brother and sister-in-law — mandolin player Jacob Means and soprano saxophone player Lihi Haruvi — joined for the encores. After a few tentative stares around the stage, Haruvi led the charge with a frolicking, folksy sax line that the others played off of in turns, each musician stepping up to a solo microphone for her or his bit. After the now customary "Blue Eyed Boston Boy" (or "Two Soldiers") that bluegrass bands like to perform whenever in the region, Tuttle and Golden Highway launched into the night's finale, "Big Backyard," a bit of an updating on Woody Guthrie's "This Land Is Your Land." The song makes reference to too many fences going up; given that Tuttle and Golden Highway had just demonstrated how wonderful it is to break down barriers, it was hard to argue with the sentiment.
---
Scott McLennan covered music for the Worcester Telegram & Gazette from 1993 to 2008. He then contributed music reviews and features to the Boston Globe, Providence Journal, Portland Press Herald, and WGBH, as well as to the Arts Fuse. He also operated the NE Metal blog to provide in-depth coverage of the region's heavy metal scene.