By Paul Robicheau
Solid Sound is like a family picnic for stylistically open-minded musicians and fans alike within the brick-mill infrastructure of MASS MoCA.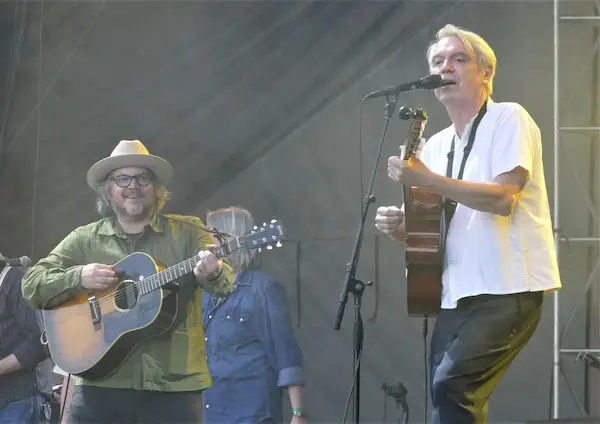 When it comes to music festivals, Wilco leader Jeff Tweedy prefers the rain to sun, and he doesn't like beach balls bouncing in the crowd either. At least that's what he said from the main stage of Solid Sound, his band's unique three-day festival at Berkshires museum MASS MoCA over Memorial Day weekend.
"The beach ball is where I draw the line," Tweedy deadpanned after spotting an offensive orb in Saturday's audience. "We're not going to have that much fun."
Granted, that bouncing ball went against the downbeat tone of many of Tweedy's songs, particularly from new double album Cruel Country, which Wilco debuted at Solid Sound. But make no mistake, everybody was having fun — even Tweedy.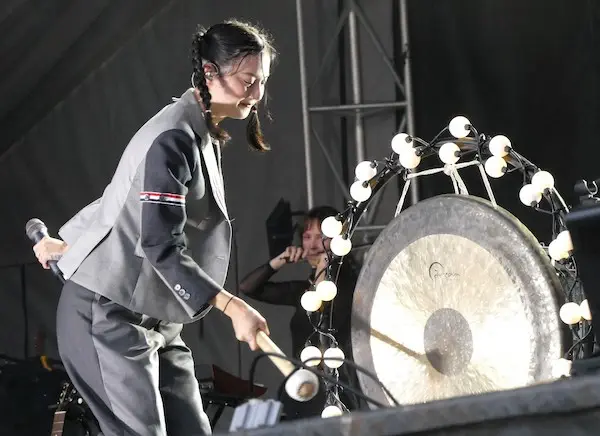 Solid Sound is like a family picnic for stylistically open-minded musicians and fans alike within the brick-mill infrastructure of  North Adams's MASS MoCA, a biennial festival stretched to a three-year gap with the pandemic. When rain did fall — as it did with brief thundershowers on Friday and Saturday — the crowd of about 8,000 just moved from the field and courtyard stages into the warehouse-sized art galleries.
In those alternate spaces, fans caught special pop-up sets by members of Wilco (Tweedy even took a crack at pedal-driven guitar noise) and billed or unbilled associates. Sonic collages were a dominant fling, with electronic pulsations from Sylvan Esso's Nick Sanborn (while one downpour flashed outside that gallery's tall windows) and Yuka Honda manipulating her laptop under a giant lei-strung installation — filmed by husband and Wilco guitarist Nels Cline, who explored soundscapes in a trio with synth bandmate Mikael Jourgensen and saxophonist Adam Schatz.
But mutual admiration was most widely shared at predominant outdoor stages. Cline was Saturday's cameo king, adding skyscraping solos to punk-rocker Mike Watt's Missingmen for Blue Oyster Cult's "The Red and the Black" and a shred-fest finale with that band's Tom Watson before emerging for Japanese Breakfast's "Posing for Cars," taking that group's sleek, perky indie-pop to a rawer peak.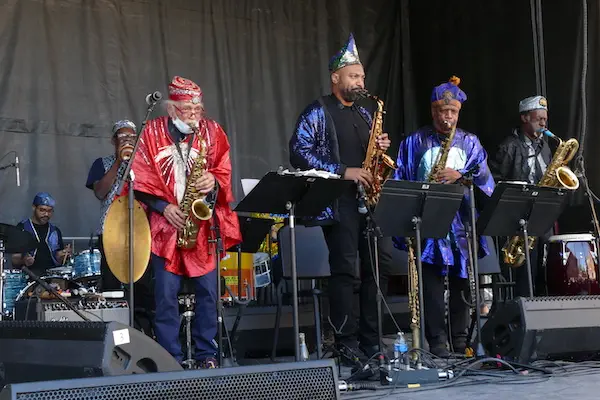 Japanese Breakfast singer Michelle Zauner called Solid Sound "her dream festival" and Wilco "my favorite band," noting that she walked down the aisle to "She's a Jar," which Wilco played later that night. In turn, Tweedy invited Zauner out to sing a gentle lead on an encore of "Jesus, Etc.," augmented by two violinists.
Tweedy found himself in awe on Sunday when he introduced surprise guest David Byrne for a weekend-capping encore of "California Stars," which Wilco recorded with Billy Bragg around Woody Guthrie lyrics. "This is one of the biggest thrills of my life," said Tweedy, who let Byrne adeptly handle the first verse in a tag-team rendition assisted by Tweedy's sons Spencer and Sammy as well as members of Wilco and fellow Chicagoans old and new from Eleventh Dream Day and Ohmme.
Otherwise, the weekend's marquee moment came Friday when Wilco performed the just-released Cruel Country in its entirety over 85 minutes. To listen to a new 21-song set that leans to melancholy Americana rather than outright country was, as Tweedy put it, "a lot to ask" (although Wilco sent free digital releases to ticket-holders a week early to warm them up). The opening stretch grew a bit pokey, though fans hushed for Tweedy's Dylan-esque "Ambulance" reflection on a drug-induced car crash. But apart from a false start for one song, the live delivery of the double album was sublime. Slighter tunes were offset by more country-tinged singles "Tired of Taking it Out on You" and the Bakersfield-styled "Fall Apart (Right Now)," plus a pair of longer jams where Cline rose above tasteful dobro, guitar, and lap-steel colorations. In orchestral stunner "Bird Without a Tail/Base of My Skull," he and guitar foil Pat Sansone wove a dynamic buildup over the escalating churn of Glenn Kotche's drums.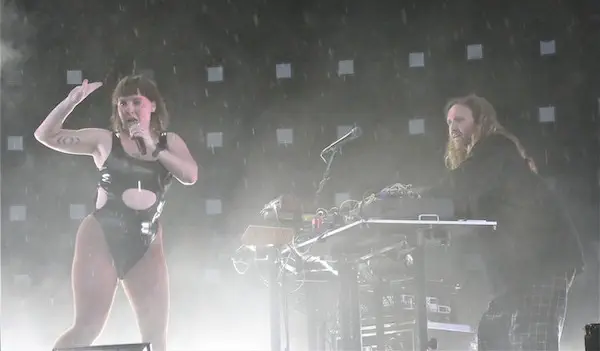 For an encore, Wilco stuck to the night's theme, reaching back to its alt-country roots for "It's Just That Simple" (sung by co-founding bassist John Stirratt from the band's 1995 debut A.M.) and "New Madrid" by their previous outfit Uncle Tupelo. Then came a string of covers in the Meat Puppets' "Climbing," the Byrds' "Wild Mountain Thyme," Connie Smith's "Once a Day" (with guest Neko Case singing lead), Sharon K. Dobbins's "She's My Rock," and Roger Miller's "Reincarnation."
Neko Case began the day by giving Solid Sound a more substantial early push than past Fridays. After a Substack stage conversation with Tweedy and comedian Nick Offerman, she served a surprise set of her music under the billing Wild Creatures, the title of a new career retrospective. Arriving in a cornucopia hat, Case dug deep with a back-to-back "Maybe Sparrow" and "Margaret vs. Pauline" from her 2006 jewel Fox Confessor Brings the Flood and covers that included "Challengers" by her former ensemble the New Pornographers, whose singer/songwriter A.C. Newman was on hand as a member of Case's (alas drummer-less) foursome.
Case's voice can be a force of nature, but it couldn't match the thunderstorm that delayed the fest's next two sets. The young Danish post-punk band Iceage still put a snarl and attitude into the proceedings, while Sylvan Esso staged a dance party on the field stage amid light recurrent showers. The electro-pop duo's wall of lights erupted to reflect the raindrops as singer Amelia Meath flexed her limbs, echoing an image from the film Flashdance. Other songs were more muted. "Get up, get down," Meath sang in "Coffee," which quoted "My baby does the hanky panky" from the old Tommy James & the Shondells hit. She clapped her fingertips and a smattering of the wall lights blinked.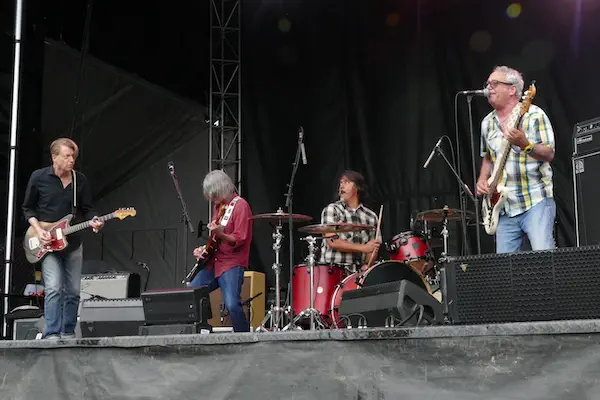 Saturday jumped into more diversity with the soul-jazz fusion of Finland's Tuomo & Marcus, the tuneful Americana of Cut Worms, the introspective indie-rock flow of Hand Habits, and the falsetto-tinged genre mashup of Nnamdi. Yet the boldest juxtaposition came from three polar-opposite performances in the late afternoon.
Angel Bat Dawid came out chanting in a purple robe and rainbow braids for an evocation of Sun Ra's "Enlightenment," declaring "Beethoven was a Black man" and swinging between synthesizers, clarinets, and vocals through a vocoder. Mike Watt proclaimed that he came to play — and he sure did, contorting his face and manhandling bass notes as the Missingmen bent punk rock to elastic extremes, doing justice to broadsides from Watt's early '80s Minutemen repertoire like "The Glory of Man" and "Political Song for Michael Jackson to Sing." And Will Oldham made a rare appearance as Bonnie "Prince" Billy, leading a semicircled sextet in hypnotic, minimalist folk tunes. "Living through chaos makes you straight," he sang in "Tom Hill" to whispery harmonies and slivers of fiddle, banjo, synth, and electric guitar from his compatriots. "Living in love frees you from striving."
On Saturday's field stage, Japanese Breakfast began as she does on her 2021 Jubilee, swooping to strike a decorative gong throughout "Paprika" and pinching her voice into the catchy chorus of "So Sweet." But pleasant arrangements began to evoke an '80s synth-and-sax band trying to be Roxy Music without the edge.
Wilco's Saturday set began promisingly with opening rarity "You Are My Face" and a gorgeous "Muzzle of Bees," but lapsed back into Cruel Country, repeating seven of its tracks across a 27-song set. Sure, the band was excited about its new record and some people hadn't come the previous night, but more surely had and didn't need to hear the same tunes rather than other material. At least Wilco picked the best new songs, which sounded great again, and fans still got the Cline-levitated "Impossible Germany" and a rocked-out finale of "I Got You (at the End of the Century)" and "Outtasite (Outta Mind)," but Wilco narrowed its spectrum.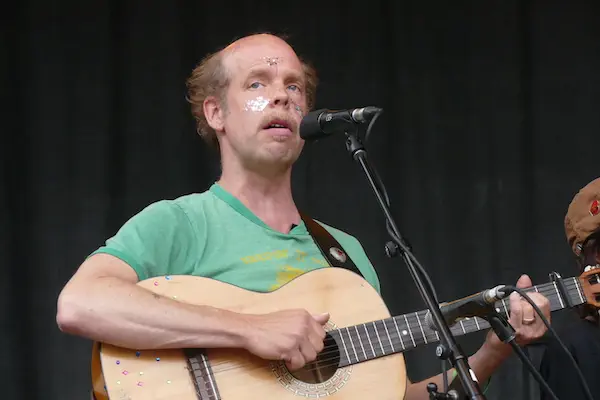 By contrast, Sunday's lineup flew all over the map again. Eleventh Dream Day broke in the late '80s, suggesting an alt-rock Crazy Horse with an X-like vocal contrast between guitarist Rick Rizzo and drummer Janet Beveridge Bean. That dynamic remained as the band worked past sound issues in opening songs from 2021's more temperate but still excellent Since Grazed and built to a lather with nugget "Testify." Rizzo tossed his guitar high in the air and caught it at the end.
In a stylistic flip between courtyards, Cline favored clean-toned, barbed jazz runs with his more impressionistic than avant-garde Consentrik Quartet, its melodies accented by Ingrid Laubrock's tenor sax over Tom Rainey's painterly drums. The experimental On Fillmore rose from Wilco drummer Kotche's tuned percussion and Darin Gray's bowed bass to rock songs animated by Finnish vocalist Jonna Tervomaa. And the costumed 13-piece Sun Ra Arkestra carried the jazz legacy of its eccentric late namesake, led by survivor Marshall Allen, who amazingly turned 98 a few days earlier and was presented with a birthday cake. He spread his red tunic-like wings as he arrived onstage, struck a gong, and lightly throttled his alto sax as the group led chants like "It's a planetary music" and "Space is the place."
All this while another iconoclastic legend, 79-year-old Texas songwriter Terry Allen, made a rare appearance on the field stage, singing farcical outlaw country tunes with his Panhandle Mystery Band, which included singer Shannon McNally. But the real mystery was unveiled in a first appearance by longtime fan David Byrne, who strolled out to sing his own "Buck Naked" and chime in on Allen's "Gimme a Ride to Heaven Boy," a song involving a car, beer, and Jesus Christ. A buzz passed around MASS MoCA with the words "Did you see David Byrne?!"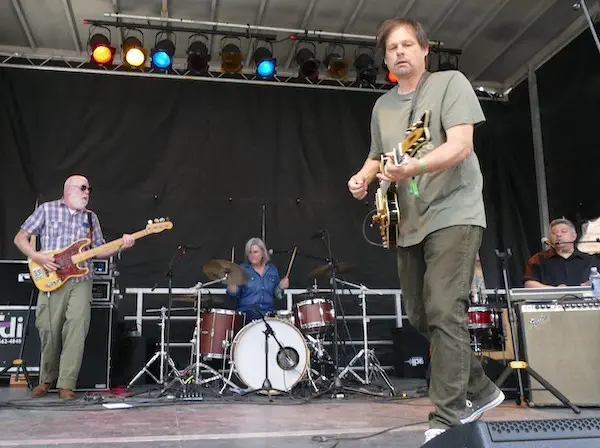 A traditional final set by Tweedy and Friends made Byrne's return worth the wait with a broader-than-usual palette from wistful folk to honky-tonk to Wilco-ey sonic touches from Eleventh Dream Day guitarist Jim Elkington and Ohmme's Macie Stewart on violin. Tweedy got thoughtful in songs about life, family and — in "Having Been Is No Way to Be" — drug addiction, wryly demurring to the crowd that his songs were "not made for festivals." The encore included a cover of Neil Young's "Helpless" capably sung by Sammy Tweedy. Then came David Byrne for "California Stars." Spencer Tweedy split drum duties with Kotche. Cline played another solo. Byrne sang. And despite all sun and no rain, Jeff Tweedy smiled.
---
Paul Robicheau served more than 20 years as contributing editor for music at the Improper Bostonian in addition to writing and photography for the Boston Globe, Rolling Stone, and many other publications. He was also the founding arts editor of Boston Metro.