By Christopher Caggiano
Two dark comedies explore American and British subcultures far below the line of decency.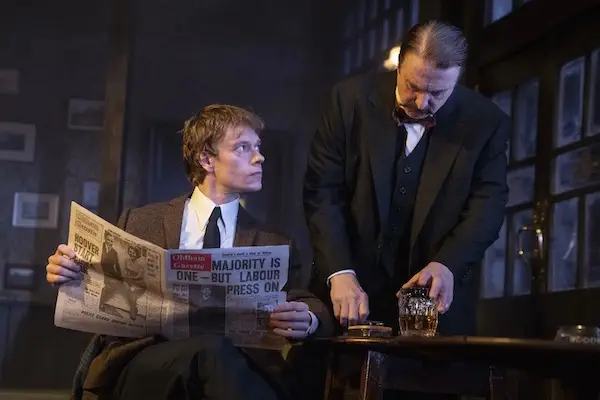 Playwright Martin McDonagh has made a career out of telling dark, violent stories tinged with heavy doses of black humor. His numerous plays, which include The Lieutenant of Inishmore and The Pillowman, are often disturbingly funny, as are McDonagh's occasional forays into film work, including In Bruges and the Academy Award-winning Three Billboards Outside Ebbing, Missouri. Based on McDonagh's body of work, it seems clear he might be a challenging person to have as a friend. But, boy, would he be fun to talk with at a party.
McDonagh's latest play to hit Broadway, Hangmen, finally made its bow last month. Hangmen was an enormous success in Britain, where it won the Olivier Award for Best Play. A 2018 Off-Broadway run at the Atlantic Theater Company was sold out even before it opened. But the play's Broadway debut was unfortunately delayed: Hangmen had already played 13 preview Broadway performances in 2020 when it was suddenly shuttered, with the rest of the shows on Broadway, due to the Covid epidemic. The play returned in 2022 and opened after an additional 12 previews in April.
Again, McDonagh likes it dark, but he also likes it funny, and in Hangmen, he takes the idea of gallows humor quite literally. The play tells the story of Britain's "second-best hangman" upon the abolition of hanging in Britain in 1965. The play starts with a prologue featuring the hanging of a man who goes to his maker protesting his innocence. Two years later, upon the abolition of hanging, the man's story returns to haunt the denizens of a run-down bar in a depressing little village in northern England.
Harry is played with towering bluster by David Threlfall, now virtually unrecognizable as the young man who gave a heart-rending performance in 1981 as the woefully abused boy Smike in the epic The Life and Adventures of Nicholas Nickleby. Harry now owns a pub and in the opening scene is busy regaling the local barflies when a smiling but menacing stranger named Mooney — embodied with cheerful malevolence by Alfie Allen of Game of Thrones fame — comes to the pub and stirs up trouble. Mooney also creepily flirts with Harry's 15-year-old daughter Shirley, who later goes missing.
What makes Hangmen such an unexpected pleasure is McDonagh's deft mixture of menace and mirth. As with many of his other works, the joys of Hangmen are skillfully balanced with the workaday horrors of the worlds that McDonagh and his characters inhabit. Director Matthew Dunster keeps the play moving forward without rushing, allowing moments to linger when they need to, adroitly picking up the pace just when things might start becoming a bit too moody.
There's one excruciatingly funny scene involving the appearance of Pierrepont, the best hangman in England, just when the pub denizens have been getting involved in some impromptu vigilantism. Pierrepont overstays his welcome as we squirm with the knowledge of what's happening behind the curtain. It's a masterful scene both in its writing and in Dunster's deft handling of the timing and the dramatic irony.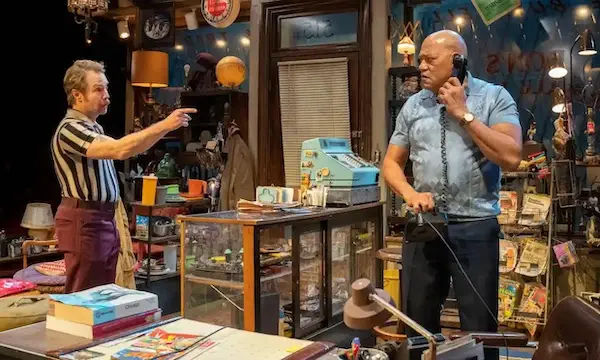 Also opening on Broadway last month is yet another revival of American Buffalo by David Mamet. Hey, remember when he wrote great plays? It's hard to recognize the incisive craftsman of Mamet's early dramatic prime — Glengarry Glen Ross, say, or even Speed-the-Plow — with the blunt, brash boor that he has become in his later years. Given the dramatist's more recent theatrical creations — the Broadway disaster China Doll starring Al Pacino, and the London debacle Bitter Wheat starring John Malkovich — it's hard to dismiss the idea that becoming a Trump supporter and billionaire apologist can rob even the most august of playwrights of any skill to which they might once have laid claim.
As anyone who ever stepped foot in a college black box theater knows, Mamet's American Buffalo is a brilliant three-hander set in a junk shop populated by three losers whom the American Dream has long since abandoned. Donny, the shop owner, is worried that he's just sold a potentially valuable coin for far less than it's worth. He launches a plot to steal it back from the buyer with his two ne'er-do-well associates, the slimy Teach and the hapless Bobby. What follows is a series of shifting alliances and bitter accusations that feature plenty of Mamet's signature fragmented, rapid-fire dialogue.
American Buffalo has certainly earned its place in the theatrical canon with three indelible characters, each more wretched and amoral than the next. To these people, fortune is their birthright, and they don't waste a nanosecond worrying about paltry things like decency and morality.
Laurence Fishburne rules the roost as Donny, making us all sorry that this nuanced performer only makes it back to the Broadway stage once every decade. Sam Rockwell — Oscar winner for the above-mentioned Three Billboards — gives a wildly dynamic performance as Teach that renders moot any comparisons with actors who've previously played the part (cough, cough…Pacino…cough, cough).
Darren Criss may seem an unlikely choice for a Mamet play, and in fact he is. Criss feels especially out of his depth next to Fishburne and Rockwell. It reminded me of the revival Three Tall Women a few seasons back in which the otherwise talented Alison Pill was handed the thankless job of appearing alongside two theatrical titans, Glenda Jackson and Laurie Metcalf, both absolutely transfixing in one of Edward Albee's finest and most personal plays.
Hangmen runs through June 18 at the John Golden Theater, American Buffalo through July 10 at the Circle in the Square. Both productions are certainly worth the trip, one to witness the work of one of our finest living playwrights, and the other to mourn the passing of David Mamet's talent.
---
Christopher Caggiano is a freelance writer and editor living in Boston. He has written about theater for a variety of outlets, including TheaterMania.com, American Theatre, and Dramatics magazine. He also taught musical-theater history for 16 years and is working on numerous book projects based on his research.