By Sarah Osman
The emphasis isn't on gratuitous sensuality: Gentleman Jack's throes of passion are designed to reveal more about the psychological makeup of its characters.
Gentleman Jack, BBC/HBO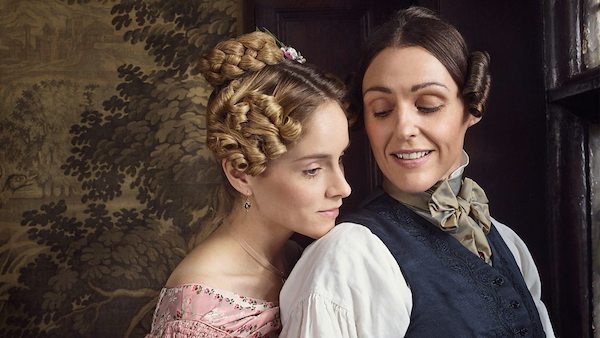 Quite a few lesbian period dramas have been released over the the past decade, but not many have felt truly queer. The BBC/HBO series Gentleman Jack has been one of the exceptions. Based on the salacious diaries of the real life Anne Lister, who lived in England in the 1800s, this is a heroine who isn't afraid to be gay. Suranne Jones applies just the right amount of swagger to the independent protagonist, from her walk and talk to her top hat. In the first season, Anne Lister began a relationship with Ann Walker — the two secretly "married" each other. Season two picks up right where the series left off. Unsurprisingly, it turns out that wedded bliss isn't so easy for the pair.
As Anne & Ann jaunt around Europe, Ms. Walker's relatives gather to discuss their fears for the future. Her family is not keen on the fact that Ann is planning to move into Ms. Lister's home, Shibden. Ann's relatives are especially not pleased that the lovers plan to incorporate each other into their wills. Ann's aunt is especially peeved; she doesn't even attempt the proper niceties when around the Listers. On the other hand, the Listers are just fine that Ann is living with them, although they do find the situation a little peculiar. This 'culture war' difference reflects contemporary concerns: though a number of families have come to accept and love their LGBTQ children and their partners, others remain as backwards as the Walkers. That is part of the series' disturbing political power — 150 years later and there are still families who are dangerously close minded. Other parallels in Gentleman Jack also still sting. For example, many men are intimidated by Anne Lister's intelligence and confidence, a hurdle that still bedevils powerful women.
Interfering families aren't the only thorn in the couples' side. Mariana Lawton, Anne's former lover, decides to reenter the picture. She turns out to be a formidable foil to Anne's Ann. She reminds Anne of her earlier proclamations of undying love, playing the guilt card with considerable skill. Anne's conflicting feelings are far more interesting to watch than the instances of class friction which, thankfully, has been cut down to a minimum this season. Anne's tenants and servants supply some conflict but, while some of these plotlines are fun, others are superfluous. This isn't supposed to be a recycled Downton Abbey, which clearly took its inspiration from Upstairs, Downstairs. The star of this sexual melodrama is Ms. Anne Lister: the more the focus remains on her, the better.
Unlike the latest season of Bridgerton, series creator Sally Wainwright doesn't shy away from sex scenes. But the emphasis isn't on gratuitous sensuality: Gentleman Jack's throes of passion are designed to reveal more about the psychological makeup of its characters. That's not to say these scenes aren't damn sexy, but they serve a dramatic purpose — they are not just about watching two hot actors get it on.
The first season of Gentleman Jack was beautiful, but the visual design crew have outdone themselves in this second outing. Lavish costumes, sweeping shots of the British countryside, and exquisite upper class sets are delights for the eyes. One pictorial standout: we see more of Ms. Lister's wardrobe moving beyond the swinging coattails: her French army inspired outfit and silk black dress reveal a dashing sense of style that also gives us a good sense of who she is. And the fashion generosity is democratic — even Ms. Walker gets a glow up.
All of the performers are impressive, but Gentleman Jack belongs to Jones. From the second Ms. Lister confides to viewers about how she takes on the machinations of power hungry men, the actor holds center stage. Jones has won a few accolades for her performance, but the performer has yet to be nominated for an Emmy. Hopefully, the injustice will be rectified this year. Regardless, this jack-the-lass is back in town and her charismatic, gender-bending spell continues to command.
---
Sarah Mina Osman is a writer residing in Wilmington, NC. In addition to writing for the Arts Fuse, she has written for Watercooler HQ, Huffington Post, HelloGiggles, Young Hollywood, and Matador Network, among other sites. Her work was included in the anthology Fury: Women's Lived Experiences in the Trump Era. She is currently a first year fiction MFA candidate at the University of North Carolina Wilmington. When she's not writing, she's dancing, watching movies, traveling, or eating. She has a deep appreciation for sloths and tacos. You can keep up with her on Twitter and Instagram: @SarahMinaOsman