By Scott McLennan
"I may second guess how a song was recorded. But I can say that all that we have done has come from an honest place."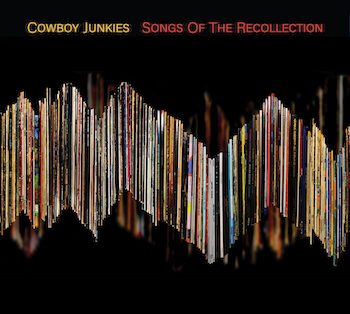 You'd think that after nearly 40 years together as a band — a band with a rather devoted and supportive following — that Cowboy Junkies would these days feel at ease whenever taking the stage.
Not so, said Cowboy Junkies guitarist and songwriter Michael Timmins.
Recalling the band's return to the concert stage once pandemic restrictions started to loosen last fall, Timmins recalled, "We were hesitant at our first shows in two years."
"It's not like there's a switch you can turn on," he said. "I think part of it had to do with the pandemic; people were still trying to figure out how we were all supposed to act. But there was also the question of confidence. We're not ego-driven people, but still when you have a show, you want to feel in command of the room, and that comes from doing it."
And like so many other bands trying to get things going again late last year, Cowboy Junkies had to yet again postpone a slate of shows due to the winter COVID surge. But all seems to be in place for the band's return to the region with concerts on April 13 at the Academy of Music Theatre in Northampton and April 14 at Cary Hall in Lexington.
The postponement also happens to align these shows more with the release of the band's latest album, Songs of the Recollection, a gathering of nine tunes written by others but inspirational and influential to the development of Cowboy Junkies.
Cover songs have been integral to the Cowboy Junkies repertoire, both live and on record. As most know, it was the band's 1988 version of the Velvet Underground's "Sweet Jane" that propelled Cowboy Junkies to wider audiences. The band's 1987 debut, Whites Off Earth Now!  consisted of just one original tune surrounded by songs from classic blues artists such as Robert Johnson, John Lee Hooker, and Lightnin' Hopkins (plus one by Bruce Springsteen). Early 21st Century Blues is a collection of cover songs that address the ravages of war, spanning from the traditional "Two Soldiers" to U2's "One." And the album Demons, part of Cowboy Junkies now-ten-years-old "Nomad" series, consists entirely of songs by Vic Chesnutt.
Timmins said that being forced off the road helped drive the decision to make Songs of the Recollection, which contains some pieces that were released on other projects as well as some that were newly recorded.
Yet, true to Cowboy Junkies form, the record is not just a hodgepodge of songs that band members like. Rather, it offers a revealing bit of genetic mapping, drawing on songs as diverse as Gordon Lightfoot's "The Way I Feel" and The Cure's "Seventeen Seconds" to shed light on the Cowboy Junkies own artistic sensibilities.
For example, Timmins says that David Bowie's "Five Years" and the Rolling Stones "No Expectations" were songs that affected the members of Cowboys Junkies as young music listeners, while "Seventeen Seconds" and Chesnutt's "Marathon" are pieces that affected the Junkies as fledgling musicians.
The blurring of listener and musician is central to Cowboy Junkies' identity; the bio material included with Songs of the Recollection quotes Timmins as saying, "Long before we were musicians, we were music fans,'' which one could easily amend to "music fans with big ideas."
Formed in 1985 in Toronto by Timmins and his sister Margo on vocals, his brother Pete on drums and bassist Alan Anton, who was collaborating with Michael Timmins before this band took shape, Cowboy Junkies generated a beguiling sound that could be warm and inviting one moment and dark and terrifying the next. The band's musical dynamic shared a lot — and continues to do so — with the visceral pull of rural blues. Yet at same time it welcomes contemporary, provocative, and intoxicating narratives.
Ostensibly staking out its turf in rock 'n' roll, Cowboy Junkies cultivated plenty of other genre influences and experimental impulses in the mix. The result was that they ended up connecting just as easily with fans of classic, rootsy rock (in the vein of The Band) as with college radio DJs spinning what were new records by R.E.M and The Replacements.
Cowboy Junkies' textured sound has aged well across 18 studio albums, a half dozen live albums, and a similar number of compilations.
Songs of the Recollection may feature songs from outside of the band, but the album is every bit as artful as the magnificent music Cowboy Junkies made for its last set of related original releases, All That Reckoning and Ghosts.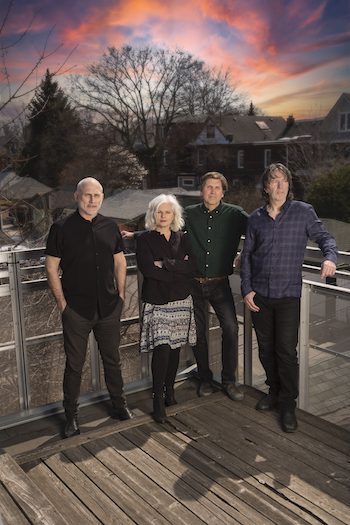 Songs of the Recollection is energized by the duality that powers most Cowboy Junkies albums. The conflict is summed up in the pair of Neil Young songs placed at the record's center. First up is the dark squall of "Don't Let it Bring You Down" followed by the hopeful "Love in Mind." We are sure to keep getting Cowboy Junkies songs as long as, in the minds of the band, the dark and the light continue to chase each other.
The band applies its distinctive sonic touch to the material gathered here, the one exception being Bob Dylan's "I've Made Up My Mind to Give Myself to You." In that case, it sounds as if Dylan himself had covered Cowboy Junkies via the unhurried caress of a love song that appears on his most recent album, Rough and Rowdy Ways.
Cowboy Junkies actually recorded the song not long after Dylan released it; Uncut magazine asked the band to record a Dylan cover for a CD it was including in its issue commemorating Dylan's 80th birthday last summer. It was Timmins' choice.
"When Uncut came to us, Dylan had just put that record out and I loved it," Timmins said. "I've Made Up My Mind' was definitely in our wheelhouse, and I knew Margo could sing it. Everyone did their parts, and it was very easy to pull together. I figured everyone else (on the tribute CD) would be covering songs from the late-'60s era and that it would be cool to do something Dylan had (at the time) just put out a few weeks ago."
Expect Cowboy Junkies to dip into Songs of the Recollection during this tour. Timmins says that the real highlight for him, though, is a medley of songs from Ghosts that the band has started including in concert.
The Timmins siblings' mother died not long after the 2018 release of All That Reckoning. The band worked on original songs while on tour as they were processing the grief. The band produced a record that appeared online in 2020 during the pandemic lockdown. Ghosts is challenging in its sound and tone and, as one can imagine, emotionally raw.
"We never intended to play those songs live and after this tour we'll probably never play them again," Timmins insists.
To hear Timmins' and Anton's thoughts on the Cowboy Junkies catalog, check out the podcast "Music is the Drug." Dave Bowler, who wrote the Cowboy Junkies biography Music is the Drug, is the host of the podcast, with most episodes picking apart the story behind a particular song. Bowler's book was 15 years in the making, so the passing of time (and the immediacy of the podcast) has prompted Timmins to go back and relisten to pieces before talking about them.
"When I go back and relisten to our records, I'm not disappointed by the songs themselves. They all come from true experiences and are very honest," Timmins says. "I may second guess how a song was recorded. But I can say that all that we have done has come from an honest place."
---
Scott McLennan covered music for the Worcester Telegram & Gazette from 1993 to 2008. He then contributed music reviews and features to the Boston Globe, Providence Journal, Portland Press Herald, and WGBH, as well as to the Arts Fuse. He also operated the NE Metal blog to provide in-depth coverage of the region's heavy metal scene.