By Jonathan Blumhofer
Marvelously accomplished albums from American mezzo-soprano Joyce DiDonato and Canadian soprano Barbara Hannigan.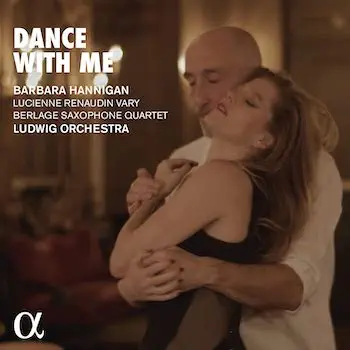 Try though they might, precious few trained singers can do justice to jazz, Broadway, and more popular idioms. The Canadian soprano Barbara Hannigan is just such a one, though, as her new album with the equally versatile Ludwig Orchestra, Dance With Me, demonstrates.
To be sure, theirs is an enchantingly off-beat program, encompassing music by Edward Elgar, Glenn Miller, Barry Manilow, the French-Brazilian band Kaoma, and others. And yet it's played and sung with the same attention to rhythmic detail, color, and verve that one's familiar with from the pairing's traversals of Berg, Gershwin, and Stravinsky.
Hannigan is a formidable chanteuse, singing her four songs with impeccable diction, unobtrusive vibrato, an excellent sense of character, and honeyed tone — not to mention spades of charm. She brings an attractive elegance to Miller's "Moonlight Serenade" as well as shapely turns of color in Kurt Weill's "Youkali."
Bill Elliott's fetching arrangement of Lerner & Loewe's "I Could Have Danced All Night" unfolds trippingly, while the soprano clearly has a blast navigating the acrobatics of Green & Irwin's ridiculously catchy "Fluffy Ruffles." The last, in Bill Cahn's raucous arrangement, also brilliantly showcases Ludwig percussionist Niels Meliefste's formidable xylophone playing.
As for the rest of the ensemble, which has evidently moonlighted as a dance band for some years now, they prove as comfortable with the jiving syncopations of "In the Mood" as they do with the playful turns of "Copacabana" and Kaoma's 1989 hit, "Lambada."
To be sure, the disc's only real outlier is Elgar's "Salut d'amour," which doesn't quite sit as a "slow dance." But that's a small complaint, especially given the compensating joys of one of this dark year's sunniest releases.
---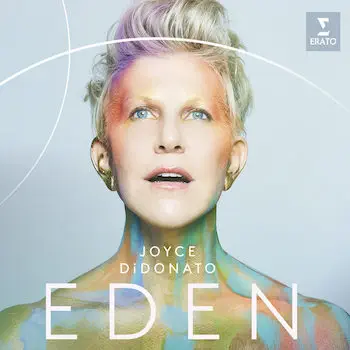 Would that every musician could approach their careers with the thoughtfulness and musical excellence Joyce DiDonato brings to hers. The American mezzo-soprano, no stranger to taking strong positions on the day's pressing issues, focuses on nature in her new recording, Eden. Much as one might be tempted to seek out some sort of provocative, environmentalist message on the disc, however, DiDonato's collection of pieces by Handel, Gluck, Copland, Wagner, Mahler, and others functions on a far more subtle level.
Here, she views the natural world through a variety of lenses, from the serene beauty of Mahler's "Ich bin der Welt abhanden gekommen" and Handel's radiant "As with rosy steps" to the fire and fury of Francesco Cavalli's "Pianote ombrose" and the "Dance of the Furies" from Gluck's Orfeo ed Euridice.
There's also a fitting sense of wonder in several of the selections, most notably Rachel Portman's bucolic, serene "The First Morning of the World," heard here in its premiere recording. And Charles Ives's The Unanswered Question makes a beguiling appearance in an arrangement that replaces the solo trumpet with DiDonato's voice. This unexpected switch takes a few moments to settle, but ultimately proves haunting.
In all the disc's fare, DiDonato is joined by Il Pomo d'Oro and conductor Maxim Emelyanychev. The ensemble acquits itself bracingly in the purely instrumental numbers (the aforementioned Gluck "Dance" and Giovanni Valentini's stately Sonata enharmonica).
They're also impressively discreet accompanists across a range of musics, delicately highlighting the fragmentary quality of Mahler's instrumental writing in "Ich atmet' einen Linden Duft," teasing out the luminescent woodwind lines of Copland's marvelous setting of Emily Dickinson's "Nature, gentlest mother," and bringing effortless warmth to Josef Mysliveček's "Toglierò le sponde al mare."
Musically, there isn't a weak link here. One trusts that the album's ambitious goal of helping listeners rethink their "relationship to the natural world and … unique place in it" comes out so meaningfully to a broad swath of hearers.
---
Jonathan Blumhofer is a composer and violist who has been active in the greater Boston area since 2004. His music has received numerous awards and been performed by various ensembles, including the American Composers Orchestra, Kiev Philharmonic, Camerata Chicago, Xanthos Ensemble, and Juventas New Music Group. Since receiving his doctorate from Boston University in 2010, Jon has taught at Clark University, Worcester Polytechnic Institute, and online for the University of Phoenix, in addition to writing music criticism for the Worcester Telegram & Gazette.