By Sarah Osman
Bad Vegan: Fame. Fraud. Fugitives falls short because it is designed to be entertaining rather than useful.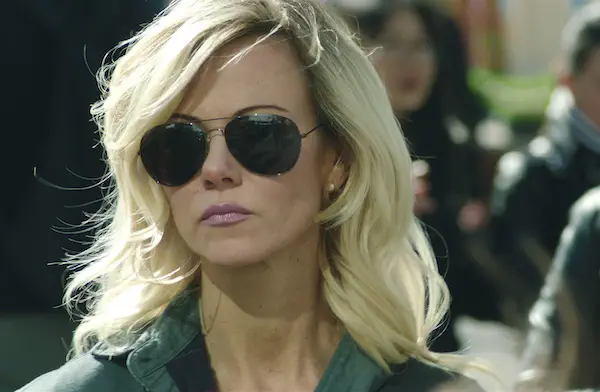 Netflix is currently expanding its catalog within the true crime genre by highlighting a new type of criminal: the con man. In the last few months, the service has released Inventing Anna (Arts Fuse review), which follows Anna, a fake German heiress who managed to swindle New York's elite out of thousands of dollars, and The Tinder Swindler, which examines an Israeli man who stole from his unsuspecting Tinder dates. But neither of these buncos can top the insanity and sorrow of Bad Vegan: Fame. Fraud. Fugitives, produced and directed by Chris Smith.
The series synopsis sounds like a telenovela: a vegan super chef meets a man online, marries him, and gives him millions of dollars from her super successful restaurant. Oh, and she believes that he can make her dog immortal. When it comes to gaslighting, this is just the tip of the iceberg in what becomes a fascinating and disturbing look at the devastating impact of emotional abuse. Rather than rely on shock and awe, Bad Vegan focuses on the amazingly destructive power one person can exert over another, showing how the brainwashing was done through recorded phone calls and looks into its protagonist's journal.
The victim at the center of the scam is Sarma Melngailis, who founded New York City's Pure Food & Wine, one of the first raw vegan food restaurants. Her coworkers, friends, and family adored Sarma, who was dubbed "Sarmamama" by her staff. She befriended the homeless and did what she could to help them. Her professional life was on a high, but her personal life was not. While healing from a bad break up, Melngailis befriended Anthony Strangis, aka Shane Fox, who billed himself as a black ops specialist. He made her laugh and they quickly married. Then the troubles really began.
Similar to the swindler in The Tinder Swindler, Strangis began to ask Melngailis to wire him money because he was in some sort of unclear "danger." She obliged, never once balking at the growing amounts — $5,000, $14,000, $40,000 — that he asked for. Making a bad situation even worse, Melngailis began to pull money out of her own restaurant which led, eventually, to her not being able to make payroll.
Not content with a money squeeze, Strangis took Melngailis deep into the twilight zone: he convinces her there is an alternate spirit world, ruled over by his nasty "older brother." He insisted that he and Melngailis had been lovers during every single one of their "lives." In order to be welcomed by "the family," she must do everything he says. Among the tests: the woman is sent on her own to Rome for 10 days so that Sturgis can gamble away her money. Jaw-dropping as all of this is, what's far more depressing is the way Sturgis spoke to Melngailis. He belittled her, swore at her, and undercut her belief in her own intelligence. Even more heartbreaking: we hear how broken Melngailis sounded. For those who have experienced the pain of domestic abuse, these scenes will feel all too familiar, especially the way in which Sturgis isolated Melngailis from her friends and family. What we have here is the picture of a textbook abuser.
Sadly, Melngailis isn't the first woman to have been emotionally tortured by Strangis. In a later episode, it's revealed that Sturgis has an ex-wife and daughter, and that he treated her in the exact same manner as he treated Melngailis. His ex-wife's breaking point came when he suggested putting salt in their daughter's food (apparently because salt does not show up on autopsy reports). His ex-wife has had more time to heal, and she tells her story in a direct and, at moments, unintentionally funny manner. She's no longer under Sturgis's demeaning spell. She's pieced herself back together; it's refreshing to see that she didn't let him get the best of her (as well as her glee at his fate). The interviews with Sturgis's ex-wife also underline the fact that Melngailis isn't completely insane — a sly abuser can hide their spots very well.
The end of the series toys with the idea that Melngailis may have swindled Sturgis. A few involved in the sordid case ponder if she ever really loved him. These scenes are frustrating: until this point there has been no evidence that Melngailis had conned Strangis. Instead of tossing in victim shaming (an exploitative effort to come up with a final twist?), the series should have explored why Melngailis continued to go along with Sturgis. Why did she stay with him as long as she did? Why did she continue to send him money? These are valid questions, and Melngailis never fully answers them.
Rather than patronizing the plight of an educated woman who fell into what she eventually recognized to be a cult-mentality, the series should have focused on examining what empowers emotional abuse, particularly its psychological and political enablers. It's not easy to escape once one is in an abusive relationship, partly because of the overwhelming fear, shame, and guilt. At one point Melngailis is asked why she didn't tell others what was going on. She replies that she would have come off as crazy — a response from someone who has been manipulated to lack the courage to think for themselves. Bad Vegan: Fame. Fraud. Fugitives falls short because it is designed to be entertaining rather than useful.
---
Sarah Mina Osman is a writer residing in Wilmington, NC. In addition to writing for the Arts Fuse, she has written for Watercooler HQ, Huffington Post, HelloGiggles, Young Hollywood, and Matador Network, among other sites. Her work was included in the anthology Fury: Women's Lived Experiences in the Trump Era. She is currently a first year fiction MFA candidate at the University of North Carolina Wilmington. When she's not writing, she's dancing, watching movies, traveling, or eating. She has a deep appreciation for sloths and tacos. You can keep up with her on Twitter and Instagram: @SarahMinaOsman