By Peg Aloi
Despite some occasionally far-fetched situations, Inventing Anna tells a fascinating story about conning the upper class.
Inventing Anna, created by Shonda Rhimes. Streaming on Netflix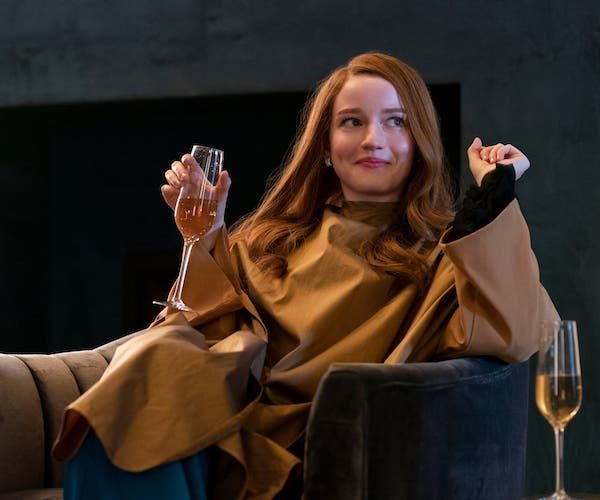 Last week, Netflix published an article in its Tudum magazine claiming that documentaries are part of a renaissance, and part of what's driving that renaissance is the (to me) rather-alarming abundance of true crime documentaries and reality TV-adjacent stories about celebrities like Kanye West (himself adjacent to a Kardashian, and star of a reality TV series that's gone on for way too long). The self-serving argument is that audiences are hungry for this kind of storytelling, that they are endlessly curious about what happens behind the scenes in the lives of famous people. What is this dubious trend really about? Netflix is eager to characterize its slate of ersatz celebrity branding programming as "documentary" in order to attract viewers who fancy themselves to be savvy cinephile consumers of streaming content. And there's no question there is a lot of wonderful and artful content on Netflix! Still, the streaming behemoth continues to attract huge numbers of viewers for its constant flow of factually-inspired movies and series. One curious subdivision of this reality TV/true crime genre are shows centered around the scammer. These are people who cheat others out of huge amounts of money, often ascending to cult-like status, like Elizabeth Holmes (portrayed in the Hulu series The Dropout).
The recent 9 part limited series Inventing Anna stars Julia Garner (Ozark) as one such con artist: Anna Delvey, née Anna Sorokin, a Russian immigrant of humble origins who posed as a German heiress as she hobnobbed among Manhattan's elite. A 2018 profile by journalist Jessica Pressler for New York magazine inspired the series. Anna bamboozled everyone: hotel employees she ordered around as she slid them $100 bills for tips; high powered bankers she approached for loans to finance a "foundation" for artists and wealthy socialites; her friends and intimates who never suspected that, beneath her impossibly-upscale lifestyle, she was broke and, as Jane Austen might have said, without prospects. In the series, Pressler becomes a character, engaged in a struggle to secure Delevy's story because she had recently fallen from editorial grace. An interview subject had lied about Pressler after she included him in a story. This conceit makes for a fairly engaging — if ultimately drawn-out — narrative structure: the journalist with something to prove tries to wrangle the truth from a criminal with nothing more to lose. We are told at the start of every episode that the story is true — except for what is made up. So, despite footage of real settings in Manhattan, details have no doubt been embellished, much as Delvey pumped up her personal brand.
New York magazine is fictionalized into Manhattan magazine; Pressler becomes Vivian Kent (Anna Chlumsky, seen in In the Loop) who goads her editors into letting her do the profile piece. Vivian has her own little cheering section in a corner of the office affectionately known as "Scriberia." Why? It gets no direct sunlight and, apart from herself, is composed of people well over 40. Her three journalistic cohorts are old school hardworking savvy cynical types and I loved them (played by Anna Deveare Smith, Jeff Perry, and Barry Kinney). But the truth is, this gathering of encouraging oldsters is unrealistic and comes off as contrived. Do such people exist in a contemporary magazine setting where the vast majority of writers are under 35? Doubtful. Still, despite some occasionally far-fetched situations, Inventing Anna tells a fascinating story, partly because Delvey attempted to ply her outrageous scams amid the absolute creme de la creme of New York society and high finance. She even set her sights on some of the city's most exclusive Park Avenue real estate to house her fictional foundation. She acted on a primal American fantasy: she deserved no less than the best of everything.
One wonderful example of Anna's outrageous entitlement occurs when she's experiencing one of many episodes where she is unable to access money from her bank accounts or credit cards. She is stranded and asks a friend to buy her a plane ticket. After the buddy acquiesces, Anna goes on to ask for the cash for a first class ticket. Anna's tastes are expensive but often transparently tacky; she chooses clothes, bags, and shoes that are products of hot designers. She ingratiates herself with others in order to maintain her posh lifestyle: at one point, she's living with a wealthy society maven who treats Anna like a staffer, asking her to pick up take-out meals as well as dry cleaning. But these chores pay off big: Anna is given access to her benefactor's gold credit card. She runs up hundreds of thousands of dollars in luxury items, purchased surreptitiously. It's rather thrilling to watch Anna's constant maneuvering and scamming. Garner portrays Delvey's intricate web of deceptions with a mix of genteel confidence and brash arrogance. Her carefully calibrated accent is clearly Russian, not German, underscoring yet again the nerve she displayed as she perpetuated an outrageous scam, and the rather naive cluelessness of her victims.
What could easily have been a two hour made for TV movie has been stretched out to nine hours by focusing each episode on one character and how they fit into Anna's orbit. Some of these characters are interesting, and the cast is excellent (I particularly liked Succession's Arian Moayed's portrayal of Todd, Anna's driven and compassionate lawyer), but the narrative is dangerously thinned out. Still, there are grandiose settings to enjoy, and plenty of rich jerks to hate on. What's more, there are surprisingly moving moments of pathos when the resilient Anna is at her lowest point. One night, finding herself penniless, homeless, friendless, and hungry, she is riding the subway aimlessly and, having not eaten for many hours, picks up someone's discarded bag of Shake Shack fast food and devours the remaining French fries greedily. It's a stunning display of vulnerability from a person who was, by all accounts, a rather cold sociopath. Inventing Anna doesn't try to examine why Anna became a notorious scammer. Still, it gets closer to an even more intriguing question: what was it about her that made people trust her and give her whatever she asked for?
---
Peg Aloi is a former film critic for the Boston Phoenix and member of the Boston Society of Film Critics. She taught film studies in Boston for over a decade. She writes on film, TV, and culture for web publications like Vice, Polygon, Bustle, Mic, Orlando Weekly, Crooked Marquee, and Bloody Disgusting. Her blog "The Witching Hour" can be found at themediawitch.com.