By Ralph P. Locke
Boston's 15-year-old Guerilla Opera releases a recording of a fresh take on the old Grimm Brothers tale, to haunting, ritualistic music for four singers and four players.
Rumpelstiltskin, composed by Marti Epstein. Libretto by Epstein and Greg Smucker.
Alina de la Guardia (soprano—Rumpelstiltskin), Britt Brown (mezzo-soprano—Gretchen), Emily Thorner (soprano—Miller), Brian Church (baritone—King).
Lilit Hartunian (violin), Stephen Marotto (cello), Philipp A. Staüdlin (saxophone), Mike Williams (percussion), cond. Jeffrey Means.
Navona Records NV6390, 56 minutes. To purchase (digital download), click here.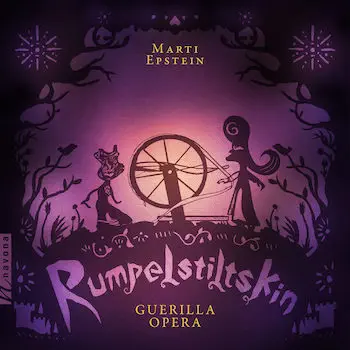 I don't know where I have been hiding, but only this past month did I learn of the Boston-based opera collective called Guerilla Opera. Led by Artistic Director Aliana de la Guardia, the company, which has been in existence for 15 years now, specializes in putting on works of music theater involving just a few singers and a few instrumentalists.
During the pandemic, their performances have mainly been online, but they now have released a clear, vivid studio recording of a work that they commissioned in 2009: the 56-minute-long Rumpelstiltskin by composer Marti Epstein (born 1959; educated at University of Colorado and Boston University, including a DMA degree in composition from the latter). The recording was released in January 2022 on the Navona label, NV6390.
I found the work fascinating and have now listened to various of its scenes numerous times to try to understand its peculiar hold on me. The composer explains that she (and apparently, as I've read elsewhere, a co-librettist: Greg Smucker) wanted to put a new spin on the Grimm Brothers fairy tale by making Rumpelstiltskin "the sympathetic figure" in the plot. Thus the opera starts with a long soliloquy from the creature that the world describes as "the ugly little man" in which he explains that he wants a child of his own: "My own child would see past my ugliness, would see that I am kind, would feel the kindness in my heart." In a scene with the Miller's Daughter (here called Gretchen) he gives further back-story: "My mother loved me, but she…died when I was very young. My father abandoned me as soon as he saw how hideous I was."
The plot spins out in mostly familiar manner. The Miller brags to the King that his daughter can spin straw into gold. The King, eager for riches, agrees to wed Gretchen if she can fulfill her father's promise. Rumpelstiltskin appears and offers to help her spin straw into gold (his special magic) if she agrees to give him her child. She agrees, and they spin together, filling the room with golden thread.
A year later, she has been made Queen and has given the King a baby. Rumpelstiltskin returns and demands the child. He allows that she can keep her child if she can guess Rumpelstiltskin's name. She fails repeatedly. He wanders outside singing a quiet song in which he states his name. The Miller overhears it and tells Gretchen. When Rumpelstiltskin returns to her, she reveals his name, his heart breaks, and he dies, but — here the plot takes an unexpected turn — his features get passed on to the baby. The King enters, is horrified, and orders that Gretchen and her father (the Miller) be put to death. As for the now-ugly child, the King senses that there may be some special power in it and decides to let it be raised in his castle: "Perhaps such ugliness could be useful to me some day." (There is a suggestion that Rumpelstiltskin was his own child as well; we heard earlier that the imp was "the son of one of my scullery maids.")
Despite Epstein's stated desire to make the imp sympathetic, all the characters are self-centered and intent mainly on bettering their lot. The worst of the bunch is clearly the King, who shows no feelings for anybody: just a desire to acquire riches and a beautiful, obedient wife. So the tale plays out as if in a world free of moral values. That it nonetheless acquires deep resonance has to do with Epstein's music. I have never encountered anything of hers before, but I was struck repeatedly by her ability to create a kind of hypnotic, ritualistic mood in which these four characters emit their various lies, complaints, and self-justifications. The tiny orchestra consists of two string instruments (violin and cello), an alto saxophone, and percussion (such as multiple wood-blocks differently pitched).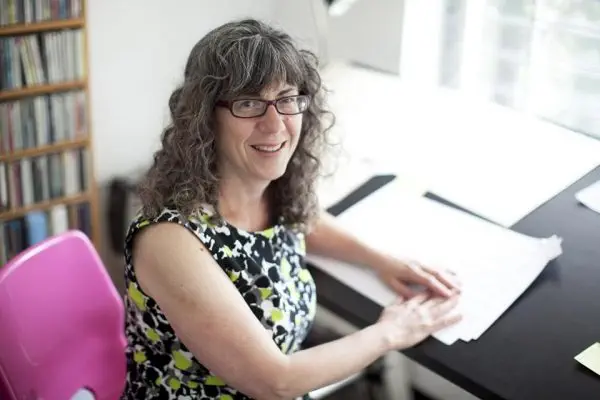 The four vocal parts are for two high female voices (Rumpelstiltskin, a high soprano, and Gretchen, a more sensuous low soprano or mezzo), countertenor (the Miller, here sung instead by a female soprano), and the King (baritone). Having the two central characters — the ugly and lonely imp and the distraught Miller's daughter — both be sung by women reinforces a traditional association of women with child-rearing, and the emphasis on the King's greed, similarly, reinforces a traditional linkage of males with power and acquisition of goods. (I'm thinking of the phrase, attributed to Malcolm Forbes: "He who dies with the most toys wins.") But, of course, nowadays any of these characters can be a person of any gender, as is perhaps suggested by casting the conniving Miller in this particular production with a female as well.
Epstein gives incantatory vocal lines to all the characters: mostly somewhat angular, but often circling around a few pitches, such as two notes a fifth apart, to help singer and listener keep their bearings. The words are generally audible, though (as often in opera) they become difficult to make out when a soprano goes into her highest register. The clearest diction here comes from Brian Church, as the King. He also puts more variety of expression into his words, making a comic triumph out of a character who is unpleasantly grasping and manipulative. Some of the singers sing a little under pitch at times — perhaps they were separated too far from the instrumentalists (who, by contrast, are extremely precise and musical).
A video version of this same recording, with animated drawings, is reportedly available at Guerilla Opera through May 2022 here, but I only get an error message. Some photos from that video version can be seen here and here. Photos from the 2009 live-on-stage premiere, with the singers in costume, are available here.
But at least we have the audio recording available now (as a digital download, with the libretto available online here—and then scroll down). I recommend it to anybody interested in fresh directions in what we might call "pocket opera" — a realm well worth exploring and encouraging further.
---
Ralph P. Locke is emeritus professor of musicology at the University of Rochester's Eastman School of Music. Six of his articles have won the ASCAP-Deems Taylor Award for excellence in writing about music. His most recent two books are Musical Exoticism: Images and Reflections and Music and the Exotic from the Renaissance to Mozart (both Cambridge University Press). Both are now available in paperback; the second, also as an e-book. Ralph Locke also contributes to American Record Guide and to the online arts-magazines New York Arts, Opera Today, and The Boston Musical Intelligencer. His articles have appeared in major scholarly journals, in Oxford Music Online (Grove Dictionary), and in the program books of major opera houses, e.g., Santa Fe (New Mexico), Wexford (Ireland), Glyndebourne, Covent Garden, and the Bavarian State Opera (Munich).
I