By Sarah Osman
As We See It is a humorous as well as heart-wrenching look at the realities of living with autism.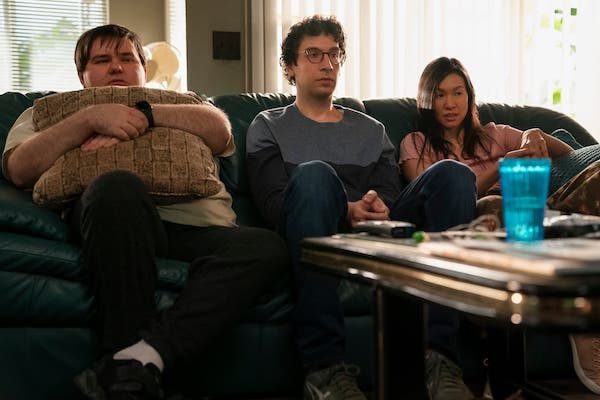 One of my best friends works with children who are autistic, and one of her biggest pet peeves is when people assume that those on the spectrum share similar traits. She is tired of having to explain to others that that's why it's called the autism spectrum — no two individuals with autism are going to be exactly alike.
Over the years, a number of TV series have begun to include autistic characters. Most of these shows tend to annoy my friend. She charges that some of the characters on these shows (such as Sheldon on The Big Bang Theory) are written to play autism for laughs. They are treated as joke machines rather than human beings. My friend loved how Atypical presented autism, though she was disappointed that a neurotypical actor was cast as the protagonist. Her favorite autism-centered show, Love on the Spectrum, is an Australian docuseries that follows young adults with autism who are navigating the modern dating scene. (Arts Fuse review)
I predict that my friend will also have high praise for Jason Katims's (Friday Night Lights, Parenthood) new show. An American adaptation of the Israeli program On the Spectrum, As We See It is a humorous as well as heart-wrenching look at the realities of living with autism. Katmis's own son is on the spectrum, so it is safe to assume that the narrative draws on the producer/writer's own life experiences.
The series follows three 20-somethings on the autism spectrum who share an apartment. Each is a fully fleshed-out human being with their own hopes, dreams, and fears. There's Jack (Rick Glassman), a computer genius who is still learning how to refine his social skills; Violet (Sue Ann Pien), who works at Arby's and yearns to have a boyfriend and the lifestyle of her favorite influencers; and Harrison (Albert Rutecki), who struggles to leave his apartment because he is intimidated outdoors by external stimuli. They receive help from their aide, Mandy (Sosie Bacon), who is torn by her love for the trio and her own career goals.
The autistic trio are portrayed by actors who identify as being on the spectrum. There is little doubt that their real life conditions have informed how their characters are portrayed. Despite their having known each other for years, Jack, Violet, and Harrison are each given their own distinctive narrative arcs, with individual obstacles to overcome. At times, their problems overlap, and there are sweet moments in which the three spend time together, such as when they attempt to create their own signature martini.
The challenges posed in As We See It may seem elementary, but they are far from easy for the its characters. A walk around the block sends Harrison into a tailspin. It is hard not to feel his utter panic. Jack's inability to read social signs puts him in some very awkward situations, and Violet's deep, almost desperate, desire for love makes her an especially sympathetic figure. The trio's trials and tribulations are never played for laughs nor are they meant to be melodramatic — these are real people facing very real problems.
Throughout the series, we learn about the three roommates' families. Jack has been told his dad (Joe Mantegna) has stage three cancer. The son's struggle with the news is compounded by his father's fear that he will die before he is sure that Jack will be able to survive on his own. This is an agonizing concern for many families — the future of their autistic members — that is not often explored in film. Violet's older brother, Van (Chris Pang), wants to play the role of protector; sometimes, for the best of motives, he becomes too controlling. Another rarely explored subject in film: how the siblings of those with autism are changed by the experience. Caring for Violet has a considerable impact on Van's everyday life. Harrison's family is very grateful for the work that Mandy has done with him, but we are led to question just how well they treated Harrison before she came along. There is the suggestion that family members have used money as a way to distance themselves from him, rather than establish a relationship.
On one level, Mandy could be seen as yet another example of the "saintly caregiver" stereotype, the tireless supportive bond that holds her charges together. It's clear that when the protagonists feel sadness or anger, she feels these emotions as well. She also serves as a surrogate for the audience, explaining what might seem impenetrable to the viewer. But As We See It also shows us how her life is impacted (and not always for the better) by her demanding job.
At one point, Violet complains that she wants to be normal, a sentiment that is shared by the other characters. Ironically, As We See It presents its main characters as just that: normal. The problems and traumas they face are those that would set back any 20-something. And that refreshing assumption, which runs throughout As We See It, is the key to its value and beauty.
---
Sarah Mina Osman is a writer residing in Wilmington, NC. In addition to writing for the Arts Fuse, she has written for Watercooler HQ, Huffington Post, HelloGiggles, Young Hollywood, and Matador Network, among other sites. Her work was included in the anthology Fury: Women's Lived Experiences in the Trump Era. She is currently a first year fiction MFA candidate at the University of North Carolina Wilmington. When she's not writing, she's dancing, watching movies, traveling, or eating. She has a deep appreciation for sloths and tacos. You can keep up with her on Twitter and Instagram: @SarahMinaOsman