By Alexander Szeptycki
The Kick album cycle drives home the essence of Arca's musical vision: constant, relentless transformation.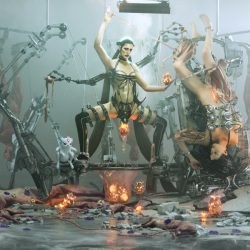 Arca's KiCk i, released in 2020, marked a turning point for the Venezuelan producer. It was an album that had all the experimental stylings and brazen sounds of her previous work, but concentrated in a pop album. And it turns out that this was the first album in a cycle of five. Arca now has released the final four discs in quick succession. Taken together, they reflect a hunger for relentless transformation: the artist applies her trademark sound — searing and abrasive — to bouncy reggaeton, kinetic club bangers, and woozy electro-ballads.
The quartet is a series of explorations; each one sees Arca going down a different musical rabbit hole. There self-indulgence here: some of the tracks are overlong. But the dedication to experimentation gives Arca a chance to free her imagination. She flits between creating fully formed songs and scattered sonic fragments — this restlessness adds an extra dynamic to the tunes on the albums.
"Doña," an eerie, spoken word exercise in which digital filters twist and echoes Arca's voice. Squelching bursts of noise follow — they sound like the footsteps of an alien creature. This is followed immediately by "Prada," a shift into reggaeton. Blaring synths mesh with dance drums — the track lurches forward, embracing a hypnotic rhythm. Arca's voice cuts through the spell, digital effects shifting her vocals as she spits out images of a sultry, sweaty dance floor: "I wanna see you throwing sparks/Throwing glitter/I want to see you shine."
"Prada" kicks off a series of hard-hitting reggaeton tracks, morphing sound through different variations. "Rakata"'s synths are harsh and bright; they cut through a watery mix that includes muffled, heavy drums. The music softens on "Luna Llena": humming synths infuse the drums with a mystical resonance, as do reverberating hits of noise. Arca's voice stretches and bends in different directions as she croons. The track is a ghostly, futuristic delight, a highlight of the album.
After "Luna Llena," Arca showcases what might be her greatest talent: her skill at deconstructing dance tracks, pulling them apart, and displaying the pieces. "Arcaña" rips synths and vocal lines into a disjointed blur. "Femme" goes in a different direction — akin to trip hop — juxtaposing a cavernous beat with high pitched synth trills. These tracks counterbalance the more straightforward opening tunes, and contrast makes this album the most compelling of the bunch.
In KicK iii, Arca turns her attention to ear-rending electronica. Omnipresent cacophony invades all the high energy dance numbers, complicating and obscuring them. The loud chaotic drums on the opener "Bruja" barely overcome Arca's staccato delivery and the metallic synth waves that follow. "Electra Rex" materializes out of a series of disparate sounds. Arca's distorted vocals and tinny synths are as percussive as the drums.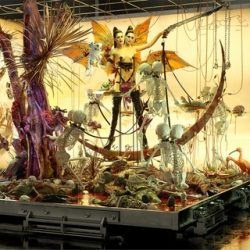 This jaggedness makes KicK iii challenging to listen to at times, but there's a grand payoff when the skeletal song structures emerge through the noise. "Rubberneck," plays competing drum beats off of one another; the contest is the foundation for rapid fire spoken word vocals and jangly guitar notes. Halfway through, the track shifts, suddenly, into setting glossy atmospheric melodies over drums crackling with static. Initially, "Señorita" is the album's most straightforward song. A swaggering beat matches Arca's braggadociously rapped delivery: "I get wrapped up in some shit/Not sure who you think you're dealing with." But the bottom falls out of the track with the arrival of a dissonant wave of noise before a choir vocal finale. The tracks on this album are confounding and dissonant — they have been designed to bury the grooves. But, when they rise above the anarchy, the music bewitches.
kick iiii drastically slows the pace down, relying on trippy, synth-laden ballads. This album draws on the playful metamorphosis of Arca's computer-aided voice. Her voice often asserts the melody when it is assaulted by ambient cacophony. Take "Esuna," where robotic voices are layered into a choir; they sing wordless melodies over an eerie synth background. Other songs, such as "Witch," are pushed along via delicately: the tune's repeated mantra is "this witch is so seductive, elective and protective." Unfortunately, the album's silky nature works against it: taken together, the tracks feel one-note. Many of the songs draw on the same components: airy synths, gentle digitized vocals, intermittent key passages. Lacking variety, the offerings here wear out more quickly.
kiCK iiiii is a self-conscious conclusion to the album cycle. The disc is stark and bare bones, a series of simple tracks that embrace the meditative. "Amrep" opens with chunky, glossy synth patterns that slowly fade and distort, the motifs bleed into each other until the tune dissolves into shapeless white noise. "Estrogen" places plucked harp passages over ambient synth noise, two elegant sounds entwined. "Musculos," on the other hand, brings together discordant sound, pairing harsh keyboard tones with crunchy drums. Arca appears to be playing — or thinking — with sounds, tinkering with contrasting extremes, seeing if she can arrive at a synthesis.
The Kick album cycle drives home the essence of Arca's musical vision: constant, relentless transformation. This is an ambitious project, one that welcomes the inevitable anarchy of rampant creativity. She follows her imagination into every nook and cranny. It's an audacious — if sometimes self-absorbed — decision that makes the gargantuan Kick cycle as messy as it is thrilling.
---
Alex Szeptycki is a writer from Charlottesville, VA. He recently graduated from Stanford University, majoring in American Studies with a focus in contemporary art and pop culture. He's currently working as a freelance writer at the Arts Fuse while navigating post-grad life in a pandemic.