By Sarah Osman
An in depth look at the injustices the Arab American community faces — even in Brooklyn, the most liberal of places.
Brooklyn Inshallah, directed by Ahmed Mansour. Now streaming on worldchannel.org. (English and Arabic with English subtitles)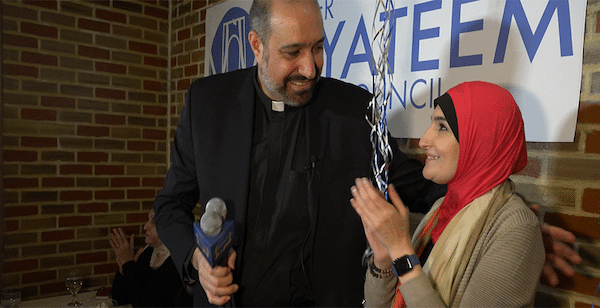 Whenever I am asked to fill out any sort of government form, I am faced with a conundrum. I am not fully white, so it doesn't make sense for me to tick that box. Egypt is technically in Africa, but its natives are not considered African American. What I really need is a box that is designated Arab, but it doesn't exist on US government forms. Arabs are lumped in with whites, but they are most certainly not white — if they were, they would benefit from the privilege accorded white Americans. Arabs are one of the most polarized and misrepresented groups in this country — and there are signs that they have had enough.
Brooklyn Inshallah, now streaming on worldchannel.org as part of the America ReFramed series, taps into that growing irritation. The documentary revolves around a Palestinian man, Father Khader El-Yateem, who wants to make a difference for his community. He lives in Bay Ridge, one of the most conservative parts of Brooklyn, and decides to run for a seat on the city council. El-Yateem is a bit of a cultural paradox: he's from Palestine, which is majority Muslim, but he's a Lutheran pastor. This mix clashes with one of America's most popular stereotypes about Arabs: that they are all Muslim. In truth, many Muslims are not Arab and many Arabs are not Muslim. El-Yateem's aim is to represent the concerns of the Arab-American community, which have been ignored. And that is partly because apathy reigns among Arab voters. It is estimated that there are over 40,000 potential voters in El-Yateem's district, but only 250 turned out to vote in the last election. El-Yateem attempts to make history: if he is elected, the pastor will be the first Arab-American councilman in New York City.
The film both inspires and infuriates. You can't help but admire El-Yateem's tenacity, especially when you hear his own back story. Also encouraging: his ability to connect beyond Arab-Americans and address the concerns of his entire community. Campaign helpmate Linda Sarsour, a Muslim civil rights activist and one of the organizers of the Women's March on Washington, is admirable as well: she is a force to be reckoned with. Sarsour receives hate mail on a daily basis, but that kind of intimidation doesn't deter her in the slightest.
At the same time, it's incredibly frustrating to watch the roadblocks El-Yateem and his supporters face. Of course, there is good, old-fashioned racism and prejudice (one man keeps yelling out racial slurs at a local debate). But there are also institutional policies designed to maintain the status quo. For instance, there are no Arabic versions of the local ballot, and Arabic interpreters are not allowed to help interpret it for those who do not speak English. This is an absurd — but politically calculated — restriction, especially in an area where the majority of voters are Arabic. It is heartbreaking to watch how successfully this curtails participation. Thankfully, the end of the film notes that some progress has been made in this area, but it's angering — though instructive — to see how voter suppression can take different forms. TV Cable News does not cover this kind of quiet quashing.
So prepare to be exasperated by parts of Brooklyn Inshallah. But the documentary also serves as a powerful lesson in an ongoing American drama — the struggle of a marginalized community to engage in local politics. On that score, the film is a valuable part of that endeavor, a reminder that the Arab American community has a voice and that it must be heard if a disparaged community is to receive its proper rights.
---
Sarah Mina Osman is a writer residing in Wilmington, North Carolina. In addition to writing for The Arts Fuse, she has written for Watercooler HQ, The Huffington Post, HelloGiggles, Young Hollywood, and Matador Network, among other sites. Her work was included in the anthology Fury: Women's Lived Experiences in the Trump Era. She is currently a first year fiction MFA candidate at the University of North Carolina Wilmington. When she's not writing, she's dancing, watching movies, traveling, or eating. She has a deep appreciation for sloths and tacos. You can keep up with her on Twitter and Instagram: @SarahMinaOsman