By Sarah Osman
This charming and upbeat musical doesn't need to sashay away, but neither is it a hands-down winner.
Everybody's Talking About Jamie, directed by Jonathan Butterell. Music by Anne Dudley. Songs by Dan Gillespie Sells and Tom MacRae. Streaming on Amazon Prime Video.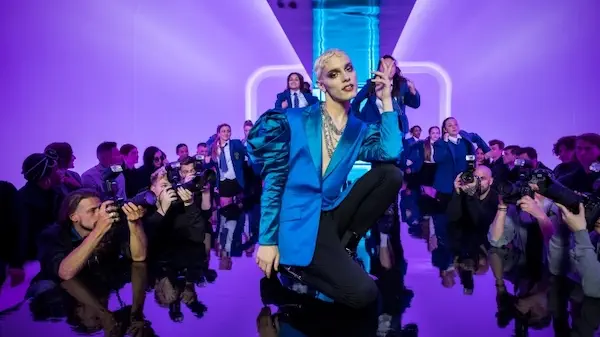 Quite a few musicals that premiere on London's West End never make it to Broadway: Heathers, Bat out of Hell, and The Witches of Eastwick among them. One of these, Everybody's Talking About Jamie, is still not well known to American audiences, but thanks to its recent film adaptation, we may finally be taking notice — and talking about it.
Everybody's Talking About Jamie is based on a 2011 documentary Jamie: Drag Queen at 16, which told the real life story of Jamie Campbell, drag queen extraordinaire. The musical (and the film, their plots are pretty much identical) follows the trials and tribulations of Jamie (Max Harwood), a scrappy gay teenager in Sheffield, England who works a drudge of a paper route to save up for a pair of sparkly, ruby heels. He's out at his high school, but he's not supported — he's constantly bullied by homophobe Dean (Samuel Bottemly) and by his grim and bitter teacher, Miss Hedge (Sharon Horgan, who conveys the gorgon's contempt and anger towards her students perfectly). On top of that, Jamie has to deal with the trauma of an absentee father who, it is revealed, never supported his son because he wasn't the son that he wanted.
The film's opening tune, "And You Don't Even Know It" splashes across the screen. Jamie is at school and sings his heart out about how he is determined to become a star. The number is performed via vibrant pop music video mode, but that's what makes the scene works — Jamie changes multiple outfits and stomps down a catwalk. One of the joys of film musical adaptations is that they are not constrained to the dimensions of the stage. Random (and expansive) fantasies like this are possible. The most successful film musicals (i.e Chicago) take advantage of this ability to stretch out, visually and thematically. Unfortunately, this lush number is the only time the film moves beyond what could be found in the stage version. I didn't see the West End production, so this is only speculation. But, having listened to the soundtrack, it appears that the more upbeat and compelling songs didn't make the film version. That may have been because of time, but it's a shame because these songs helped bring the story together.
Jamie's life isn't completely hopeless — he has a very supportive mother, Margaret (Sarah Lancashire, a true powerhouse) and his shy and sweet Muslim friend, Pritti (Lauren Patel). They throw Jamie a party where his mum gives him those glorious red heels.With some further inspiration from Pritti (in a song, of course), Jamie decides that he will embark on his dream of becoming a drag queen.
His hopes are supported by aging drag queen Miss Loco Chanelle (Richard E. Grant, played with the right amount of sass and support), who decides that Jamie needs a lesson in drag herstory. Highlighting the AIDS crisis sounds good in theory, but here it comes across as pandering, an attempt to underline political relevance. Worse, it takes the form of yet another ballad in a musical that is stuffed with them. Weirdly, the song in the stage version given to Miss Loco Chanelle, "The Legend of Loco Chanelle" has been cut. And that turn to the earnest was unnecessary: it's a fun tune that captures exactly who Miss Loco Chanelle is.
Jamie does live out his drag dreams (albeit very briefly). Still, despite becoming the talk of the town ("Everybody's Talking About Jamie" is arguably the best song in the film and the musical) he still faces hostility. The film takes a surprisingly dark turn when Jamie has to deal with violence, including cruel treatment by his father. These developments are surprising but unfortunately realistic: homophobia and transphobia still run rampant, and these scenes deliver considerable pathos.
The emotional center of the film is the relationship between Jamie and his mother. Lancashire's ballad, "He's My Boy," is heartbreaking and filmed with the directness called for by a ballad. The simple shot of Lancashire declaring her love for her son is far more powerful than the more revved-up huzzahs to Jamie.
Everybody's Talking About Jamie is certainly a step up from the recent crop of Disneyfied feel good movie musicals. It's message is a valuable one: in the words of the great RuPaul, "if you can't love yourself, how in the hell are you gonna love anybody else?" But Everybody's Talking About Jamie could have used a little more creative tough love.
---
Sarah Mina Osman is a writer residing in Wilmington, North Carolina. In addition to writing for The Arts Fuse, she has written for Watercooler HQ, The Huffington Post, HelloGiggles, Young Hollywood, and Matador Network, among other sites. Her work was included in the anthology Fury: Women's Lived Experiences in the Trump Era. She is currently a first year fiction MFA candidate at the University of North Carolina Wilmington. When she's not writing, she's dancing, watching movies, traveling, or eating. She has a deep appreciation for sloths and tacos. You can keep up with her on Twitter and Instagram: @SarahMinaOsman