By Roberta Silman
The idea of America is elusive and sometimes, like right now, in danger of disappearing. That is why I have found myself turning for comfort to two books that can give us some perspective as to how to move forward.
Persist by Elizabeth Warren. Metropolitan Books, Henry Holt and Company, 304 pages, $27.99 and Here, Right Matters, An American Story by Alexander S. Vindman. Harper Collins, 245 pages, $26.99.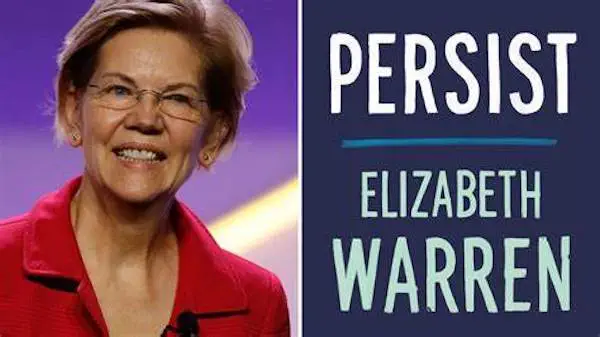 In addition to being an enormous physical expanse of a country that has a hugely diverse population, as well as breathtakingly beautiful vistas and its share of ugly slums and dump sites, the United States of America is also an idea. A unique idea that tries, generation after generation, to embody the ideals stated in our world-famous Declaration of Independence. That somehow it is possible to establish equality for all its people and, concomitantly, justice for all. Such striving has made us a nation always in flux, filled with sometimes conflicting notions as to how to become that country, a struggle that we have witnessed — no matter what side we are on — most intensely in the last several years.
And if we have learned nothing else in these last eighteen months of the pandemic, we know, however we voted, that the idea of America is elusive and sometimes, like right now, in danger of disappearing. That is why I have found myself turning for comfort to two books that can give us some perspective as to how to move forward. Because move forward we must.
But how? What has come clear, in both the Trump years and in the months of Joe Biden's presidency, is that there are some people who are born to lead and others — most — born to follow. That division has fascinated me during the course of my long life as a daughter, wife, mother, and grandmother. Why are some people given a clear, unshakeable moral compass that occasionally gets them into trouble — what John Lewis called "good trouble" — but helps them overcome all kinds of obstacles? Why are others content to sit back and simply watch? History tells us that we will probably be pondering these questions into eternity. But when people appear who can lead us out of our present morass, it is time to listen. And read.
In her usual organized way, Elizabeth Warren divides her excellent book Persist into six chapters — Mother, Teacher, Planner, Fighter, Learner, Woman. And she makes it plain in her excellent Prologue, which talks about her unsuccessful campaign for the Democratic nomination for President, that this volume is not a campaign memoir. She elaborates:
It is not a rehash of big public events. It's a book about the fight that lies ahead. It's about the plans we need — no surprise there! — but it's about much more than plans. It's about passion and commitment that underlie those plans and the human connection that will keep us in this fight until we see real change. 
Warren has that passion and commitment in spades, and as she explores the various roles she has played in her life, she manages to mingle personal stories with hard facts. Thus, we get a very rounded picture of a woman who did not have an easy life but who never backed away from the difficult challenges long before she became one of the most important Senators to have ever held that office. She talks about making policy in accessible ways so that we can understand not only what needs to be done but how we can do it — in areas such as child care, and Covid relief and public education and housing and Indian affairs and, one of my favorites, insuring more equity in such elemental issues as Social Security for women. She connects dots I had never even thought about, like why women are so far behind, and how her ground-breaking work on bankruptcy made such a difference to so many families.
To reinforce her arguments she turns to real life stories, like the one about a woman named Kristie, that will resonate in your mind long after you have closed this book: Kristie who went to college and married Leo and taught second grade, then got pregnant and had a second child and became a stay-at-home Mom and seemed on her way. But the third child changed everything — he was born early, quickly used up his lifetime cap on health insurance (this was before the ACA) and needed lots of therapy. Then her Dad became ill and before she knew it she had been home for fourteen years and her husband's business had failed, her marriage fell apart, and she needed more schooling to become certified as a teacher in order to take care of herself and her three kids. And, although Kristie has no regrets, Warren lays out the consequences of her choices in no uncertain terms:
Across the twenty-two years of her marriage to Leo, she had worked outside the home only at the beginning, and the end, while Leo had worked full-time for all those years. In her forties, she earned an entry-level salary in a profession that didn't pay well. Over the years Kristie had made less money than Leo, a lot less. . . . Because Kristie worked outside the home for only a few years and also earned a lower salary, she will face retirement with far less savings and a much smaller Social Security check than her ex-husband and her worked-for-forty-years male counterparts. In other words, even as Kristie was struggling through a bankruptcy, it was already clear that she would suffer from financial problems all her life.
Just reading about Kristie sheds light on such doomed lives. But it also gives us insight into why young women today are making more practical — and sometimes less than ideal — choices about childcare.
Kristie's story is just one of many Warren tells to illustrate the need for change in policies on the domestic front. Which is why she is such an important figure in our political life and such a role model for the young. And why her book arms us with the information we need whenever we have to defend a progressive agenda which hopes to right so many wrongs that have been allowed to stay in place since Reagan was elected and big government was denounced through distortion, seen as our enemy rather than as the friendly safety net so many of us need.
So, even if you don't agree with absolutely everything that she presents here, Persist that will help you set your priorities as you move forward and engage in the inevitable discussions that will ensue about how to move this country to a better place. And take heart from her anecdote about what happened when she gave up her race for the presidential nomination:
The next morning, I opened our kitchen door, which leads to a small porch on the side of our house. Out on the sidewalk next to the driveway was the biggest message yet. In two-foot-high letters, each letter heavily chalked in, was a single word:
PERSIST . . .
I looked at the message on the sidewalk for a long time. As I did, I gave up any thought of wallowing. Then I said something to myself that millions of people have said to themselves after a painful loss: Suck it up and get back to work.
---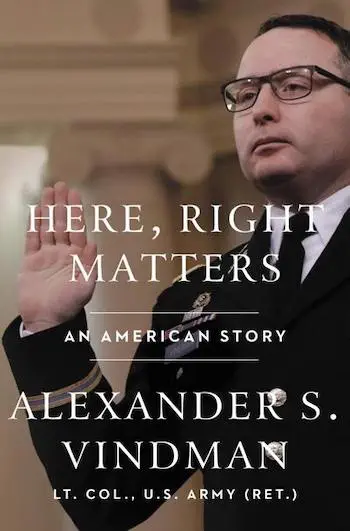 It was this anecdote that led me to Alexander Vindman's book and to review it in tandem with Warren's. Although they come from very different backgrounds — she from Oklahoma and he from Russia — they both have the rare gift of a moral compass that guides their lives. What's more, they also share an even rarer conviction: that they are people who matter and who will leave their footprint on history.
As many of you know, Alexander Vindman came into the public eye when he testified during the first impeachment of Donald Trump about the infamous phone call the former president made to the Ukrainian President Zelensky. By then he was a Lieutenant Colonel, held an important position in the National Security Council, and was valued among his peers for his mastery of both the Russian and Ukrainian languages. What some don't know is that, because of his forthright testimony and belief in the truth, Vindman became subject to subsequent smears and machinations of Trump and his sycophants. As a result, Vindman was not promoted and he chose to resign. His response was to embrace one of the mottoes that informs his life: Don't just start over; keep starting over.
The subtitle of Here, Right Matters is An American Story, and therein lies the memoir's remarkable value. Vindman, an identical twin to his brother Eugene, was born in the Soviet Union in 1975. Their mother died of cancer when Alexander was three and his father picked up his family — the twin boys, an older son from an earlier marriage and his tough, sometimes cantankerous mother-in-law — and moved to Brooklyn, where Alexander and Eugene were known mostly for their ability to make mischief. Still, it was a contented immigrant childhood; Granny looked after the twins, the elder Vindman began to earn a living, and Alexander learned English quickly, exhibiting a gift for languages that would sustain him later. Then their father remarried, older brother Len went to Dartmouth and became interested in the military, and Alexander got a free ride to American University in Washington.
All seemed well, but that's when the reckoning started. Instead of attending classes and earning the grades he was capable of, Alexander became sidetracked, putting all his time and effort into the ROTC program at Georgetown. He failed in his academic studies and was asked to leave. After some time off, he joined his twin brother at SUNY Binghamton and put his head down, attended ROTC classes at nearby Cornell and began to find his focus: the U.S. military, which had attracted Len and Eugene, as well. As he put it: "The Vindman boys — late bloomers, no question. Once we got going, though, we don't look back."
The second lynchpin in this amazingly interesting life, especially when you consider that he is only forty-six as I write, is when Alexander met Rachel Cartmill in 2003. I have often said to my own children that the most important thing in my life was marrying their father, Robert Silman, when we were both 21. Whom you marry may be the real indicator of the life you will lead. Vindman's story of his love affair with Rachel, their marriage, and how they grew together and faced earlier obstacles illustrates my point; their story is charming and moving and has its share of tragedy. But to see them rise to the challenge of facing evil — for that is what the Trump presidency was — is riveting.
I must also confess that, although I don't usually have much interest in the military, the facts and twists and turns about the American armed forces that I learned from Here, Right Matters are fascinating. Vindman's love for military service is informed by his deep need to serve this country which gave him so much, and that's why what happened to him is so moving. It also shows us how a military life can supply invaluable lessons in survival, even if the fight is very far from a battleground: that discipline and hard work and what he describes as the ability to see as the absence of the normal or the presence of the abnormal can guide decisions that are ultimately hard and even heart-breaking. But necessary. As Vindman's decision to leave the military was.
So here is a book that instructs as it entertains, that your teenaged grandchildren can enjoy whatever their politics. Its narrative voice is appealing as the round-faced man who so bravely stood before the world when he was called to testify, and who tenderly reassured his worried father (who voted for Trump, by the way) that, in the end, this is a democracy that will stand by those who tell the truth. As Vindman knows, perhaps better than anyone, we are being sorely tested by those who continue to spread The Big Lie, who staged an insurrection at the U.S. Capitol, and who refuse to get vaccinated and wear masks. And by a Republican Party that is behaving in ways I never imagined I would ever see. But there is encouraging evidence that Vindman's book is being read widely — it is on The New York Times bestseller list — surely a sign that our idea of what America is still exists and that, somehow, we, with the help of our remarkable President Joe Biden and Senators like the indomitable Elizabeth Warren, will find our way back to a reasonable and just future.
---
Roberta Silman is the author of four novels, a short story collection and two children's books. Her new novel, Secrets and Shadows (Arts Fuse review), is in its second printing and is available on Amazon and at Campden Hill Books. It was chosen as one of the best Indie Books of 2018 by Kirkus. A recipient of Fellowships from the Guggenheim Foundation and the National Endowment for the Arts, she has reviewed for the New York Times and Boston Globe, and writes regularly for the Arts Fuse. More about her can be found at robertasilman.com and she can also be reached at rsilman@verizon.net.