By Robert Israel
Madeleine George's uneven 90-minute one-act comedy/drama borrows heavily on Greek mythology to zip up the misadventures of a cluster of suburban women in New Jersey,
Hurricane Diane by Madeleine George. Directed by Jenny Koons. Presented by the Huntington Theatre Company, Calderwood Pavilion at the Boston Center for the Arts, 527 Tremont Street, Boston, MA, through Sept 26.  Note: All theatergoers must present either proof of vaccination or they will be asked to take a Covid-19 test administered by the theater in order to enter the auditorium.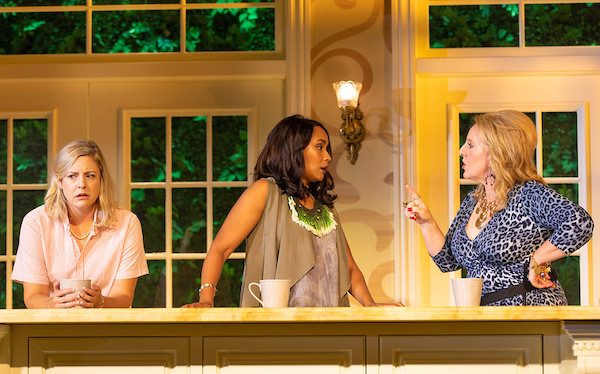 Yes, there once was a Hurricane Diane: it roared up the east coast in 1955 just like the last two named storms — Hugo and Ida — and it wreaked havoc in our region during mid-August. Timing is everything, especially in the theater. The Huntington Theatre Company decided to pick a comedy about surviving the furies of Mother Nature as it tries to roar back with its first production since the pandemic shuttered theaters over a year and a half ago. The anticipation is that, since somehow we miraculously survived storms past (including the most recent bombardment of water), we are free to crawl out of our bungalows again and catch a live show.
For their opening salvo, the HTC is presenting Madeleine George's uneven 90-minute one-act comedy/drama that borrows heavily on Greek mythology to tell us of the misadventures of a cluster of suburban women in New Jersey who meet up with the Greek god of the grape-harvest, Dionysus. Only this particular modern day Dionysus has morphed into a rabble-rousing lesbian gardener named Diane, played with considerable brio by Rami Margron. To quote the playwright, the motivation for why Diane is returning to shake things up in the Land of the Sopranos is "to get things going again."  You get it — in a fertilizing way.
Long before George, playwrights have borrowed from ancient Greek mythology, to lesser or greater degrees of success. Most notable among them was Eugene O'Neill, who took bold steps in several of his plays to explore how the Greek tragedies could still be used to mine our murky psychological — and sexual — depths. George, on the other hand, is dedicated to the superficial. (Those who think this play will have anything to say about the reality of the Climate Crisis will be disappointed.) In an interview in The HTC playbill the dramatist tells us her aim:  "I want people to laugh at the jokes." Fair enough. But for most of the 90 minutes, I, and the audience, were not cooperating. We were waiting for something funny — spurred by wild weather — to happen onstage.
Why take so long to bring on the howling winds? The four women (they refer to themselves as "girls") — stereotyped, cartoonish characters —  meander, seemingly forever, through wads of sitcom one-liners. Gags about the incidental details of their humdrum lives quickly become tiresome. Does  Diane inspire any moments of eroticism? Not quite. It's not until the storm disrupts the characters' lives — the way hurricanes turn everything topsy-turvy — that the proceedings perk up a bit. The magic of a live performance — the coming together of stagecraft, lighting, special effects — generates a compelling maelstrom.
One of the failings of the production can be credited to scenic designer Stephanie Osin Cohen, who has created a room that looks like it belongs in the Boston Park Plaza Hotel. It's too vast and stark — a whitewashed performing space. It works against the players generating  physical intimacy. A large, movable — but clunky — table sits center stage and there are a half-dozen French doors at rear, left, and right. Jen Schriever's lighting only becomes imaginative with the arrival of the final scenes.
So that leaves the cast to move this inert show along. As rabble-rouser Diane, Margron gives a bravura performance: this god is puckish, animated, and always engaging. The show's best comedic moments are when the crazed immortal sprinkles magic dust around the stage and on the women. As in the movie The Witches of Eastwick, repressed libidos are unleashed. Margron's garb, designed by Hahnji Jang, is also kick-ass: she wears a purple superhero breastplate, green khakis, and boots. Kudos should go to Jennifer Bubriski, who plays the flibbertigibbet character Pam Annunziata, and to Esme Allen, who plays Carol Fleischer. At one point, she declares she's "100 percent typical," and therefore resistant to the charms of a mischievous — and lusty — lesbian.
A final thought:
It's been a long year and a half. Returning to the theater again is in itself a thrill. As I exited the Calderwood, I thought of a line from the late playwright Terrance McNally: "The message of art is to live, to live fully, to live it with people, to engage in the world around you." Hurricane Diane invites us to reconnect. It supplies a dollop of that human vitality. But, like the storm it is named after, it ultimately sputters out. It's a whisper, not a whirlwind.
---
Robert Israel can be reached at risrael_97@yahoo.com.