The late Terrence McNally was more than just a masterful playwright. He also forged new roads in musical theater.
By Robert Israel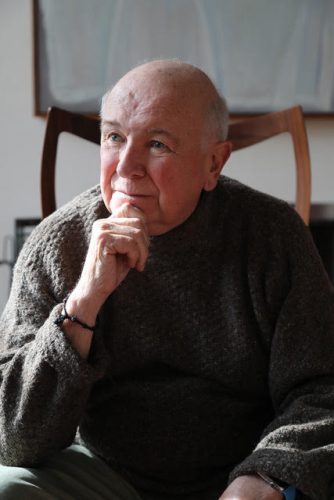 For playwright Terrence McNally – who died at age 81 after having contracted the coronavirus while in a Florida hospital  – theater was about dramatizing people's primal fear of, and desire for, connection with others. "The message of art is to live, to live fully, to live it with people, to engage in the world around you" he told an interviewer from the New York Times last year.
This search for commonality through drama, "to be part of the human race" as McNally put it, can be found in all of his works. His characters are adrift, searching for the comfort that only others can give one another. It is that hunger for belonging that drives his figures, gay or straight, male or female. His interest in emotional depths meant that, from the beginning, his vision cut against social stereotypes. McNally's first dramatic play, 1964's And Things That Go Bump in the Night, was a box office failure. Yet it broke barriers by focusing on gay male characters who, as he said in the aforementioned Times interview, "were not alcoholics or hairdressers who kill themselves by Act II."
In his works, McNally explored a particular form of American existentialism: Being-With-Others or Nothingness. His typical characters are social outcasts, men and women who live on the margins of society, bedeviled souls who have lost their way and long for community. Here is a revealing exchange between the lead characters in McNally's film adaptation of his play Frankie and Johnny at the Claire de Lune.  Johnny, a short-order cook (Al Pacino) pleads with Frankie, a waitress (Michelle Pfeiffer):
Johnny: "I want to kill myself when I think I'm the only person in the world and that part of me that feels that way is trapped inside this body, that only bumps into other bodies, without ever connecting to the other person in the world trapped inside of them."
Frankie: "I'm afraid to be alone. I'm afraid not to be alone. I'm afraid of what I am, what I'm not, what I might become, what I might never become."
McNally was a prolific writer of drama, musicals, opera, film, and television. He adapted the plays of others, placing them into other mediums (including his own works). He was at his best, he said, when he collaborated, particularly with actors. Once a performer told McNally that he couldn't quite put across a joke as the dramatist had written it. The playwright replied,"That's OK, you either deliver it, or else we can cut it."
McNally was not afraid of using his art to generate controversy. In fact, he embraced it. McNally tackled the subject of AIDS in 1991's Lips Together, Teeth Apart. He received death threats when he wrote a parody of the Christ story in 1998's Corpus Christi. Challenging hearts and minds, sparking strong reactions positive and negative, was an integral part of his mission as a playwright: "I go to the theater to share humanity," McNally insisted, "so I know I'm not the only person in the world."
---
Robert Israel, a contributing Arts Fuse writer since 2013, can be reached at risrael_97@yahoo.com.
---
By Christopher Caggiano
There will be many warranted tributes over the next few weeks to the late Terrence McNally as a playwright. (McNally died on Tuesday of complications from the coronavirus. He was 81.) He was one of the most prolific and honored playwrights of the past 50 years, particularly for his efforts in chronicling modern gay history.
However, McNally was also instrumental in forging the path of the contemporary musical. He made the leap from nonmusical to musical plays in 1984 with the Broadway show The Rink. A decidedly serious musical — albeit with many comic overtones — about the troubled reunion between a fiery mother and her free-spirited daughter, The Rink marked McNally's first collaboration with composer John Kander and lyricist Fred Ebb.
Kander and Ebb, who also wrote Cabaret, Chicago, and The Scottsboro Boys, are easily the most topically ambitious writing duo in musical theater history. So it's certainly no surprise that they would team up with McNally, who had already proved himself an ambitious playwright with a strong predilection for edgy material, particularly in his 1982 script Frankie and Johnny in the Clair de Lune.
McNally's musicals with Kander and Ebb reflect their mutual commitment to adventurous subjects, complex treatments, and dimensional characters. Kiss of the Spider Woman (1993) told the tragic story of an imprisoned gay man and his unrequited love for his revolutionary cell mate. The Visit (2015), based on Friedrich Dürrenmatt's play, related the story of a rich woman who agrees to assist her distressed hometown if the residents will murder the man who broke her heart.
In addition to Kander & Ebb, McNally also worked with composer Stephen Flaherty and lyricist Lynn Ahrens on Ragtime (1998), A Man of No Importance (2002), and Anastasia (2016). Ragtime tells the sweeping story of a troubled America and its diverse inhabitants at the turn of the 20th century. A Man of No Importance is an urgent but quiet tale of a closeted gay bus conductor who seeks escape through theater and poetry in a small Dublin parish.
McNally completed 10 musical works, and there is not a single conventional effort among them. Each show had a distinctive edge, a tragicomic bite, a vibrant sense of the theatrical. The American stage has lost not only a singular playwright, but also a committed, serious innovator of the musical theater canon.
---
Christopher Caggiano is a writer and teacher based in Boston. He serves as Associate Professor of Theater at the Boston Conservatory at Berklee. His writing has appeared in American Theatre and Dramatics magazines, and on TheaterMania.com and ZEALnyc.com.