By Paul Robicheau
Sleater-Kinney's Carrie Brownstein gave Charlie Watts a shout-out, while Wilco's Glenn Kotche displayed the words "Charlie is my Darling" (the title of a 1966 Stones tour documentary) on the head of his bass drum.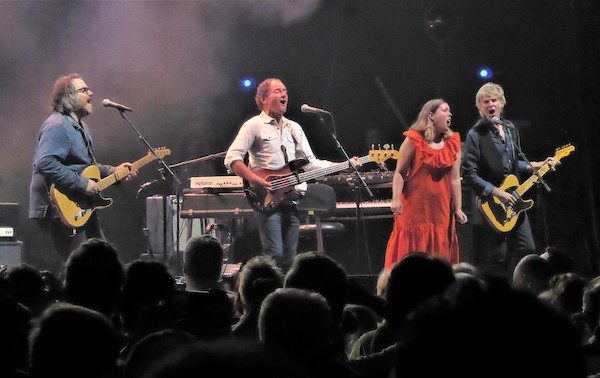 Most every rock 'n' roll fan appreciates the graceful, swinging beat that Charlie Watts brought to the Rolling Stones. Count the musicians of Wilco and Sleater-Kinney among them as the two bands paid tribute to Watts, who died at age 80 on Tuesday, in their co-billed concert at Leader Bank Pavilion that evening.
Sleater-Kinney's Carrie Brownstein gave Watts a shout-out for that inspiration, while Wilco's Glenn Kotche displayed the words "Charlie is my Darling" (the title of a 1966 Stones tour documentary) on the head of his bass drum. And Sleater-Kinney's Corin Tucker joined Wilco for a faithful encore of "Honky Tonk Women," sharing a mic with Pat Sansone, who handled its famous cowbell while Kotche manned his bare-bones kit with some of Watt's trademark mid-stroke pauses.
That sense of celebration extended to the catalogs of two younger, now-veteran groups that finally shared the stage of Boston's harborside pavilion a year after Covid-19 changed the plans of bands and crowds alike.
"There's nothing like it," Brownstein said of performing live, and fans — who were screened at the gates, with many attending their first pandemic-era show — cheered in agreement.
A year's delay also let both groups put some distance behind two of their less-compelling albums, Wilco's ironically somber Ode to Joy and Sleater-Kinney's prophetically named The Center Won't Hold, a St. Vincent–produced, more synthetic outing that led the trio's longtime drummer Janet Weiss to quit.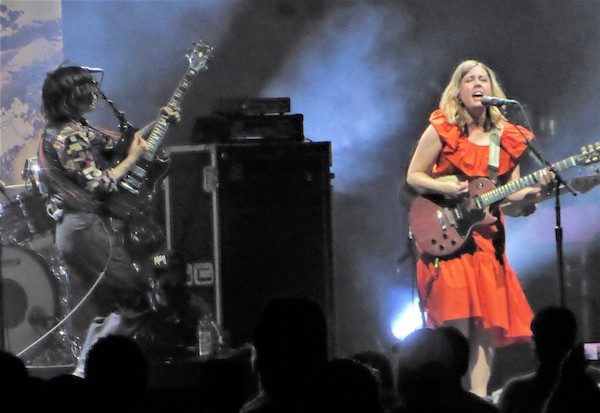 Sleater-Kinney seemed better adjusted on Tuesday, largely focusing on new record Path of Wellness, from the gliding tension of the title track to the slinky march "Worry with You." Brownstein (flexing her guitar through acrobatic rock 'n' roll moves) and force-of-nature singer Tucker commanded the spotlight with their sharp interchange of biting guitar tones and penetrating vocals, particularly when they dipped into somewhat older songs like the seductive-then-jolting "Jumpers" and bristly "The Fox," both from 2005's The Woods.  In fact, the punk-born duo eschewed its first five albums. Its new backing band lapsed into some rhythmic similarities, yet guitarist Fabi Reyna, keyboardist Galen Clark, bassist Bill Athens, and drummer Vincent Lirocchi were each given spots to shine in the wider fabric.
Wilco, which began in 1994, as did Sleater-Kinney, survived its own personnel charges before remaining stable since 2004 and reaps the benefit of spreading its multidimensional sound across all six members. When the group bubbled into its electronica-meets-skronk grenade "Art of Almost," leader Jeff Tweedy swayed with hands locked behind his back as if too say, "Man, I've got such a killer band around me." He still mused through the folky "If I Ever Was a Child" and a softer-than-usual "Jesus, Etc." Yet guitarist Nels Cline remained the not-so-secret weapon, from his squiggly swipes in pandemic-apt opener "A Shot in the Arm" to his artful flight in "Impossible Germany," winding trills up and down his guitar neck into vibrato-wrung peaks. Though a new album's in the works, the set leaned toward greatest hits, tapping Ode to Joy only for the more buoyant "Love Is Everywhere (Beware)" and "Everyone Hides." And the encore hit both the Stones and the country breeze "California Stars," Wilco's collaboration with Billy Bragg to Woody Guthrie lyrics.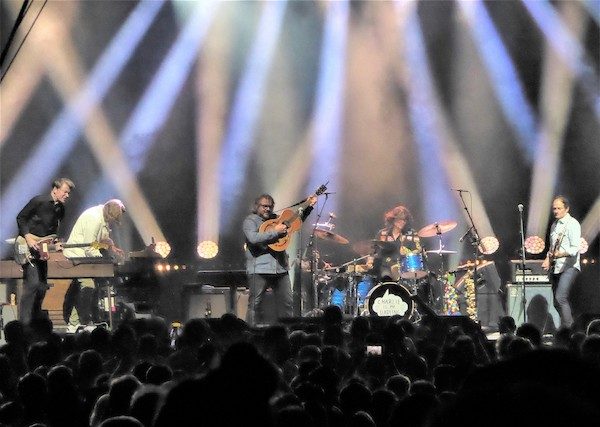 Wilco loves to collaborate, particularly at its Solid Sound festivals at MASS MoCA in North Adams (another coronavirus casualty now bumped to next Memorial Day weekend). But this night, partnership extended to an audience happy to share in a return to live rock 'n' roll — and honoring the spirit of Charlie Watts.
---
Paul Robicheau served more than 20 years as contributing editor for music at the Improper Bostonian in addition to writing and photography for the Boston Globe, Rolling Stone, and many other publications. He was also the founding arts editor of Boston Metro.