By Jonathan Blumhofer
The Norwegian soprano's execution of the vocal line in Luonnotar is nothing short of astounding.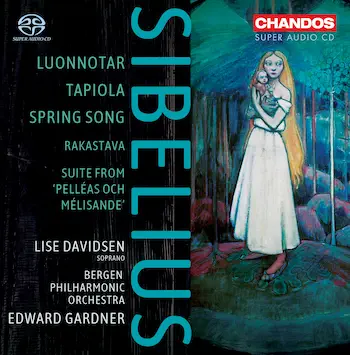 It's rare that a recording of a single, fairly obscure, short tone poem by Jean Sibelius should send you rushing to the record store (or iTunes or Spotify). But this disc – a compilation, in fact, of offbeat Sibelius tone poems – is just such a one. And that owes entirely to Lise Davidsen's magnificent account of the Finnish master's Luonnotar.
A setting of the creation myth as recounted in the Finnish Kalevala, this 1913 essay is at once austere and profoundly soulful. Known as one of the most challenging vocal works in the repertoire – its range covers two octaves and it's full of perilous leaps – the list of singers who own the piece is small. Now add Davidsen to their ranks.
The Norwegian soprano's execution of the vocal line here is nothing short of astounding. She sings with breathtaking clarity: every element – diction, tone, vibrato (or lack thereof) – is perfectly calibrated. The evenness of Davidsen's projection, too, is simply amazing. She floats the pianissimo C-flats like there's nothing easier to do and drills the climactic one with a potency that's fully worthy of Birgit Nilsson in her prime.
Simply put, this is the best Luonnotar I've heard — and that's before you take into account the exceptional — expressively cool but rhythmically tight, smartly paced, well-balanced, blazingly colorful – accompaniments Edward Gardner draws from the Bergen Philharmonic Orchestra (BPO).
The rest of the album is, if not quite as thrilling as Luonnotar, at least as focused and bold.
Gardner leads a taut, driven account of Tapiola, Sibelius' enigmatic final major orchestral work. Its dissonances speak imperatively (and resonantly), even if the brasses are a hair overwhelming during the music's raving climaxes.
Restraint and clarity are the themes in the BPO's account of Sibelius's 1905 Pelléas et Mélisande Suite. Written to accompany a Finnish production of Maeterlinck's play, it's music of much charm as well as heart.
Highlights of the present performance include a discreet "Mélisande," with its seductive waltz patterns and lovely English horn solos; Davidsen singing "The Three Blind Sisters"; a menacing "Mélisande at the Spinning Wheel"; and a rich-toned, unsentimental reading of "Mélisande's Death."
Likewise austere is Rakastava, Sibelius's 1912 reworking of an a capella song cycle for strings and percussion. Written around the same time as the bleak Fourth Symphony, Rakastava shares with the larger work a certain concision and directness that's perhaps best channeled in the BPO's delicate and lean playing during its diaphanous second movement.
Filling out the recording is a notably fresh and purposeful account of the 1894 tone poem Spring Song. Gardner leads the BPO in a reading that's nicely blended, shaped, and colored. Tempos move. All of this serves to distract from the music's repetitious and bombastic elements. The results are, for once, aptly radiant.
---
Jonathan Blumhofer is a composer and violist who has been active in the greater Boston area since 2004. His music has received numerous awards and been performed by various ensembles, including the American Composers Orchestra, Kiev Philharmonic, Camerata Chicago, Xanthos Ensemble, and Juventas New Music Group. Since receiving his doctorate from Boston University in 2010, Jon has taught at Clark University, Worcester Polytechnic Institute, and online for the University of Phoenix, in addition to writing music criticism for the Worcester Telegram & Gazette.