By Kathleen Stone
Overall, "Remember the Ladies" is a love letter to an era and to a cheerful vision of painting.
Remember the Ladies: Women Painters in Ogunquit, 1900-1950, the Ogunquit Museum of American Art, through July 16.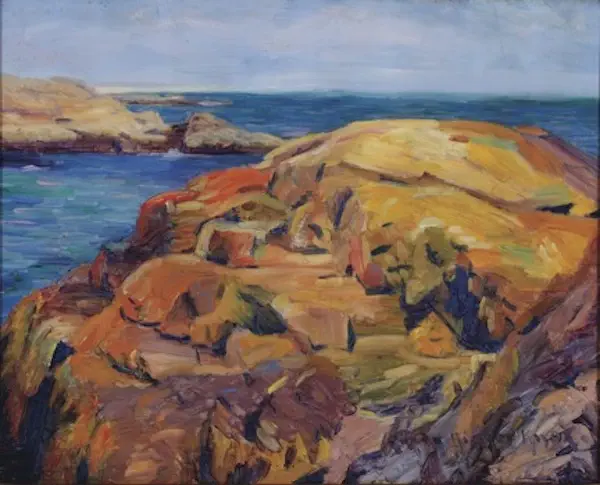 In the spirit of celebrating overlooked careers, the Ogunquit Museum of American Art has mounted a small exhibition of work by women artists dating from the first half of the twentieth century. Titled "Remember the Ladies," a phrase borrowed from Abigail Adams's 1776 letter to her husband John, written as he traveled to the Second Continental Congress, the exhibit places the artists in a continuum of American history that begins with the Revolutionary War era and continues to today. As the exhibition catalogue points out, art made by women represents a tiny fraction of what contemporary museums show and collect. This has always been an unwavering prejudice, though in the late nineteenth century and for several decades thereafter change was in the air. Women achieved new levels of education and professional employment, and enthusiastically turned their attention to art. This show highlights a small group of artists who spent summers in Ogunquit, studying with Charles Woodbury, founder of the town's first art colony. Because they made art their life's work, these women were exceptional for their time.
Seascapes were Woodbury's favorite subject. He used bright color and vigorous brush strokes in his work, and passed on this enthusiasm to his students. We see bold color throughout the exhibition. Take, for instance, Anne Carleton's The Ins and the Outs (c. 1930). Beachgoers sport clothes in bright orange, marine blue, lime green and yellow. In Susan Ricker Knox's High Noon (1936), even the rocks are striated in indigo and orange.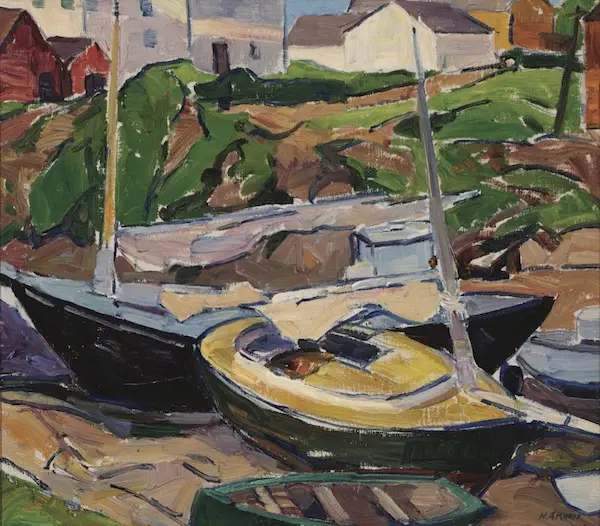 Woodbury also told his students to "paint in verbs, not nouns," a maxim they put into practice with broad, impasto brush strokes. Not only do the rocks and water seem alive, but people, even when lounging, have an energy about them. So, too, do the black-and-white lithographs of Adele Watson. These works lack color, but that does not mean they are subdued; the rocks at water's edge heave and thrash. Boats at rest, in Nellie A. Knopf's painting Untitled (New England Boats) c. 1915, seem to be animated, as are the rocky landscape around them.
The artists' outdoor scenes, filled with vibrant, sun-filled colors and rapid, vibrant brushstrokes, concentrate on impressions rather than detailed renderings. A slice of American Impressionism, in other words. These artists carried on the technique long after the movement had faded in France. From what we see here, they appear not to have experimented with post-Impressionism, Cubism, or other innovative approaches that arrived early in the twentieth century, even though such developments were well-known in the visual arts community, particularly after the 1913 Armory Show.
It's instructive to compare these artists with some of their contemporaries. Close to the room where this exhibition's paintings are hung, for instance, one can see works by Marguerite Zorach, John Marin, and Marsden Hartley. Those artists also took the Maine coast as subject matter, but they preferred a flattened picture plane, somberer colors and more brooding atmospheres.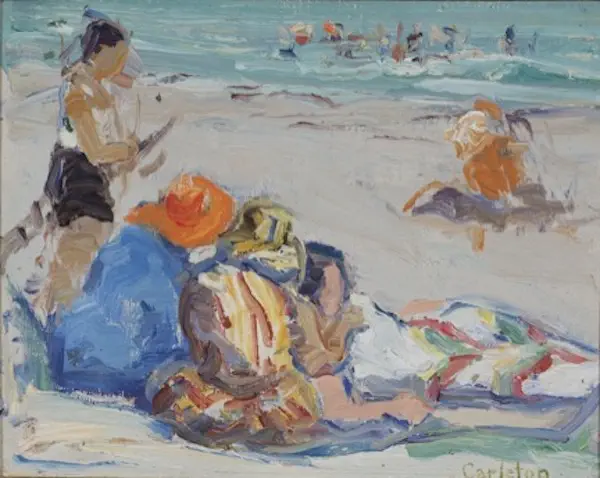 While the women in this show were never as well known as Zorach, Marin, or Hartley, they stand out, at the very least, because they were female artists. In 1930, according to that year's census, only 21,000 women throughout the country were artists. Four hundred times more women worked as domestics. As was typical for women artists, many made a living by teaching: Mabel May Woodward taught at Rhode Island School of Design, Nellie Knopf at MacMurray College, Agnes Anne Abbott at Wellesley College, Anne Carlton and Elizabeth Jewell in Massachusetts public schools. Gertrude Fiske was the first woman appointed to the Massachusetts State Art Commission.
Because "Remember the Ladies" celebrates women artists, it invites comparison to "Women Take the Floor," the long-running exhibit at Boston's Museum of Fine Arts. (Arts Fuse review) Unlike the MFA show, this one is small and concentrated, focusing on women who were students of a particular art school over a span of several decades. That provides a tighter definition than the organizing principle (gender) behind the Boston which, admittedly, boasts more famous names.
A printed booklet accompanies this exhibition. While it makes the expected statements about discrimination and the need for social justice, the text on the walls gives a generally balmy view of the situation in which these artists flourished. It tells us that in 1870 Massachusetts provided for free drawing classes for every resident and mandated that art be taught in public schools. It also includes some upbeat testimony from a male artist about the proliferation of women artists in the period. Overall, "Remember the Ladies" is a love letter to an era and to a cheerful vision of painting. People relax at the shore. The sun almost always shines. Even when clouds approach, as they occasionally do in some of these paintings, they are not truly threatening. And women make their way as artists.
---
Kathleen Stone is a writer based in Boston. She holds graduate degrees from the Bennington Writing Seminars and Boston University School of Law. They Called Us Girls, her collective biography of women with unconventional ambition in the mid-twentieth century, will be published by Cynren Press in March 2022. You can find out more and sign up for a monthly newsletter about intriguing women in history at her website, www.kathleencstone.com.