By Jonathan Blumhofer
A welcome addition to Scottish percussionist Colin Currie's endlessly fascinating discography — as well as to Austrian maverick HK Gruber's.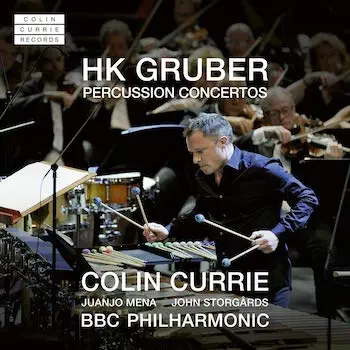 A quarter-century separates the two pieces on Colin Currie's new album, which is devoted to percussion concertos by the Austrian maverick HK Gruber. Rough Music, a phantasmagoric, wildly unpredictable ride dates from 1983. Into the open… comes from 2010. While the latter is, broadly speaking, more elegiac in tone (Gruber wrote it in the aftermath of the death of his friend David Drew), Into the open… inhabits a sound world not too far removed from Rough Music.
The earlier piece, with its three distinct movements and largely discreet placement of percussion instruments within them, showcases Gruber at his most conventional (which is to say, still well off the beaten path).
Rough Music's first movement, "Toberac," is often sunny: filled with open textures and more than a few gently syncopated figures. The second, "Shivaree," runs in an opposite direction, pairing wild, drum kit–infused explosions with a subdued, bluesy theme; ultimately, the two musics coalesce in a dense, Ivesian climax before the blues tune closes things out. For the finale, "Charivari," there's a Satie-esque Gymnopedie that, ultimately, disintegrates (with the help of an electric organ and bass guitar) and the music fades into the ether.
What, then, to make of it? Well, this is music of terrific energy and color. Also, eclecticism. Gruber's always been a tough composer to pin down, stylistically, but the breadth of his writing here, while enormous, sounds and feels totally natural. The solo percussion writing is perfectly judged, especially the scoring for vibraphone and marimba in the outer movements. And Gruber's handling of the orchestra is never less than deft.
Into the open… is marked by many of those same qualities. Here, the piece is cast in a single, half-hour-long movement, one that takes its time getting started but eventually lumbers into a mighty, if faintly melancholy, dance.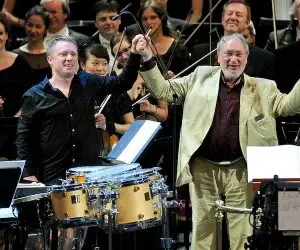 Gruber's writing for the soloist is highly involved and even more subtle than before (among other things, the part calls for five howl gongs and three sonorous plate bells). How he weaves these busy solo textures into the larger orchestral texture is fascinating to hear. At times, soloist and ensemble seem to be playing past each other, but eventually they align in a cathartic coda.
One could hardly ask for a better soloist in either piece than Currie, who's one of the most invigorating percussionists on the scene today. He's got Gruber's idiosyncratic style — the impish humor, mix of light and shadow, sentimentality and seriousness — in his bones and, in both Rough Music and Into the open… you know you're in expert hands.
In both pieces, Currie's accompanied by the BBC Philharmonic. Juanjo Mena is the conductor for Rough Music, while John Storgårds presides over Into the open….
There are some balance issues in the former: Currie's sound is too forward in the mix and, as a result, at times sounds artificial. While the orchestral playing is vigorous and colorful, balances favor high woodwinds and brasses; the strings are too often drowned out (even in the cacophonic second-movement climax). That said, several of the striking touches of Gruber's instrumentation — like the first-movement piano-solo vibraphone doublings and the finale's electronic instrument moments — come out strongly.
Into the open… is better balanced, even if Currie's part is again (occasionally) a mite too present.
Regardless, this release is a welcome addition to Currie's endlessly fascinating discography — as well as to Gruber's.
---
Jonathan Blumhofer is a composer and violist who has been active in the greater Boston area since 2004. His music has received numerous awards and been performed by various ensembles, including the American Composers Orchestra, Kiev Philharmonic, Camerata Chicago, Xanthos Ensemble, and Juventas New Music Group. Since receiving his doctorate from Boston University in 2010, Jon has taught at Clark University, Worcester Polytechnic Institute, and online for the University of Phoenix, in addition to writing music criticism for the Worcester Telegram & Gazette.