By Ralph P. Locke
At this point in his career, Mayr is contributing to the development of the musicodramatic conventions that would set the stage for the masterpieces of Donizetti, Bellini, and Verdi
Johann Simon (Giovanni Simone) Mayr: Le due duchesse (1814)
Eun-Hye Choi (Malvina), Tina Marie Herbert (Laura), Markus Schäfer (Enrico), Young-Jun Ahn (Edgar), Samuel Hasselhorn (Berto), Jaegyeong Jo (Loredano), Niklas Mallmann (Guglielmo). Simon Mayr Chorus, Members of Bavarian State Opera Chorus, Concerto de Bassus, cond. Franz Hauk.
Naxos 8.660422-23 [2 CDs] 162 minutes
Click here to purchase.
The long-lived and prolific Johann Simon (or Giovanni Simone) Mayr (1763-1845) got his start in Bavaria but received further musical training in Italy, where he remained for the rest of his career. He is best known today as the teacher of Donizetti, and for having composed one extremely effective opera: Medea in Corinto (1813, with later revisions; at least four recordings have been available, including a strong recent one, with superstar tenor Michael Spyres, that I reviewed here).
Keyboard player and conductor Franz Hauk has spearheaded dozens of recordings of Mayr's works on the Naxos label: lots of sacred vocal works but also operas, such as the relatively early and modestly proportioned Telemaco (1797). (I praised its recent world-premiere recording here.) I was also quite taken with I Cherusci, an opera from 1808 that, stylistically, sits about halfway between Telemaco and Medea in Corinto. (See my review.) Hauk is not alone in his enthusiasm: the first two volumes of a critical edition of Mayr's collected works are now available from the renowned Italian publisher Ricordi.
Here is the world-premiere recording of an opera first performed in 1814 (in Venice), the year after Mayr's Medea, and showing him in the full strength of his art. And, intriguingly, it is a comic one and thus quite unlike the three just mentioned. The tone is light and teasing, rather than grim. Yet, even here, we can sense Mayr responding to the operas of Mozart (which he adored) and to earlyish Rossini and also, by this point in his career, contributing to the development of the musicodramatic conventions that would enable the masterpieces of Donizetti, Bellini, and Verdi.
Indeed, the librettist of this work was Felice Romani, who had written the libretto for Mayr's Medea and would provide the one for Bellini's Norma. Some of the smartest dramatic effects here come directly from Romani: for example, Loredano (the countess's father) begins a song in the middle of the opening number, gets interrupted by a maidservant (Betzi) and the chorus, all of whom find the song too sad, so Loredano has to begin something cheerier.
The full title is The Two Duchesses, or: The Wolf Hunt. The story incorporates at least one historical character from 10th-century England: the Anglo-Saxon king Edgar the Peaceful. It tells a largely invented story already treated in Paisiello's Elfrida (1792). The plot is intricate and mainly serious, trapping various characters in their own lies, which King Edgar finally forgives, thereby bringing the opera to a happy ending.
Along the way there are comical moments. (The libretto describes the work as a "semiseria," making it analogous to, say, Rossini's La gazza ladra or Bellini's La sonnambula.) The duchess Malvina has her maidservant Laura attend the king's wolf hunt in her place, and Laura — not knowing what to say or do — takes refuge in spouting proverbs. The chief huntsman, Berto, offers sly comments about the other characters, in the manner of Rossini's Figaro. The role of Berto got rewritten in Neapolitan dialect when the work reached the San Carlo theater in Naples in 1819, but we hear it in standard Italian.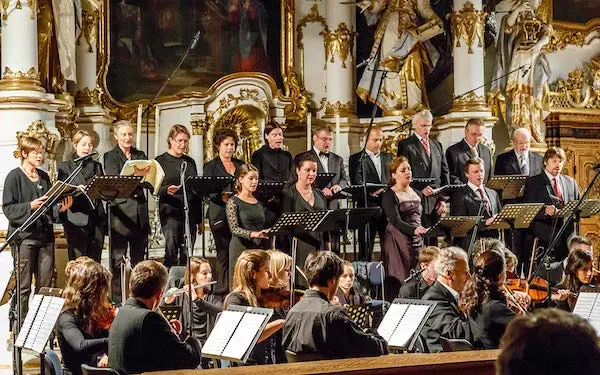 The work was given only a few productions during Mayr's lifetime, so Hauk and his team have had to reconstruct the score from sources surviving in libraries. The effort was well worth it, because The Two Duchesses proves to be tuneful and engaging, with many lively touches in the orchestration, as so often in Mayr's operas. The true countess, Malvina, makes her entrance in an aria enriched by a concertante harp part that suggests her aristocratic splendor.
And there are numerous passages that clarify, through apt style choice, what is going on or being discussed: passages in hunting style (with outdoorsy hand-stopped horns), a chorus in glorifying style for the entrance of King Edgar near the end of Act 1, or a stately march rhythm as the king approaches Laura (whom he takes to be Malvina) and begins to compliment her. The aforementioned song that Loredano is asked to stop singing (in the opening scene) is sad not just in words but in musical idiom. Mayr here invokes minor-mode folk style (analogous to the solo lament sung recurringly by the rags-clad heroine in Rossini's La Cenerentola), accompanying it by a plainly outdated instrument: a lute!
Again and again, one can often sense how inspiring Mayr must have been to the young Donizetti, who in 1814 was a 17-year-old studying in Bologna (at Mayr's recommendation). Three years later he would return to Bergamo for further studies with Mayr.
The performance is clean and accurate, thanks to young singers with mostly compact, firm voices capable of handling coloratura. Three, as their names suggest, come from South Korea but did further study in Germany. Young-Jun Ahn will be welcomed by the listener as much as he is by the chorus and other characters when he shows up — with a smooth tone — before the Act 1 finale. I suspect he adds unwritten high notes at the end of that entrance aria, but they are solid and do not blare. His coloratura is capable though it lacks supreme ease. Perhaps that will come with time.
Tina Marie Herbert is American and has studied in Italy and Germany. She (the Laura) and Eun-Hye Choi (the Malvina) sound so similar, and are so marvelously accomplished, that one can more easily accept the central conceit of the plot: that the handmaiden stands in for the countess at the hunt without being suspected. I suspect that Herbert would have played up the comedy of the situation — how flustered Laura is — in a staged performance. But perhaps a relatively "straight" reading is better for a work's first recording, which will inevitably serve as a reference point for punchier or sublimely sillier stage productions. This opera certainly deserves to be seen, not just heard!
Markus Schäfer — who plays Duke Enrico, Malvina's husband — is the best-known name here, a veteran of dozens of recordings of 18th- and early 19th-century music (from Bach to Mozart to Mendelssohn). At age 56 (the recording dates from 2017), he still retained much of the tonal beauty and flexibility that have long made him so welcome. His sensitivity to word and drama here are likewise undiminished. (He was featured on the lovely Telemaco and I Cherusci recordings mentioned above.) I enjoyed the smooth vocal quality of Niklas Mallmann, as Loredano's squire Guglielmo. Samuel Hasselhorn, in the semicomic role of Berto, has a compact, glowing sound, a bit like a young Hermann Prey. The role, like that of Laura, would likely be played more broadly on stage. But you can provide some of that theatrical flair in your imagination as you read the libretto.
In general, the work responds well to light, flexible voices. I can easily envision it delighting an audience nowadays in, say, a strong student performance — though preferably with well-managed supertitles (or else in a lively translation). When public performances of opera start again, it would be fun for companies to look into forgotten comic operas that, like The Two Duchesses, have plenty of dramatic and musical imagination.
Hauk directs the whole from the harpsichord, maintaining lively tempos. The early-instrument ensemble responds alertly, with shapely phrasing and some nice (but not excessive) edge to the brass in celebratory moments. The clear recording — made over the course of a week in the high-ceilinged hall of a Baroque-era building in Bavaria that long housed a Jesuit school — captures everything comfortably. (The beginning of each track can be heard here. And each of the tracks can be heard entire, for free, on YouTube.)
As on some of his other Mayr recordings, Hauk reduces the string orchestra to a chamber group (one on a part) for certain passages of orchestrally accompanied recitative. This practice sets the subsequent aria (duet, etc.) movements nicely in relief and could be usefully introduced into other operas of the Classic and Early Romantic eras. (George Szell used to reduce the number of string players during certain passages in Beethoven to allow the winds to be heard more clearly.)
In the booklet, the conductor explains the history of the work and offers a very brief synopsis. Naxos has uploaded to the Web, free to the public, an Italian-German libretto that was published a few months after the Venice premiere. It begins with a lengthy argomento (i.e., synopsis plus backstory) and with a capsule description of each of the characters.
CD purchasers would of course have liked the libretto to be included in the booklet. But putting it online makes it available also to people who stream the recording (through Naxos or some other site).
Still, couldn't this online (and printed) document, at little extra expense, also have included an English translation?
---
Ralph P. Locke is emeritus professor of musicology at the University of Rochester's Eastman School of Music. Six of his articles have won the ASCAP-Deems Taylor Award for excellence in writing about music. His most recent two books are Musical Exoticism: Images and Reflections and Music and the Exotic from the Renaissance to Mozart (both Cambridge University Press). Both are now available in paperback; the second, also as an e-book. Ralph Locke also contributes to American Record Guide and to the online arts-magazines New York Arts, Opera Today, and The Boston Musical Intelligencer. His articles have appeared in major scholarly journals, in Oxford Music Online (Grove Dictionary), and in the program books of major opera houses, e.g., Santa Fe (New Mexico), Wexford (Ireland), Glyndebourne, Covent Garden, and the Bavarian State Opera (Munich). The present review first appeared in American Record Guide and appears here with kind permission.