By Jonathan Blumhofer
One can only hope that Gail Samuel's hiring means that the BSO's welcome-but-fitful efforts at expanding its repertoire and engaging the community of late will become central to its post-pandemic mission.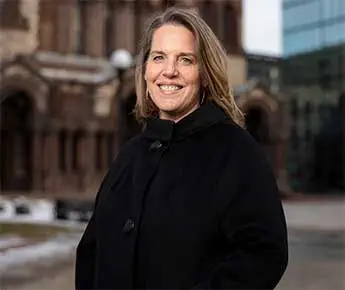 On Thursday, the Boston Symphony Orchestra (BSO) announced the appointment of Gail Samuel as its new President and CEO, effective in June. She takes the helm from Mark Volpe, whose twenty-three-year tenure saw the BSO secure a financial footing that is the envy of the wider orchestral world; he's also managed the ups and downs of the James Levine and Andris Nelsons eras.
Samuel comes to Boston from the Los Angeles Philharmonic, where she's helped lead the organization that has redefined the orchestra for the 21st century. Accordingly, one can only hope that her hiring means that the BSO's welcome-but-fitful efforts at expanding its repertoire and engaging the community of late will become central to its post-pandemic mission. If so, she certainly seems to be the right person for the job.
Indeed, the former endeavor figures prominently in the hour-long concerts the orchestra's presenting these days on BSO Now, its in-house video channel. The current, three-part series is called Music in Changing Times and the middle installment was released a few hours after Samuel's hiring was announced. Led by BSO music director Nelsons, who's back conducting the orchestra for the first time since the coronavirus pandemic began, each program pairs a symphony by Ludwig van Beethoven with a contemporary work.
Last week's concert (which is available to view through March 11) began with Beethoven's Symphony no. 3. Premiered in 1805, this is a piece that, by sheer duration and expressive range, blows its Classical-era counterparts out of the water. As such, it doesn't need much help to make (or leave) an impression.
Even so, Nelsons seemed intent to emphasize the music's extremes of dynamics and texture while also drawing out its tempos about as far as the music would allow. The results were interesting if, ultimately, frustrating: leaden and mannered in the big first movement; unduly weighted in the funeral march; literal and humorless in the finale. Only in the Scherzo did the BSO get to rumble; the burnished horn playing in its Trio was altogether magnificent.
To be sure, Beethoven Three can handle a lot (including, as here, an eighteen-plus-minute-long first movement and thirteen-minute-long finale). Otto Klemperer, among others, drew the piece out to similar length. But when Klemperer did it, he got the music's lines to dance, its phrases to breathe; Nelsons didn't manage either, at least not consistently.
That said, for all the quirks of Nelsons' account and the challenges of the day, the BSO's playing in this Third sounded wonderful. Ensemble and the blend between sections – even when the players were reduced and socially-distant – was impeccable. John Ferrillo's oboe solos in the first two movements, in particular, were exquisite.
The orchestra shined, too, in Hannah Kendall's Disillusioned Dreamer, which followed the Beethoven. Written for the Berkeley Symphony Orchestra in 2018, this twelve-minute score draws on a scene from Ralph Ellison's novel, Invisible Man, that meditates on the place of a Black man in white-dominated American society.
Its two parts share some motives and gestures. The first begins with fragments of percussive rhythms and melodic phrases that gradually coalesce and orbit one another in nervous counterpoint. In the second, dense textures and sustained lines make efforts at moving forward, but a kind of stasis prevails.
Kendall's writing for orchestra is deft and iridescent: the disjunct lines of Dreamer's first section come across with bracing color, and the end of the second includes some nifty, unexpected percussion riffs. As usual in contemporary fare, Nelsons drew a secure and stylish reading of Dreamer from the BSO.
He did the same during this week's concert (available until March 19) with Iman Habibi's Jeder Baum spricht. A 2019 essay that takes Beethoven's love of nature as its departure point, this is an accessible-enough seven-minute score, clearly structured and featuring, here and there, subtle allusions to the Great Man's catalogue.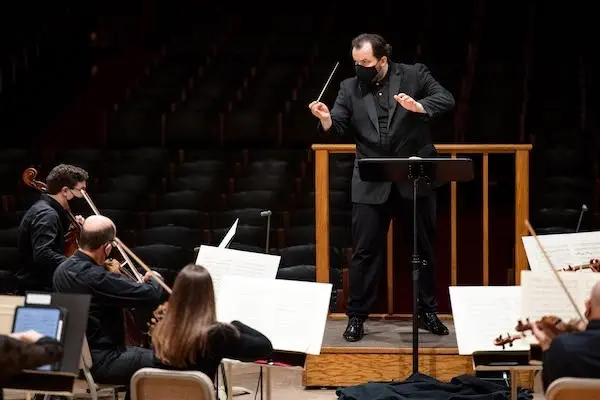 Nelsons and the BSO seemed to have lots of fun with the bristling figures that open the piece, while also giving Habibi's delicate string- and burbling woodwind writing plenty of room to breathe over Jeder Baum spricht's second half.
Those qualities occasionally appeared, too, in their account of Beethoven's only programmatic symphony, the Pastorale (no. 6), that followed.
The best moments here came in the middle, particularly from the orchestra's woodwind section during the second and third movements. There was welcome intensity to be found, too, in the fourth movement, with its explosive evocations of booming thunder.
In the outer movements, though, Nelsons' Beethoven Six was too similar to his Beethoven Three. While the first movement felt slower and more deliberate than it actually was, tempos did drag and the moments of arrival never quite landed. Both there and in the finale – especially over the latter's closing pages – the music's phrases slogged. Once again, some warm, finely-blended playing from the BSO went, interpretively at least, for naught.
Rounding out each week's concerts are short chamber performances featuring players from the BSO.
Last week's presentation concluded with a characterful take on Caroline Shaw's witty, knowing string quartet, Blueprint. This week's wrapped with a lovely rendition of Claude Debussy's Sonata for Flute, Viola, and Harp. As played here by flautist Cynthia Meyers, violist Danny Kim, and harpist Jessica Zhou, it proved a beguiling dialogue between equals.
---
Jonathan Blumhofer is a composer and violist who has been active in the greater Boston area since 2004. His music has received numerous awards and been performed by various ensembles, including the American Composers Orchestra, Kiev Philharmonic, Camerata Chicago, Xanthos Ensemble, and Juventas New Music Group. Since receiving his doctorate from Boston University in 2010, Jon has taught at Clark University, Worcester Polytechnic Institute, and online for the University of Phoenix, in addition to writing music criticism for the Worcester Telegram & Gazette.