By Michael Ullman
It's easy to single out each of these musicians, but listeners will hear the three as nearly one, which is surely what this trinity intended.
Garden of Expression, Trio Tapestry, Joe Lovano w/ Marilyn Crispell and Carmen Castaldi. (ECM)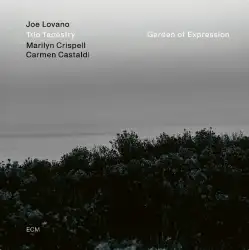 The spacious, intimately lyrical Garden of Expression is Trio Tapestry's second album, and Lovano's second for ECM. It's a remarkable group achievement, an intelligently meditative series of pieces that demonstrate not so much the individual instrumental virtuosity of the musicians as their virtuosity as listeners and as suggestive, supportive partners. I'll call it a series of meditations.
The album begins with "Chapel Song" and ends with a title that seems almost inevitable: "Zen Like." Many of the pieces seem to have been inspired by a religious impulse. Amusingly, one of the most energetic is "Dream on That…" —  the title appears to be a wry challenge. It begins with a little figure on bass drum and cymbals before Crispell enters brightly and with mostly short, rapid-fire lines. She plays over Castaldi's light drumming  and cymbal taps. Crispell stops suddenly and Lovano takes over, dreaming I suppose, on what Crispell left behind. Eventually the two meet up and play a kind of stop and start duet with Castaldi chattering behind them. I first heard the drummer on Lovano's Viva Caruso, the saxophonist's outgoing record of arias connected with Enrico Caruso. Here he is in a different role, as much a melodist and instigator as a gently retiring accompanist.
"Chapel Song" begins with Lovano's tenor saxophone issuing a  confident, quietly stated, melody. It is infused with lyricism, its lines resolving harmonically and naturally over Crispell's arpeggios and Castaldi's various cymbal strikes and bass drum taps. The listener is immediately impressed by Lovano's control and inventiveness, but even more by the group's collective sound. These performances are adroitly interwoven. On the title cut, "Garden of Expression," Lovano sounds darker (how does he do that?) and more insistent. When he finishes his statement of the theme statement there is a pause, which Castaldi slyly fills with tom toms and cymbal. The drummer is at his most skillfully unobtrusive here.
To my ears, Crispell plays the role of modest giant. She begins "Treasured Moments" with a repeated note that seems to slowly branch out with Castaldi's accompaniment. Lovano enters almost tentatively. She is at her most traditional when she beautifully introduces the ballad-like "Night Creatures." It's easy to single out each of these three musicians, but listeners will hear the trio as nearly one, which is surely what this trinity intended.
---
Michael Ullman studied classical clarinet and was educated at Harvard, the University of Chicago, and the U. of Michigan, from which he received a PhD in English. The author or co-author of two books on jazz, he has written on jazz and classical music for the Atlantic Monthly, New Republic, High Fidelity, Stereophile, Boston Phoenix, Boston Globe, and other venues. His articles on Dickens, Joyce, Kipling, and others have appeared in academic journals. For over 20 years, he has written a bi-monthly jazz column for Fanfare Magazine, for which he also reviews classical music. At Tufts University, he teaches mostly modernist writers in the English Department and jazz and blues history in the Music Department. He plays piano badly.