By Nicole Veneto
Pieces of a Woman is an affecting film about the depths of mourning, highlighted by Vanessa Kirby's gut-wrenching lead performance.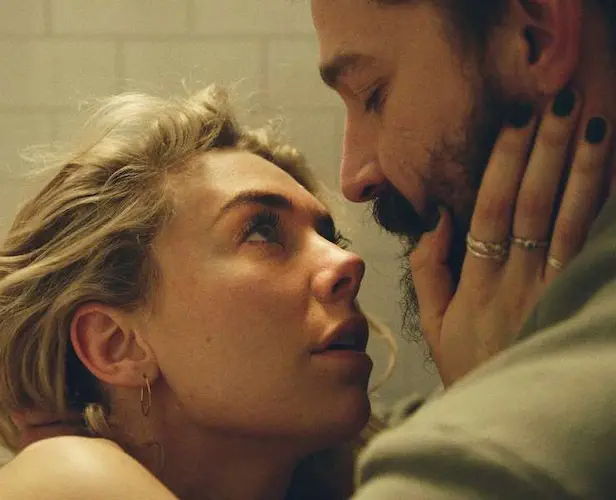 It's only in the final 15 minutes of Pieces of a Woman that the grieving Martha (Volpi Cup winner Vanessa Kirby) allows herself to cry for the baby she lost. Excessive displays of female emotion — sobbing, screaming, hysterical laughter — are staples of melodrama. But in Pieces of a Woman, Martha's bereavement is repressed. The woman is emotionally detached, shielding her grief under a cold defensive shell. It is her way of masking the growing chasm of grief between her, her partner Sean (Shia LaBeouf), and her elderly Hungarian mother Elizabeth (Ellen Burstyn). Directed by Kornél Mundruczó (whose fable-inflected White Dog won the Prize Un Certain Regard at Cannes in 2014) and written by his partner Kata Wéber, Pieces of a Woman is a deeply personal film, partly based upon the couple's own experience with an unsuccessful pregnancy.
The film's crowning technical achievement, which takes up the majority of its first act, is its 24-minute-long home birth sequence, masterfully shot by Benjamin Loeb (DP of the phantasmagoric Mandy). Filmed as one continuous unbroken shot, the camera weaves round and about Martha and Sean's narrow Boston townhouse observing the scene like a disembodied soul (possibly the ill-fated baby's?). The labor unfolds in real time, and there's a heightened sense of impending tragedy as things begin to go wrong. First, their preferred midwife, occupied with another home birth, sends an unfamiliar woman named Eva (Molly Parker) in her stead. She assures the couple they have nothing to worry about but, when Martha's contractions grow more and more intense, Eva says that the baby's heart rate is dropping dangerously low, which puts both mother and child in distress. In the absence of cuts, the camera closes in on the increasingly panicked expressions of the actors. The result is to effectively compress and expand the sequence's temporality — it dramatizes the simultaneous stagnation and exigency of time during the labor process. Seconds feel like minutes, minutes feel like hours. After Martha pushes the baby out, the camera quietly lingers on Eva, who gazes into a mirror in the couple's bedroom. Eva shudders with relief, while Sean begins taking pictures of Martha holding their newborn daughter. And then, just off-screen, the baby's cries turn into suffocating chokes for air. The scene cuts to Sean running out of the apartment building into the chilly New England night to wave in paramedics. Fade to black: at 30 minutes and 36 seconds, the long delayed title card finally makes an appearance.
Initially conceived as a Hungarian stage production, Pieces of a Woman resembles a multi-act play. Several months after the tragic birth, we see Martha struggling to process her grief. In contrast to its technically audacious opening, the rest of the film becomes a relatively conventionally shot tearjerker, foregrounding the performances of the performers. This is first and foremost an actors' movie, anchored by a virtuoso physical and emotional performance from Kirby, whose first half-hour simulating giving birth in a single take is an incredible feat of endurance.
The ethereally beautiful Kirby also leans into the abject aspects of childbirth, belching throughout her contractions and bemoaning "I think I'm gonna shit myself." She also embodies the subsequent toll it takes on the body. For Martha, the post-birth body is a constant and inescapable reminder of loss; her breasts swell and lactate for a baby that isn't there; it's also implied that the grueling home birth left her incontinent. Although the depth of Martha's grief is obvious to us, she internalizes and detaches herself from loss in a way that comes off as cold and uncaring to those around her. Sean accuses her of trying to "get rid of [his] kid" when she begins to empty out the baby's unused nursery, and Elizabeth files a criminal lawsuit against Eva on behalf of her daughter, whom she partly blames for insisting on a home birth in the first place.
Though Kirby is a strong contender for awards season, her work in Pieces of a Woman may be overshadowed by the swell of controversy surrounding co-star LaBeouf. In light of recent abuse allegations made by ex-girlfriend FKA Twigs, LaBeouf's presence will be an inevitable distraction for some viewers. Mundruczó has spoken elsewhere about why he cast LaBeouf in the film, citing the former child star's own history of addiction as being one reason he was cast in the role.
Sean, a construction worker with a history of addiction, finds both his relationship with Martha and his six years of sobriety tested in the aftermath. As their relationship steadily disintegrates, Sean's efforts to hold onto Martha grow increasingly desperate and embittered. A futile attempt at intimacy between the two begins awkwardly, proceeds aggressively, and ends in angry frustration because of Martha's disinterest. Later, an argument turns physical when an inebriated Sean throws a yoga ball (the very same one used during the labor) in Martha's face. LaBeouf's tumultuous offs-creen life bleeds into his role as Sean, giving the character's explosive grief and subsequent relapse an air of authenticity. This situation makes separating the artist from his art all the more difficult; it's up to viewers to decide whether or not LaBeouf's presence taints the film as a whole.
LaBeouf aside, Pieces of a Woman isn't without other distracting flaws. Though set in Boston (but clearly filmed in Montreal), the only aspect that feels convincingly Bostonian is LaBeouf's accent. The shots of "the Boston Harbor" that mark the passage of time throughout the film — and where Martha spreads the baby's ashes — will be unrecognizable to locals. Furthermore, the significant class difference between Martha (an executive) and Sean (a laborer) is underexplored. Nevertheless, Pieces of a Woman is an affecting film about the depths of mourning highlighted by Kirby's gut-wrenching performance.
---
Nicole Veneto graduated from Brandeis University with an MA in Women's, Gender, and Sexuality Studies, concentrating on feminist media studies. Her writing has been featured in MAI Feminism & Visual Culture, Film Matters Magazine, and Boston University's Hoochie Reader.