By Ezra Haber Glenn
While the film is determinedly called "Herself" ("you got this, girl…"), the subtitle could equally have been "It Takes a Village…"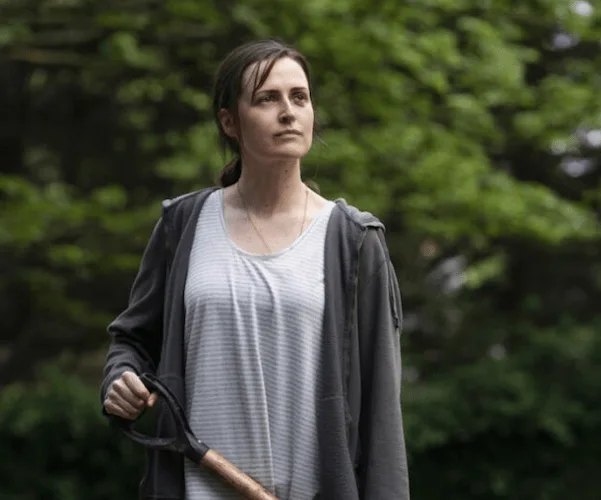 Amazon Studio's Herself (limited release in 2020; now streaming via Amazon Prime), directed by Phyllida Lloyd, tells the story of Sandra, a mother of two girls who escapes an abusive relationship only to find herself homeless and alone, with very few options. Determined to find a safe and secure home for her children — with very little help from an uncaring bureaucracy — she hatches a plan out of sheer grit, hope, and sweat-equity: she'll build one herself
When we first meet Sandra (Clare Dunne), she is playing with her two young girls, Emma and Molly (good efficient start: "establish good mommy; cute and innocent kids — check"), recounting the story of the noticeable birthmark she sports under one eye: she was with God in His heavenly art studio, and — knowing that He needed to keep a watch over her — He gave her this mark, because (as we all know, and the kids repeat, with a charming brogue played to maximum effect for the line), "there's loads of Sandras in Dublin…"
Through this classic cinema framing, we come in for the close up: by watching Sandra's story — by attending to this particular life, as lived and experienced slowly, by this individual — we may hope to understand a more general story playing out elsewhere.
Sadly, this "elsewhere" is more accurately an "everywhere," as there are loads of Sandras not just in Dublin, but in Dayton, Durban, Dallas, Dubai, Delhi, and Da Nang — as well as right here in Boston and its suburbs. Based on a true story and reminiscent of too many others, Sandra is a mother fleeing an abusive spouse (Gary, played by Ian Lloyd Anderson), hoping to find a safe home for her children in a world where even something this simple would seem to require a miracle.
Sandra's birthmark is a well chosen detail, and Dunne's entire character can be seen through this single feature, a trait that is much more than skin-deep. In addition to serving as a constant reminder that we must see Sandra herself — a person, not a statistic — even while we contemplate the many others struggling in her situation, Dunne's wonderfully expressive acting and Lloyd's equally perceptive camera collaborate in a cinematic pas de deux to transmute this simple-but-distinctive mark — really just a small dark spot on her beautifully plain face — into a brilliantly clever device for conveying a powerful range of emotions.
Once we know Sandra's history of abuse, the birthmark takes on new significance — a dark, brooding, shadowy smudge running below her left eye — which haunts us in nearly every scene, evoking the bruised black eyes of victims of violence, the sort of obvious evidence that becomes awkwardly, fearfully, covered, only to make it all the more obvious when we try to politely ignore them; in every glance, we feel Sandra's undeserved shame and constant pain. (Unfortunately, rather than trust the sparse elegance of this visual storytelling, Lloyd too frequently resorts to unnecessary flashbacks of this abuse as well: painful, and jarring, to be sure, but too clunky for the range of emotions Dunne is so carefully channeling.)
In other scenes, through nothing more than a shift in her eyes flipping a switch from "downcast" to "determined," Dunne converts this same mark from a reminder of abuse into the steely visage of a football player or warrior prepped for battle, dark eyes underlined with black grease paint: this is a mother bear, don't you dare fuck with her or threaten her cubs. (Also perhaps relevant: Dunne, who co-wrote the story, bears the exact birthmark called for in the script. Adding this element to the character might have also served as a clever way for her to claim the role as well, declaring to potential producers and directors that they better not try to separate the actor/writer from her baby, either.)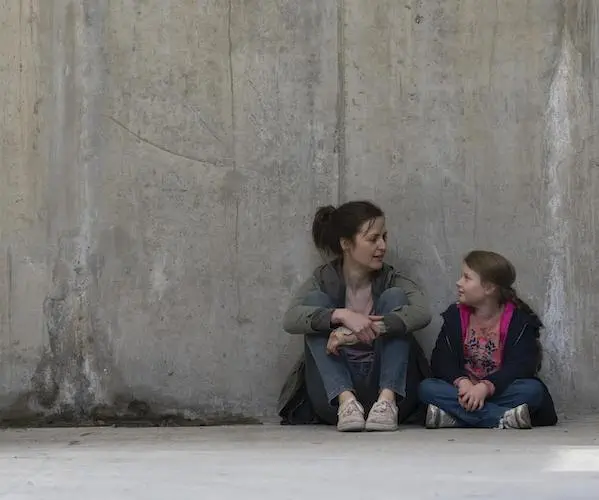 From here, the first act follows a fairly predictable arc: resolving never to be beaten again, Sandra escapes with the girls, only to find herself isolated in the dead-end of an airport motel, with little chance of more permanent housing. She adds her name to all the right waiting lists, fills out all the right paperwork, and schleps to 101 humiliating appointments — all while also getting the kids to school, helping with homework, tending a painful broken wrist, and holding down two different jobs — but there is little hope for improvement in her situation.
Unfortunately, rather than adhering to its neorealist-inspired story and taking the time to truly dwell in the sad-but-true details and emotions of this situation (see The Florida Project), the film hastily harnesses Sandra's story to push forward a plot-driven narrative that races too quickly into "feel good movie" territory. Determined to solve this problem herself (get it? it makes even more sense in Ireland, where they often say "herself" instead of just "her," conveying a sense of importance to the person being discussed), Sandra sets out to build her own DIY "self-build" house in the spacious backyard of her mother's generous former employer. She downloads some plans, prepares a bare-basics budget, recruits some friends (and friends-of-friends), and from there the middle 45-minutes are a disappointing (albeit entertaining, and at time educational) mash-up of HGTV and Queen for a Day.
That said, as with Lloyd's previous films (Mamma Mia!; The Iron Lady), Herself is a strongly feminist film, both in the tale it tells and in the telling itself. In addition to Sandra and her girls, the supporting cast is full of strong female characters — a doctor, a judge, a long-suffering social worker, a playground-mom who turns into a true friend-in-need, a spunky immigrant with some building skills and brawny friends — with an underlying "#grlpwr" vibe that is laid on a bit thickly at times. (But given more than a century of under-representation in film, and the fact that many of these caretaking roles in society are in fact taken on by women, this emphasis is understandable, and it plays well.)
And just to reassure those who worry that the film may have been funded by the Lorena Bobbitt She-Woman Man-Hater's Society, there are, in fact, a few likeable guys tossed in as well. Sandra's ex, Gary, is a total irredeemable shit, as is her boss at the pub where she works, but we also meet Aido (Conleth Hill), the contractor-with-a-heart-of-gold who takes on the project when he knows full well that it'll be a time sink and a load of trouble he doesn't need; his son Francis (Daniel Ryan), who christens Sandra as a builder by donating his old work boots, bringing a quiet grace to the project and demonstrating how we can help each other without introducing stigma or burden; and a Merry-and-Pippin pair of affable hunks, homeless squatters themselves who know the importance of securing a place in world, who pitch in to volunteer (Dmitry Vinokurov and Aaron Lockhart: one serving as eye candy, the other comic relief).
Thus, while the film is determinedly called Herself ("you got this, girl…"), the subtitle could equally have been It Takes a Village…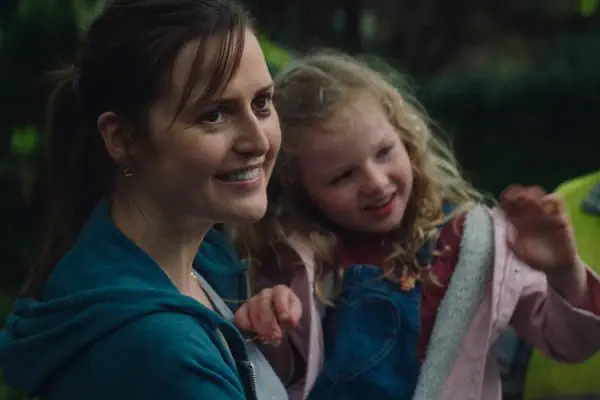 The strongest performances are kept back for two crucial scenes in the final chapters, a worthwhile return to Lloyd's strong and subtle character-driven start.
First, Sandra is given the opportunity we've been waiting for all along, to clearly, loudly, and proudly speak her truth and confront her abuser — and the uncaring and maddening bureaucracy that has frustrated her at every turn while accommodating him with every affordance and second chance. Following this (and a few more ups and downs) as a sort of coda, we meet Gary's mother Tina (Tina Kellegher, deserving of a nomination for "best three-minutes of quiet regret") and confront the cycles of intergenerational abuse, fear, pain, and remorse that lie behind both real world and fictional stories of this nature.
Keeping these revelations in reserve allows the film to end with a real one-two punch, acknowledging the complexity of life in this vale of tears — the messy combined stew of emotions of love, hate, anger, frustration, hope, and fear — even as we fumble to reach some clarity about how to make peace and move forward.
In closing, something should also be said about the importance of this film now, as we shelter under various states of isolation and lockdown through a grinding global pandemic that seems to be stretching from months into years. For many of us, this is a frustrating — largely boring — experience; but for others in our community — our neighbors, families, and friends, possibly invisible to us — it is far more perilous: shelters, advocates, and police authorities have all reported an alarming increase in both the frequency and severity of domestic abuse cases, with women literally trapped in homes with their abusers, cut off from the support (and protection) of friends, public services, or even strangers. (In Herself, Sandra's life is saved by the fact that her daughter is able to run to a nearby store to summon help. But, were this to happen today, even that lifeline might well be shuttered.) Now more than ever, we can appreciate the safety that a secure home can bring, as well as (as Tina explains) the horror of what can happen "within four walls when no one is watching."
---
Ezra Haber Glenn is a Lecturer in MIT's in the Department of Urban Studies & Planning, where he teaches a special subject on "The City in Film." His essays, criticism, and reviews have been published in the New York Observer, CityLab, Journal of the American Planning Association, Journal of Statistical Software, Experience Magazine, Arts Fuse, and Next City, and he is the regular film reviewer for Planning magazine. Follow him on UrbanFilm and @UrbanFilmOrg.