By Allen Michie
Two from Dave Brubeck: Time Outtakes, the alternate tracks for the Dave Brubeck Quartet's classic 1959 album Time Out, is very good to have; Lullabies is filled with the intimate sound of the pianist's old age, tender affection, and distilled musical wisdom.
Dave Brubeck, Time Outtakes (Brubeck Editions) and Lullabies (Verve)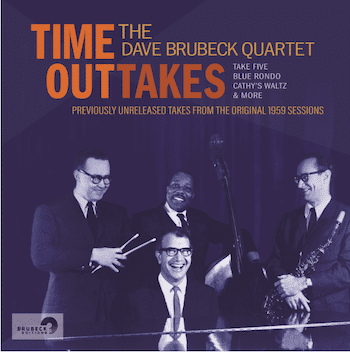 The technical term is "Involuntary Musical Imagery," but most of us know them as "earworms." They're fragments of a catchy melody, a jingle, a hook from a pop song, or (maximum irritation) a random few unremarkable bars from a tune we don't particularly like that get stuck in our head all day or torment us while we're trying to fall asleep.
There are earworms, and then there are total brain implants. There are a handful of songs that have been going through my head for the better part of 40 years: Jaco Pastorius's "Three Views of a Secret," Stevie Wonder's "Superstition," Charlie Parker's "Ornithology," and a few others. These aren't necessarily my favorite songs, but for some reason the melodies and vamps are in my bloodstream. You can usually see me doing my job at work, and the tip of one finger will be very slightly tapping Philly Joe Jones's rim shots behind the melody of Miles Davis's "Milestones." Or I'm flexing my toes inside my shoe to the bass line of Aretha Franklin's "Rock Steady." (If you have some brain implant songs of your own, let us know in the comments below.)
But of all the core earworms that have rerouted my synapses, the one that I'll probably be babbling out long after I've forgotten the rest is the opening vamp to Dave Brubeck's "Take Five." It's hypnotic, stabilizing, and inviting. It launches a little creative solo in my imagination every time. I summon it when I need patience. Stuck at a train crossing? "Take Five" while the cars go clicking past in 5/4 time. Someone droning on in a Zoom meeting and not getting to the point? "Take Five," and my feet tap on the 1 and 4. I know I'm not alone in this. "Take Five" isn't just one of the biggest (and last) acoustic jazz hit singles, it's become part of the essential soundtrack of its era and beyond.
It is therefore no small event — to me or to jazz fans everywhere — that we now have Time Outtakes, the alternate tracks for the Dave Brubeck Quartet's classic 1959 album Time Out. This is not an authoritative, exhaustive compilation of all the outtakes and alternates from the three recording sessions on June 25, July 1, and August 18, 1959. That will have to wait for a box set one day, pending resolution of any legal or ethical issues of releasing takes that the artists deliberately nixed. The popularity and massive influence of Time Out elevates it to the status of "historical document" status, however, and it's fascinating to hear how the now-familiar tracks came together.
The jaw-dropping opener, "Blue Rondo à la Turk," is a good example. The final version on Time Out is an ingenious construction, with a melody in 9/8 time (2+2+2+3) setting up solos in 4/4 time. The melody itself is an interlocking jigsaw puzzle, with simple three-note figures moving up, down, in steps, and sometimes up and down at the same time. No one could be expected to nail a piece like this on the first take, and the quartet certainly didn't. In the Time Outtakes version, alto saxophonist Paul Desmond's solo breaks aren't as complete and self-assured. Desmond nobly tries to squeeze in Turkish-influenced melodic fragments from the 9/8 melody into his 4/4 solo over blues changes, but it's just not meant to be. Brubeck, too, uses fragments of the melody and tries to push against the 4/4 rhythm rather than giving in to the blues. Brubeck runs up and down scales, worries a single note, and plays short patterns up and down the scales. He quotes "Bye Bye Blackbird" more than once, as if experimenting with where it might fit in what he senses will be some other final take. In the last few choruses of the piano solo, Brubeck relaxes and seems to have answered some of his own questions, playing a confident melody one note at a time with the right hand.
"Strange Meadowlark" demonstrates the range of Brubeck's style. He plays dramatic arpeggios like Art Tatum, some gentle melodic lines like Bill Evans, and some stride like Fats Waller, all the while sounding unmistakably like Dave Brubeck. In the Time Outtakes version, there's a bit less Tatumesque drama and a bit more barrelhouse Waller, and I hear a trace of "Georgia on My Mind" in the chord changes. Both the original and the outtake are fine performances that could have been the master, and it's good to have each of them available.
The "Take Five" that you know well may not be the version that is on either Time Out or Time Outtakes. For some reason, producer Teo Macero made the 45 single from a take other than the one on the monster-selling hit album, and he did so without checking with Brubeck or Desmond. The original album version is better, including Joe Morello's classic drum solo. The version on Time Outtakes is faster and jerkier, less famously "cool." The infectious piano vamp is quieter and more buried in the mix. The most dramatic change is in Morello's solo; he is much busier throughout, especially with a Latin-style, two-beat cymbal pattern that doesn't quite fit the 5/4 feel. It misses all of the space and tension from the famous solo on Time Out ("Morello's chiffon shuffle moved silence around a 5/4 vamp with as much impact as it did sound," as Philip Clark aptly describes it in his excellent new book Dave Brubeck: A Life in Time). Morello still finds the swing in 5/4, however, which is second nature to us all now due to the influence of "Take Five." As a side note, I wonder if Al Jarreau heard this rejected take at some point, because there are some similar licks in his vocal percussion solo on "Take Five" on his live album Look to the Rainbow.
"Three to Get Ready" is an overlooked gem and has an appealing swing that more musicians should explore: two bars of 3/4 followed by two bars of 4/4. On both the master and the Time Outtakes versions, everyone in the quartet falls in like they've been doing this for years. Morello's brushes are a treat, and Brubeck's one-note-at-a-time, Lennie Tristano–style solo is one of the best on the original album. There's a classical (some say Haydnesque) feel to the elegant melody. On the Time Outtakes track, Desmond is a disciplined fountain of melodic invention, creating a solo that could not be more structurally perfect if he had spent weeks composing it on paper. Brubeck contrasts it with a more off-kilter solo, using rolling triplets and counter-rhythms that arguably overload the alternating 3/4 and 4/4 structure. It's a bit show-offy, especially right after Desmond's controlled performance. Taken together, the two versions demonstrate the range of Brubeck's approaches.
There are other revelations for those who listen to both albums back to back. "Kathy's Waltz" (corrected to "Cathy's Waltz" on Time Outtakes; it's a piece Brubeck wrote for his daughter Cathy) is a study in playing four against three (or is it triplets in half time over 3/4?). Just when you start to get a handle on it, Brubeck shifts it around. The metronomic rhythm section of Morello and Eugene Wright on bass deserves a medal for steering the ship through all of these riptides. On the Time Outtakes solo, Brubeck plays some quotes from "I Get a Kick Out of You," making it a little less clear what parts are his own original melody, a potential error he doesn't make on the master take.
Three tracks are new to Time Outtakes. "I'm in a Dancing Mood" starts out in 6/8 as a piece of what we would now call exotica lounge music that would have seriously thrown off the character of Time Out. Once Morello finishes making his drums sound like jungle congas, the 4/4 solo section swings all the harder for the contrast. It's a pastiche of time signatures and tempos, and it's best appreciated as a marvel in which the band never loses the pulse or the feel. "Watusi Jam" is misnamed: it should be "Watusi Drums," which Brubeck performed on his 1958 State Department tour and was on the Dave Brubeck Quartet in Europe album (which is probably why it wasn't included on Time Out, released just one year later). Desmond sits out, and there is a long African-influenced solo from Morello favoring the tom drums. The last track is "Band Banter from the 1959 Recording Sessions," which doesn't add much other than a sample of how Morello experimented with some cymbal rhythms for "Take Five" with feedback from Brubeck.
Time Outtakes is a very good album and a valuable addition to your Brubeck collection, but Time Out remains a masterpiece and an essential addition to any jazz collection.
---
Lullabies is a lovely farewell from Brubeck.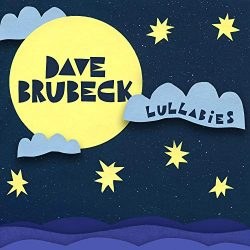 It is his final solo piano recording, originally made as a gift to his grandchildren, and now a present to all of us from the Brubeck estate.
This really is an album of lullabies. The target audience is sleepy babies and the Brubeck fans who tuck them in (some of whom will be great-grandparents who played "Take Five" on the jukebox in 1960). "Some of the melodies on this album are like those familiar songs," said Brubeck at the time of the recording. "Some are original pieces that I thought would appeal to babies as well as an older generation. I hope the littlest ones will respond to this music, and that parents and grandparents will enjoy it as well."
All of the tracks are short and focused, and there are no extended solos. The album is beautifully recorded, the piano is perfectly tuned with balance and presence, and there is just the right amount of reverb. In stark contrast to something like "I'm in a Dancing Mood," everything here is even and steady, and nothing is harsh or rumbly. There are no crowd-pleasers or flag-wavers; nothing made for a road tour or to dazzle the critics. There's no obligation for Brubeck to once again trot out his trademark styles or signature rhythmic patterns, except for when they just come out naturally. It's the intimate sound of Brubeck's old age, tender affection, and distilled musical wisdom.
The album opens and closes with "Brahms Lullaby," which you probably know as the "Go to sleep, go to sleep, go to sleep little baby" song. The melody is played here as not quite classical, and not quite jazz, but as an expressive hybrid of the two that Brubeck does effortlessly.
Highlights include "When It's Sleepy Time Down South," which has touches of the familiar Brubeck stride and syncopated counter-rhythms. It sounds somehow both contemporary and from the '30s. It's alternately sleepy and jaunty, as this New Orleans song should be. Brubeck plays "Over the Rainbow" with all of the elegance that the timeless melody deserves with no trace of melodrama or schmaltz. He harmonizes to bring out what's hiding in the song without overwhelming it. There's a nice little tag of the start of the melody after its final statement, suggesting that the song goes on — the dream is cyclical. I hear a bit of Mozart influence in "All Through the Night," which has an ingenious construction worthy of "Blue Rondo à la Turk" — there is a dialogue between the two hands, alternating and finishing each other's scales, one outpacing the other, switching, then reuniting for unison passages. This would be a wonderful piece for piano students to study and practice, and I hope that plans are in the works for scores or transcriptions of these tracks to become (legally) available.
Several originals appear here for the first time. "Going to Sleep" is a classically influenced study in parallel melodies and harmonization, with a simple fragment turned backwards and forwards, going up and down through the keys. Brubeck was certainly not coasting, even in a private recording for small children. "Lullaby for Iola" has a light, Bill Evans–style touch with tasteful chromaticism and arpeggios, free from the density often associated with Brubeck's style. "Koto Song" finds Brubeck exploring the sustaining pedal, which he usually seems to avoid, using a Japanese tonality but not constrained by the pentatonic scale. It's easy to imagine Brubeck putting this together in the studio of his gorgeous Japanese style home. "Briar Bush" is my favorite of the originals, with a hint of the old cross-rhythms and a catchy melody that sounds like an old Broadway standard you can't quite recall. This one offers a melody that invites a parent to customize some lyrics to calm the little fussy one.
On the final track, a reprise of "Brahms Lullaby," Brubeck lets the final notes of the incomplete melody linger in the air as you drift away to sleep, like a music box slowly winding down. It's a lovely way to end the final original recording from this brilliant and sensitive master of the piano.
---
Allen Michie works in higher education administration in Austin, Texas. As you read this, the odds are better than 50/50 that he is quietly fidgeting to the vamp of "Take Five."