By Chelsea Spear
Fangirls is a funny and poignant survey of an essential coming-of-age experience.
Fangirls: Scenes from Modern Music Culture by Hannah Ewens.  University of Texas Press, 256 pages, $17.95.
Buy at Bookshop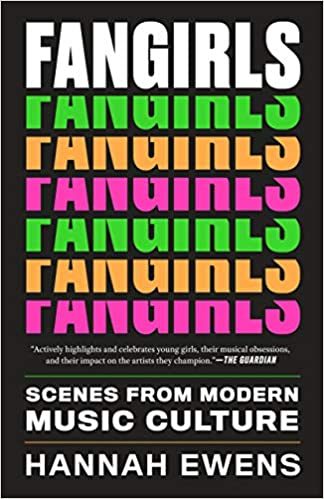 "Who's to say that young girls who like pop music — short for popular, right? — have worse musical taste than a 30-year-old hipster guy?" asked ethereal pop star Harry Styles in a 2017 Rolling Stone interview. Teenage girls have been on the forefront of pop fandom, making superstars of acts ranging from the Beatles and Duran Duran to Hole and Amy Winehouse. By way of fandom, they have formed lifelong friendships and taught themselves new skills while running websites and social media accounts for their favorite musicians. They've also been looked upon with scorn by critics — who frequently mock the objects of their affection for being prefabricated — and the general public, who view their ardor as pathological and scary. In Fangirls, music critic Hannah Ewens gets inside the experiences of fangirls to better understand what drives them.
After a brief history of fangirling that touches on Lord Byron, early classical music, and Frank Sinatra, Ewens looks at different facets of the fan experience through 21st-century artists and bands. Some of the chapters focus on issues specific to generations of music fans with internet access. Her chapter on emo band Fall Out Boy examines fan fiction (fictional stories fans write about band members) and what happens when fans share some of the more sexually charged stories with band members on social media. In other chapters, Ewens talks to fans about problems they've experienced across generations. The stories My Chemical Romance fans tell about their struggles with mental illness, and how they found catharsis in MCR's theatrical pop as they dealt with their own demons, will sound all too familiar to those drawn to darker music and art.
Though some of the struggles Ewens's subjects experience might seem perennial, the technology that brings them together makes Fangirls an unmistakably 21st-century book. In the introduction, Ewens writes of her experiences as a fan in the pre-internet years, but many of the girls in the book meet through interacting on social media accounts, Facebook groups, and forums like the late, lamented fanfiction.net. While analog-age fangirls like Ewens had to wait for news of their favorite bands to surface in the press, today's worshippers interact with their quarry through the wonders of social media. Sometimes, as with Fall Out Boy's catcalling fans, this can lead to cringey results. But not always: a roundtable with fans of previous generations' boy bands examines how following their favorite bands on social media can soften the blow for fans when the groups break up. Backstreet Boys enthusiast Karah talks about her online interactions with Nick Carter and how they helped her through her mother's illness and her ambivalence about college.
Ewens takes an appealingly multicultural approach to fandom communities. In a chapter about Beyonce's online fandom, she pulls together academic sources and testimonials from members of the Beyhive to explain why the star is so important to Black women. And she explores how the multimedia project Lemonade kicked off larger discussions about race and feminism. "She wasn't a Black feminist scholar or writer whose ideas hadn't trickled down to them yet," writes Ewens, "but she was influenced by them — she had to be — and could exist as a bridge between the average band and those thinkers." In a chapter on Harry Styles's solo career, she interviews Japanese fans on the history of boy bands and fan communities in their country. She goes into how Styles and his One Direction bandmates fit into the "transcultural draw of the very pretty young man," to use scholar Lori Morimoto's words.
Because fangirls are frequently depicted as dumb and obsessive in the greater media, Fangirls generally hews to the contrary view, positing the positive aspects of the fan experience. Several chapters conclude with interviews Ewens conducted with cult artists like Melissa Auf Der Maur of Hole and Viv Albertine of The Slits. Some of the perceptions of the artists balance out Ewens's vision of the fan experience, asserting a more critical perspective. Against Me! singer Laura Jane Grace spoke candidly of setting boundaries with fans: "Sometimes you can't set a boundary because people will think you're being an asshole. You have to create a barrier, unfortunately, because you can never live up to their expectation. That can be suffocating sometimes."
Ewens's personal investment in the stories of fangirls, combined with her subjects' thoughts and experiences, usefully balances out the greater media's myths. Fangirls is a funny and poignant survey of an essential coming-of-age experience, an illuminating read for anyone who's camped out at a venue or purchased all their favorite band's merch.
---
Chelsea Spear has written for the Brattle Theatre's Film Notes blog, the Gay & Lesbian Review, and Crooked Marquee. She lives in Boston.