By Scott McLennan
"It was a little frustrating at first, but we're figuring out how to give music to the people that need it right now."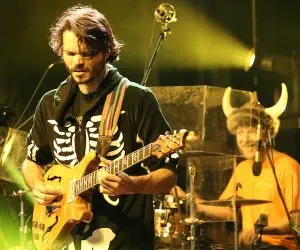 The band Goose was all set for a big year. It was preparing for the kind of touring that would build an enthused fan base, hoping that would nudge the Connecticut quintet to the front of a competitive pack of young jam-fueled bands. And then COVID-19 shut all of that down.
But, it turns out, COVID be damned, Goose is still having a pretty remarkable year. It is generating the right kind of buzz as well as listener interest in old ways and new. The benefits of word of mouth (including plenty of social media chatter) has been the result of a creative combination of online performances and socially distanced concerts staged at drive-ins, fairgrounds, and farm pastures.
The latest testament to the troupe's resilience? Mother Nature threw the band a curve when a late October snowstorm forced Goose to cancel its Halloween show at South Farms in Morris, CT.  So the band decided to simply move Halloween back a week, delivering two mesmerizing sets to a sold-out crowd — many costumed (including the band), despite the show's November date.
That "Halloween" concert featured Goose putting on a musical "mask," with the group celebrating the cult film Donnie Darko,  peppering cuts from the movie's '80s New Wave-themed soundtrack into the concert. The troupe performed songs by Echo and the Bunnymen, Duran Duran, and Tears for Fears, all played faithfully, though still modified to fit the group's unruly brand of jamming. Goose was no less impressive a month earlier at a concert in Swanzey, NH, when it served up a raging version of The Band's "Lookout Cleveland" and Tom Waits's "Christmas Card from a Hooker in Minneapolis," two "Old Wave" gems.
These and many other seemingly "from out of nowhere" selections in the repertoire blend well with the band's original music, which runs from the slow-burn grandeur of "Wysteria Lane" to the propulsive funk of "Yeti." Goose has been playing many of its new songs in concert and has released two records this year: Alive and Well, a collection of songs recorded live during the band's 2019 touring, and Night Lights, which offers studio versions of five of the songs from the concert album.
"To say it's been wild is an understatement," said Goose drummer Ben Atkind, reflecting on the growth and continued success of Goose.
A Needham native, Atkind attended Berklee College of Music, and there met guitarist Rick Mitarotonda. Atkind, who was keeping the beat in funk band Elephant Proof, reconnected with Mitarotonda in 2014 after the guitarist started a band with bassist Trevor Weekz. It was this meeting that ultimately resulted in Goose.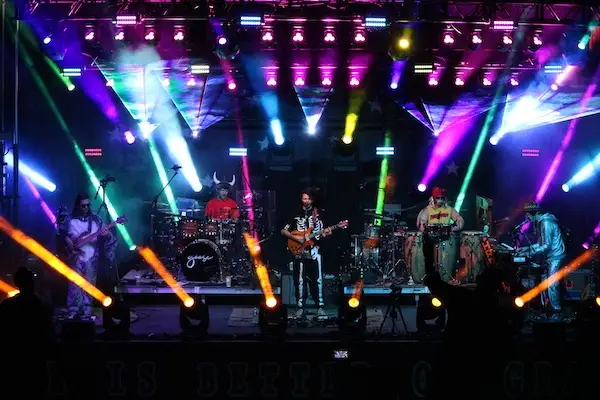 Other players came and went, and Goose put out the Moon Cabin album in 2016, where the combo's blend of jazzy funk, art-pop, and indie-groove began to jell. Atkind said things really came together, though, when keyboardist and guitarist Peter Anspach joined in late 2017.
Pardon the pun, but Goose now flies pretty high. Mitarotonda's gauzy vocals are dependably calm amid the storm that blows around him (he contributes considerably to the turmoil through his frenetic guitar playing). Anspach exudes pure joyous energy on stage, switching between playing guitar and a battery of keys. The double drum set-up of Atkind and percussionist Jeff Arevalo elongates as well as fattens a rhythm section anchored in Weekz's sturdy grooves. Songs open up to all manner of exploration, ranging from traditional improvs of solos inspired by a melody to the more experimental free-for-alls that blow apart song structures and find the band working its way back into a tune.
"We had other keyboard players in the band, but we still hadn't found our sound. It comes down to finding the right people, and not just in the technical sense. There needs to be a balance among the members. When Pete joined, we started jamming with more patience and did more listening," Atkind said.
In 2018, Goose opened a bunch of shows for Spafford just as that band's profile was on the rise. A successful run of East Coast dates was followed by an unexpected boost in Covington, KY, where a group of fans took up Goose's cause, boosting the band to the point that the size of its audiences mushroomed in between dates played there in February and June of that year. The band also gained a foothold in Colorado, where Mitarotonda lived for a time before moving back to Connecticut.
Suddenly, Goose had some dependable stops outside of New England in the touring market. During the summer of 2019, Goose played a stellar set at the Allmans-oriented Peach Festival held in Pennsylvania which was livestreamed (and archived on YouTube) to a fortuitously large audience. The event stoked welcome curiosity about these young guys, who were playing a unique blend of sophisticated pop and raging improvs.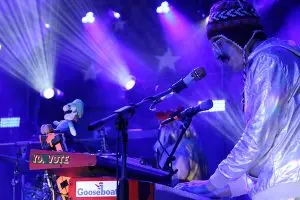 The band booked a big tour for 2020, notching many advance sellouts, including a two-night stand in Boston that Atkind was particularly looking forward to.
Unable to tour during the first few months of the pandemic, Goose cobbled together its "Bingo Tour." The group performed live in a barn and selections were set via drawing Bingo balls printed with song titles or instructions, such as "20-minute jam." Fans paid not only to view the shows, but for Bingo cards that would give them a chance to win prizes.
As socially distanced concerts came into the mix over the summer, Goose dove in, playing the regional circuit with stops in Yarmouth, and the aforementioned New Hampshire and Connecticut shows, plus other gigs in the Southeast. The late summer/fall tour was a booming success to the point where the second pair of shows – including the Halloween one — that Goose announced for South Farm sold out in a matter of minutes.
While there's nothing set at the moment, the Goose camp isn't ruling out additional performances before the end of the year. Anticipate more news in the coming months. "It's all about playing our music and staying connected to people," Atkind explained. "It was a little frustrating at first, but we're figuring out how to give music to the people that need it right now."
---
Scott McLennan covered music for the Worcester Telegram & Gazette from 1993 to 2008. He then contributed music reviews and features to the Boston Globe, Providence Journal, Portland Press Herald, and WGBH, as well as to the Arts Fuse. He also operated the NE Metal blog to provide in-depth coverage of the region's heavy metal scene.